PECHS Islamabad or Pakistan Employees Cooperative Housing Society Islamabad is an RDA approved and ICT registered housing society operating since 1989 in the capital city Islamabad. It is considered to be the best place for long term investment in Islamabad due to a number of factors including location, development standards, development status, background, future prospects and current property prices.
We have given more detailed analysis on the amenities, development status of each block, proposed external and internal road network etc in this article.
NOC
The Society is registered under Rawalpindi Development Authority (RDA) as well as the Registrar Cooperative Housing Societies Department of Islamabad Capital Territory (ICT) administration.
Location and Road Access Network
PECHS Islamabad lies at a very prime location just next to New Islamabad International Airport. Its current entrance is from Fateh Jang Road just off the PAF Fazaia Housing Society Tarnol. Its second entrance is planned from Sriganar Highway Extension through Mumtaz City that will connect Mumtaz City with K-Extension Block of PECHS. The access is currently open, however it is not properly developed yet.
Following is the location map of PECHS Islamabad: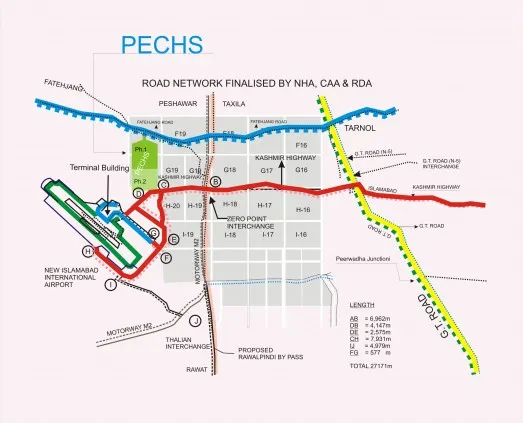 Since this area is close to Motorway M-2, CPEC, Airport and Ring Road, there is huge potential of growth in the real estate of this particular area.
Development Status
Apart from prime location and good access network of roads, PECHS Islamabad is the most affordable developed society near New Islamabad Airport.  More than 80% of the society has been given possession which includes A, B, C, D, E, F, K and M blocks, while parts of C, C-extension, D, F, G and H blocks do not have possession yet.
Following are some development images of PECHS Islamabad:
The society has all utilities available i.e. water, electricity, gas, sewerage, roads, streets, streetlights etc. This Society is also ideal due to having good level of underground water, so people can use boring to draw out fresh and sweet water at their homes.
Developer
Extol is the developer of PECHS Islamabad which is a private developer company working in collaboration with the society. Extol owns the land which it develops. PECHS issues allotment letters against all plots launched by Extol on the name of Mr. Gohar Rabbani Awan who is the director of Extol, and Extol is authorized to sell plots on installment to general public. Once you pay your due installments to Extol, you can get your allotment letter from PECHS Society on your name.
Extol has successfully developed K and M Blocks in record time and possessions have been given for construction of houses. Development standards of EXTOL are considered to be better than the Society's own development in older developed blocks.
Distance from Zero Point Islamabad
PECHS Islamabad lies at a distance of about 25 Kilometer from the Zero Point but as per the master plan of Islamabad, New Zero Point will be located at Motorway Interchange and its distance from the society will be less than 3 Kilometers. With the completion of Kashmir Highway, its distance from current Zero Point will be reduced to less than 20 kilometers.
Distance from New Islamabad Airport
It is the closest society to the new Islamabad international airport. Approximate distance of Airport current gate from its K block is more or less 1 KM.
Being closest to the Airport and offering affordable residential plots are the key factors which attract potential buyers to choose PECHS Islamabad as their future address.
Investment Potential
PECHS Islamabad is an ideal society in terms of investment due to its prime location just adjacent to New Islamabad International Airport. Property prices in the housing schemes in this particular neighborhood have significantly increased over the past couple of years, and this is the just the beginning.
Investors and businessmen running their businesses in this area will definitely require some good place for residence close-by. Since prices in the neighborhood have gone up significantly, PECHS is now expected to serve most of the residential needs.
As CPEC Western Route passes close to PECHS Islamabad besides the New Islamabad Airport and Motorway M-2, there is going to be immense commercial activity in this area in near future. Rawalpindi Ring Road is also going to connect this area soon, hence there is going to be huge demand for residence in this particular area.
Therefore, the investment in PECHS is stable and rewarding, and the potential is directly linked with the developments at and around the airport. Besides this potential,  it is a cooperative society and a safe investment as compared with other neighboring private housing schemes.
Installment Options
PECHS is expanding its boundaries due to the ever-increasing demand of property on this side of Islamabad. Earlier it had launched its K block, M Block and few extension thereafter which have been developed now and possession is expected very soon.
Another small residential "Block N" is being launched on 1.5 years installment plan adjacent to PECHS M and K Blocks . That block offers a limited number of 5 marla residential plots, as well as commercial plots on main Jinnah Avenue.
More details about N block plot options, prices and payment details can be taken from the following page:
PECHS Islamabad Launches N Block Residential & Commercial Plots
If you need some specific information about PECHS Society, you can use online chat feature or contact us via email or phone using the information given on contact page [email protected]