Pearl Business Center – The First Ever High-Rise Commercial in DHA-1 Islamabad spanning across a 1 Kanal expanse, the project's five-story multipurpose commercial property is personalized to accommodate the needs of the modern business landscape.
This project is in high demand because of the availability of:
The project's primary goal is to provide a home for the aspirations of small and medium-sized businesses as well as entrepreneurs who seek adaptable solutions.
Pearl Business Center Developers:
The Linkers Developers and Builders, along with The Arch Associates Real Estate Builders, are the masterminds behind the inception of Pearl Business Center. Together, they serve as the driving energy responsible for crafting a genuine commercial masterpiece.
Their resolute commitment and forward-thinking have resulted in the creation of a distinguished business hub, serving as a solid testament to their dedication to excellence and groundbreaking ideas. They have thoroughly taken care of every complicated aspect, fashioning a space that excels the ordinary commercial centers. Both developers have exhibited a profound comprehension of the contemporary business environment.
Linkers Developers & Builders
They represent the foremost commercial investment agency in Islamabad. This real estate enterprise specializes in delivering cost-effective yet highly profitable iconic high-rise projects.
With over a decade of expertise in Pakistan's real estate sector, Linker Developers has established a remarkable track record. Their exceptional achievements in Gulberg Green, Islamabad, and neighboring regions have positioned Linkers as a significant driving force in Pakistan's real estate market on a larger scale.
ARCH Associates RE & Builders
A standout real estate enterprise with remarkable achievements. They provide financial support through a unique payment structure and a portfolio of successful, prestigious projects. This real estate company is known for its expertise, innovation, and qualifications, boasting extensive experience. They expertly handle architectural ventures that seamlessly blend residential and commercial structures. Since its establishment, Arch Associates has consistently raised the banner of accomplishment and excellence, striving for the highest standards in Pakistan's real estate sector.
Exclusive Offer:
At the Pearl Business Center, we've meticulously designed our infrastructure to align with the specific requirements of promising startups ready to establish their presence in our corporate offices. Our commitment to facilitating growth begins with providing high-speed internet connectivity – a fundamental necessity for contemporary business operations. As your startup flourishes and demands evolve, we ensure seamless support by incorporating top-tier cables optimized for enhanced internet performance. Moreover, to ensure uninterrupted accessibility, two dedicated lifts are reserved for backup purposes within the premises.
Our dedication to your success goes beyond infrastructure. We recognize the dedication and resilience required during the initial stages of entrepreneurship. Hence, for startups with consistent ownership and a demonstrated track record of six months in operation, we offer a remarkable incentive – a 5% cashback on your payment. This is our way of investing in your journey, as your growth echoes through the halls of the Pearl Business Center.
Why an Ideal Location?
Location is the first and foremost thing that is considered while buying a property. So check the location of this project as it finds its place in the remarkable setting of DHA Phase 1. Located in the center of Pakistan's capital city, this central position provides numerous benefits for both businesses and investors.
Benefitting from its strategic placement and outstanding infrastructure, Pearl Business Center fosters an environment favorable to the prosperity of commercial endeavors.
Opting to invest in this outstanding venture within DHA-1 Islamabad brings a strategic edge, positioning businesses for enduring success in one of the area's most esteemed and flourishing locales.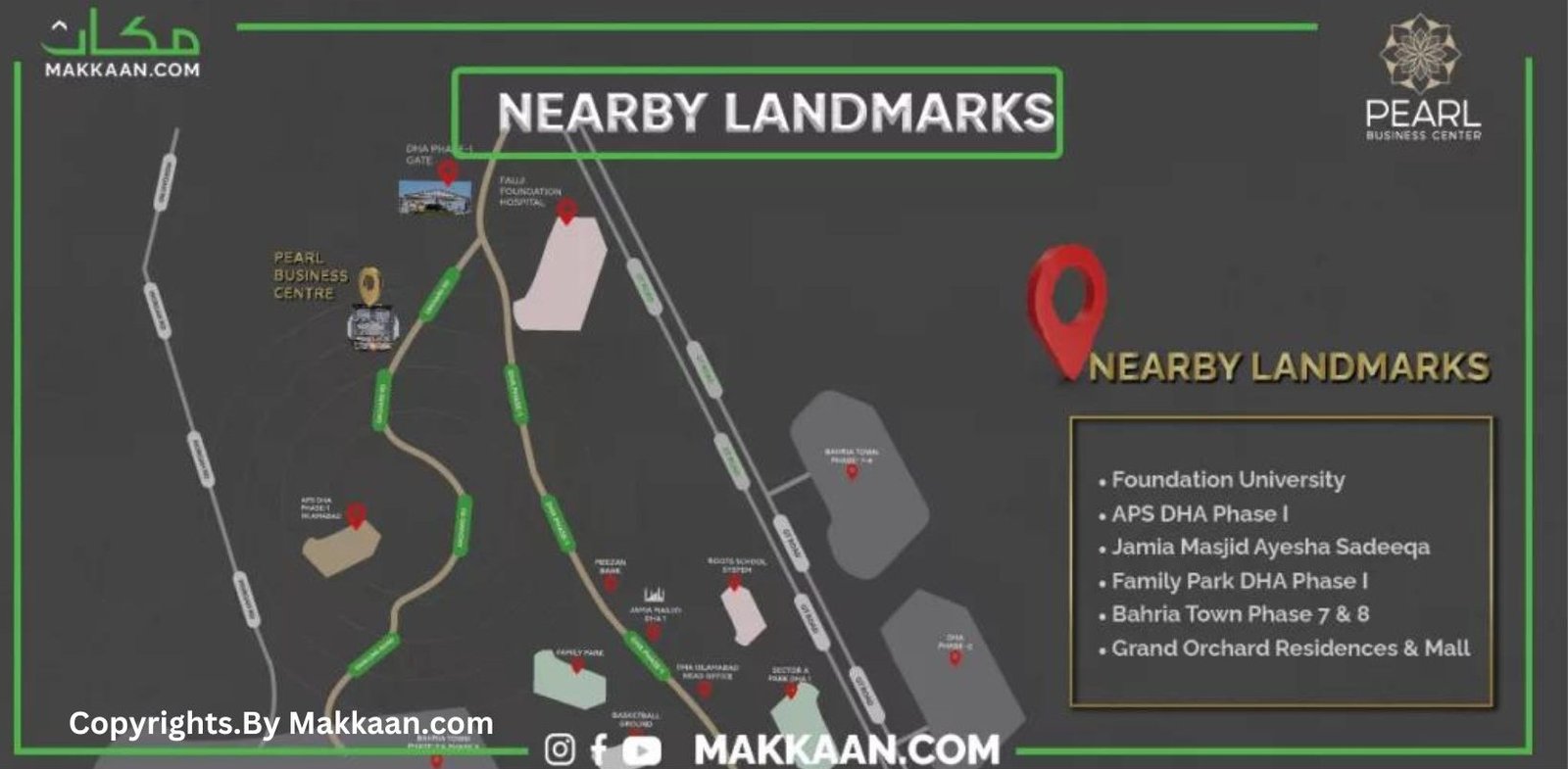 Modern Architecture of Pearl Business Center
The design of Pearl Business Center is the result of a creative vision, blending unique architectural elements inspired by global influences. The developers are well-equipped to turn innovative projects into reality, offering a wide array of modern amenities and services to both international and private businesses.
This exceptional venture presents a lucrative investment opportunity, characterized by attractive pricing for the offered properties. The developers have taken measures to ensure affordability, catering to investors seeking to secure properties at budget-friendly rates. As a result, the payment structure of Pearl Business Center in DHA-1 Islamabad opens the door to a profitable investment venture.
For every property within this commercial domain, a convenient 2-year installment plan is in place. Additionally, you can initiate a property reservation with a mere 30% initial payment, followed by a 10% payment upon possession. To gain ownership of your property, adherence to quarterly installment payments is essential.
Ground Floor 1st Shops
| Type | Rate Per Sq Ft | Net Area | Total Price | Down Payment | Monthly Payment | 20% on Possesion |
| --- | --- | --- | --- | --- | --- | --- |
| Shops | 77.000 | 315 | 24.255.000 | 7.276.500 | 404.250 | 4.851.000 |
| Shops | 77.000 | 500 | 38.500.000 | 11.500.000 | 641.667 | 7.700.000 |
| Type | Rate Per Sq ft | Net Area | Total Price | Down Payment 30% | 30 Monthly Payment | 10% on Possesion |
| --- | --- | --- | --- | --- | --- | --- |
| Shops | 50.000 | 185 | 9.250.000 | 2.775.000 | 185.000 | 9.25.000 |
| Shops | 50.000 | 190 | 9.500.000 | 2.850.000 | 190.000 | 950.000 |
| Shops | 50.000 | 200 | 3.000.000 | 3.000.000 | 200.000 | 1.000.000 |
| Type | Rate Per Sq ft | Net Area | Total Price | Down Payment 30% | 30% Monthly Payment | 10% on Possesion |
| --- | --- | --- | --- | --- | --- | --- |
| Shops | 45.000 | 280 | 12.600.000 | 3.780.000 | 252.000 | 1.260.000 |
| Shops | 45.000 | 270 | 12.150.000 | 3.645.000 | 243.000 | 1.215.000 |
| Type | Rate Per Sq ft | Net Area | Total Price | Down Payment 30% | 30 Monthly Payment | 10% on Possesion |
| --- | --- | --- | --- | --- | --- | --- |
| Offices | 28.000 | 775 | 21.700.000 | 6.510.000 | 434.000 | 2.170.000 |
| Offices | 28.000 | 450 | 12.600.000 | 3.780.000 | 252.000 | 1.260.000 |
Amenities at Pearl Business Center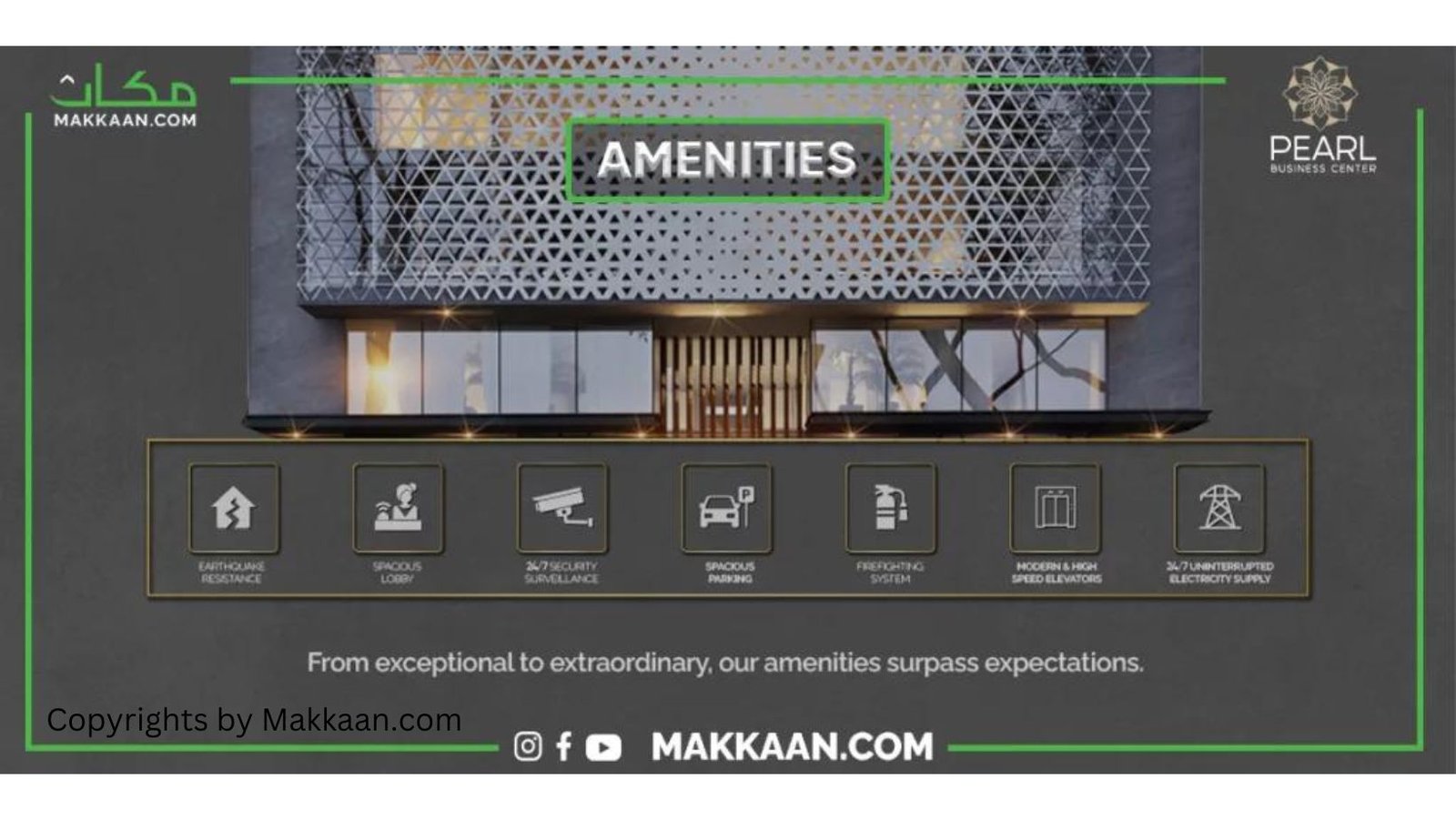 Situated in DHA Islamabad Phase 1, this commercial endeavor has evolved into a focal point for enticing global investors seeking lucrative opportunities. Remarkable facilities and amenities within this project promise exceptional returns for clients, making it imperative to explore the array of services it provides.
The administration has incorporated impressive parking and easy access provisions within the Pearl Commercial Center. A spacious parking area ensures a splendid encounter for both visitors and occupants. Strategically positioned in proximity to major thoroughfares, this commercial venture offers convenient connectivity to various key destinations across the twin cities.
Pearl Business Center encompasses diverse office spaces that present viable choices for various business categories. These office setups facilitate robust expansion opportunities for established and emerging brands alike. Furthermore, these workspaces cater to the distinct needs of multinational enterprises, small ventures, and entrepreneurial startups.
Meeting & Conference Rooms
The business center's meeting and conference facilities provide a serene setting conducive to networking and collaborative activities. These areas are meticulously equipped with state-of-the-art technology to seamlessly host gatherings of various sizes. As a result, it has emerged as a prime destination for hosting business seminars, workshops, and meetings.
Within this commercial venture, an array of exceptional dining and retail choices are available, encompassing top-tier restaurants and diverse shops. As a result, the developers have prioritized utmost convenience, ensuring an outstanding assortment of services that cater to the needs of both visitors and occupants.
The project's developers have taken deliberate measures to furnish it with cutting-edge amenities aimed at boosting business efficiency. The inclusion of a high-speed internet connection, reinforced by reliable power backup, paves the way for accelerated business growth. Tenants benefit from centralized air conditioning, facilitating uninterrupted work. Additionally, a contemporary state-of-the-art security system guarantees top-level protection for businesses.
Upon successful execution, Pearl Business Center the first ever High-rise Commercial Project is poised to emerge as a prominent community in the twin cities, as indicated by market analysis. Evaluating all aspects, Pearl Business Center stands as an attractive investment option tailored for small and medium-sized enterprises (SMEs) and entrepreneurs seeking adaptable solutions. We recommend seizing this chance to secure a spot within this distinctive new project and reach new heights.
If you want to explore some more locations for real estate investment or living, visit these exceptional projects like 24 Karat Crown and 9K Suites Ayubia offered exclusively by Makkaan.com as a Sole Marketing Partner.
Feel free to explore them and discover more about the exciting opportunities of high return on investment.
Share This Story, Choose Your Platform!
Looking for best investment advice?
Get your free quote today from Thaikadar.com.