Naval Anchorage Islamabad is one of the well-planned housing societies in Islamabad that was solely developed for Pakistan Naval Officers and their families. It is in Zone V, Islamabad. The society is eco-friendly and is surrounded by natural beauty and green spaces that adds to the serenity of its residents. It is one of the safest options to invest in Islamabad because of its ownership by the Pakistan Navy.
Overview
Naval Anchorage Islamabad is an exquisite and beautiful residential project that is developed under the direction of NESPAK (National Engineering Services Pakistan). This project dates back to 1989 and it went by the name of Pakistan Navy Housing Scheme, but the name was changed later.
The idea behind changing the name was to build a dedicated housing society for the families of Pakistan Navy martyrs. Naval Anchorage has a legal status since it is approved by Capital Development Authority (CDA) long ago. The housing society is also open for civilians to invest in or build a house. Hence all the premium luxury features and approved legal status makes it an ideal place to live.
Naval Anchorage Islamabad is ideally located on Naval Anchorage Road which is easily accessible from Islamabad Expressway. It is because of its proximity to the major landmarks of the city through the Islamabad Expressway that it has gained popularity in the real estate market of the Twin Cities.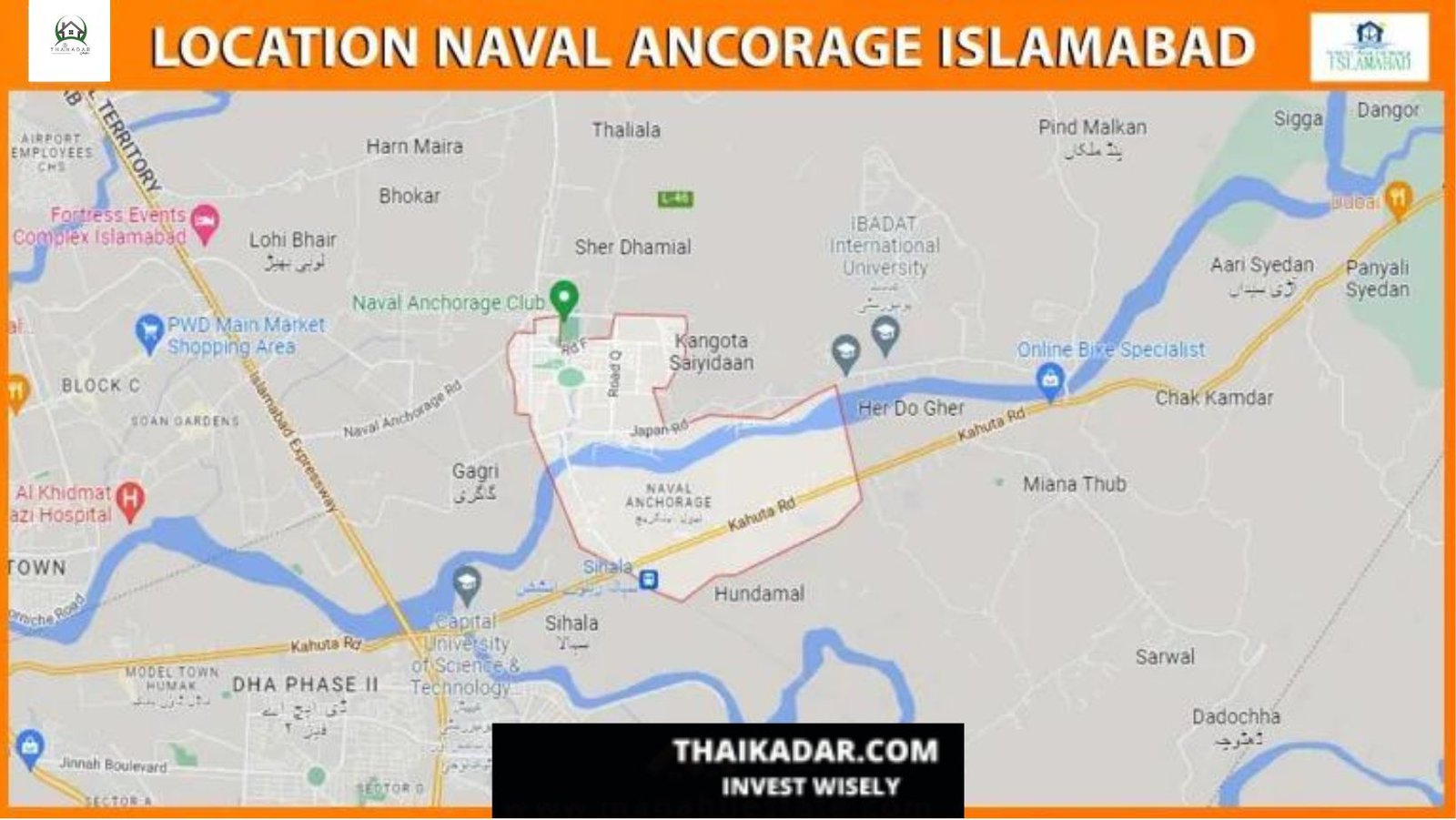 It is also closely located on Japan Road on one side which makes it accessible from various roads. Many neighboring housing societies have grown their community as well which is ideal to construct a house. It comes in Zone V of Islamabad in Mouza Sihala Khurd and Gangsta. One can easily navigate the society from Islamabad Expressway with all the road signs.
Accessibility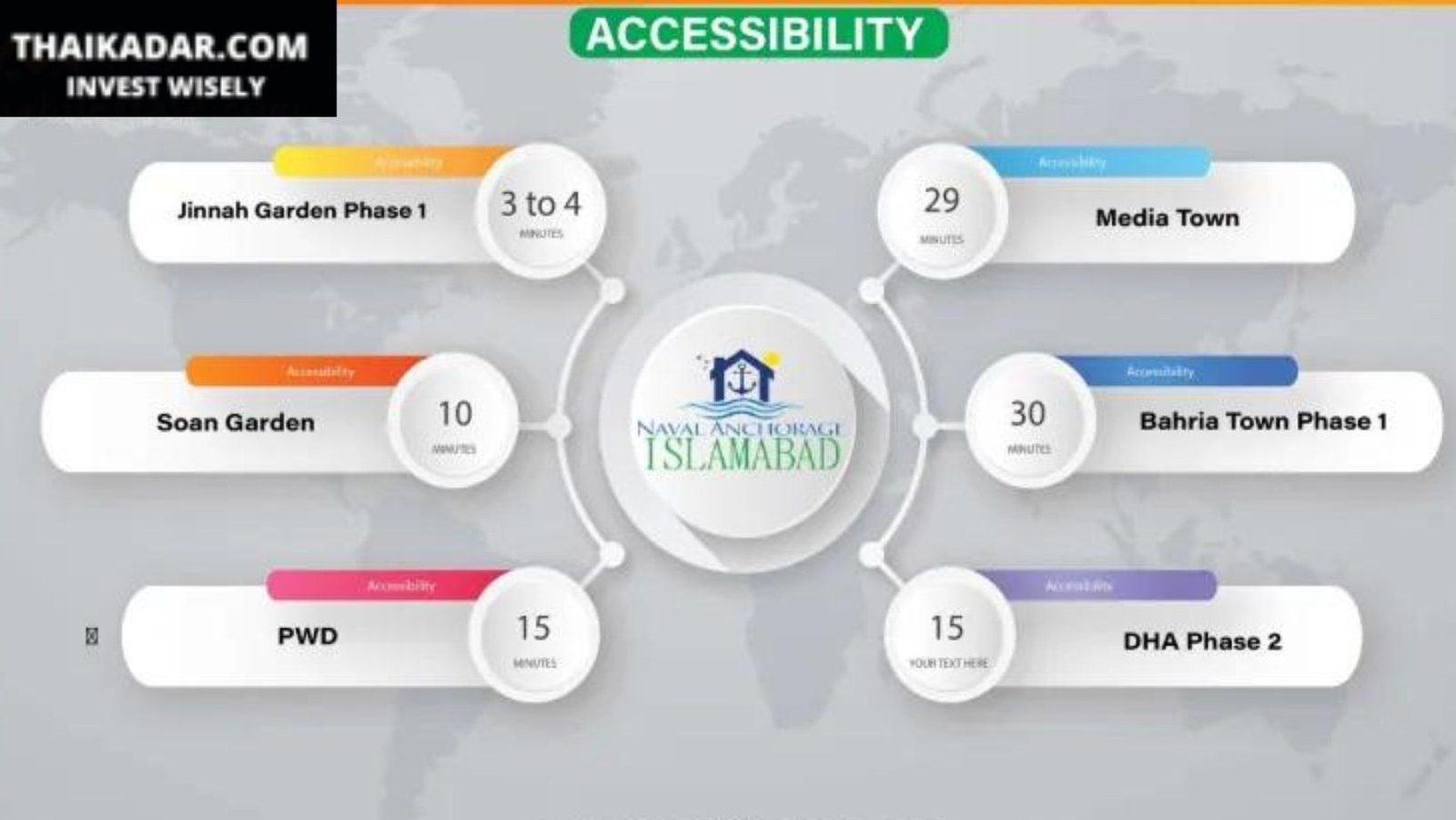 It is easily accessible from Islamabad Expressway, and it is located near all the major housing societies of Islamabad. The major landmarks of Rawalpindi and Islamabad are also accessible from this housing project.
Jinnah Garden Phase 1 (3-4 Minutes)
Soan Garden (10 Minutes)
PWD (15 Minutes)
Media Town (20 Minutes)
Bahria Town Phase 1 (30 Minutes)
DHA Phase 2 (15 Minutes)
T-Chowk (23 Minutes)
Giga Mall (24 Minutes)
Gulberg Greens (27 Minutes)
Koral Chowk (30 Minutes)
Zero Point (45 Minutes)
Neighboring Housing Societies
Jinnah Garden
Senate Housing Society
Soan Gardens
PWD Islamabad
Naval Anchorage Islamabad is a completely legal housing society as it has been approved by Capital Development Authority . Society has its No Objection Certificate (NOC) approved by CDA. You can check the NOC status here.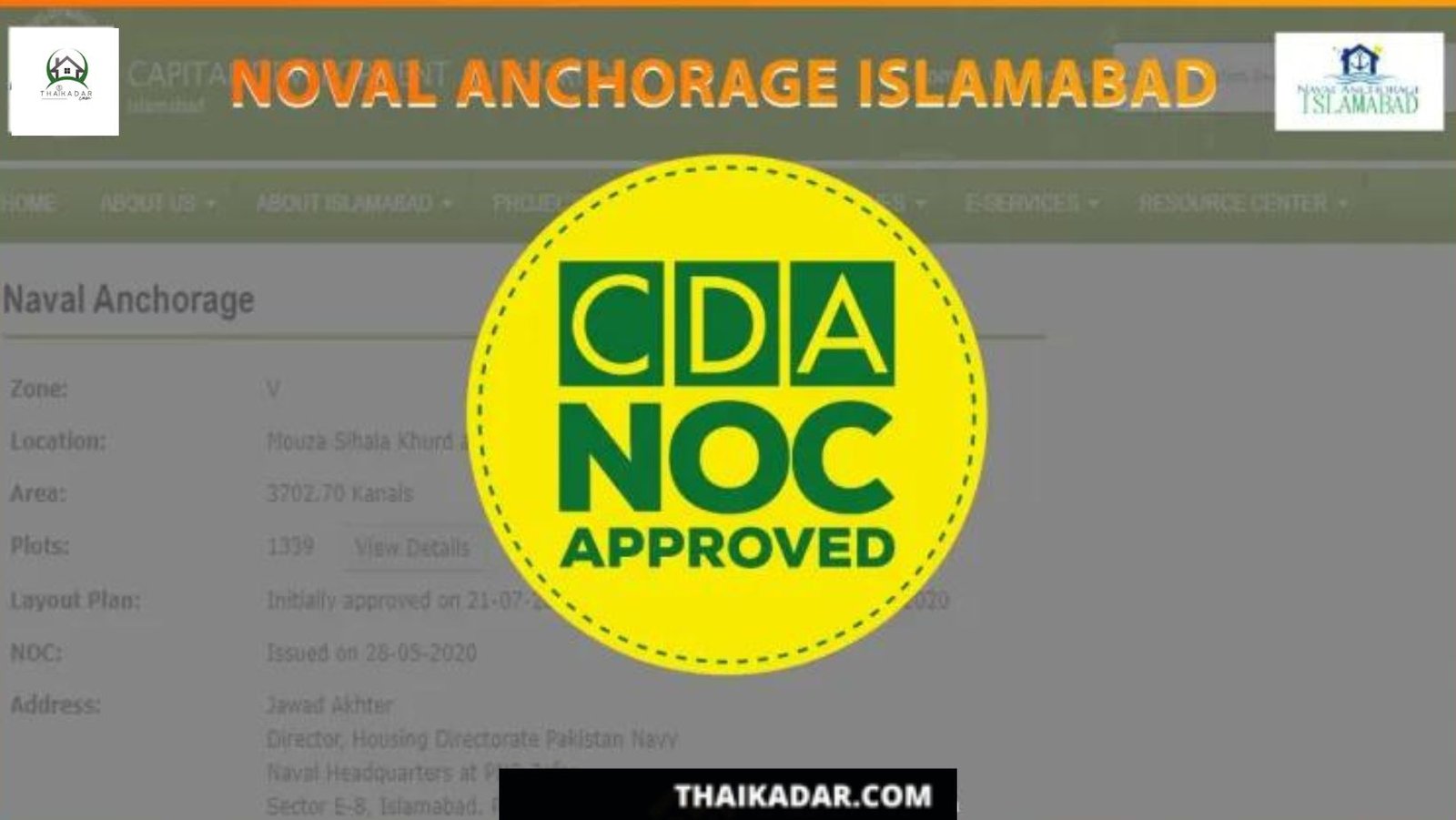 Developers
Naval Anchorage Islamabad is being developed under the consultancy of NESPAK (National Engineering Services). NESPAK is a semi-government known for its top-notch development and engineering services. It is known to compete with the international consultants in Pakistan and they have always delivered on time. NESPAK has roughly worked on more than 5000 projects within the country and 600 projects abroad.
They have a professional team of engineers and consultants that can help in the development of a real estate project from scratch. With their unrivaled expertise, NESPAK has developed the project with utmost perfection and beauty.
Naval Anchorage Islamabad is a developed housing society with more than half of Anchorage Main being populated by residents as of now. Since the society is equipped with all the modern amenities, residents have no problem residing in this amazing housing society. The work on the Anchorage Extension is also in full swing and the residents will start moving in very soon. NESPAK is known for its development, and they are living up to its name on this project as well. Some pictures are also attached below for you to have a clear idea about development.
Total Area
Naval Anchorage Islamabad has an area of 3,677 Kanals and the total number of residential plots in the housing society adds up to 1,339.
Naval Anchorage Islamabad is divided into two phases, i.e., Anchorage Main and Anchorage Extension. Anchorage Main is now also known as Phase 1 of the project. Both phases are divided into different blocks. The blocks in Anchorage Main are from Block A to G whereas the residential locks in the Extension are Blocks J to M.
It is offering both commercial and residential properties for investors. These residential and commercial properties are divided into different categories and plot sizes to accommodate a wide variety of investors in the real estate market. It is because of its serene living spaces and top-notch development by NESPAK that investors are always eyeing an opportunity for an investment in this amazing housing society.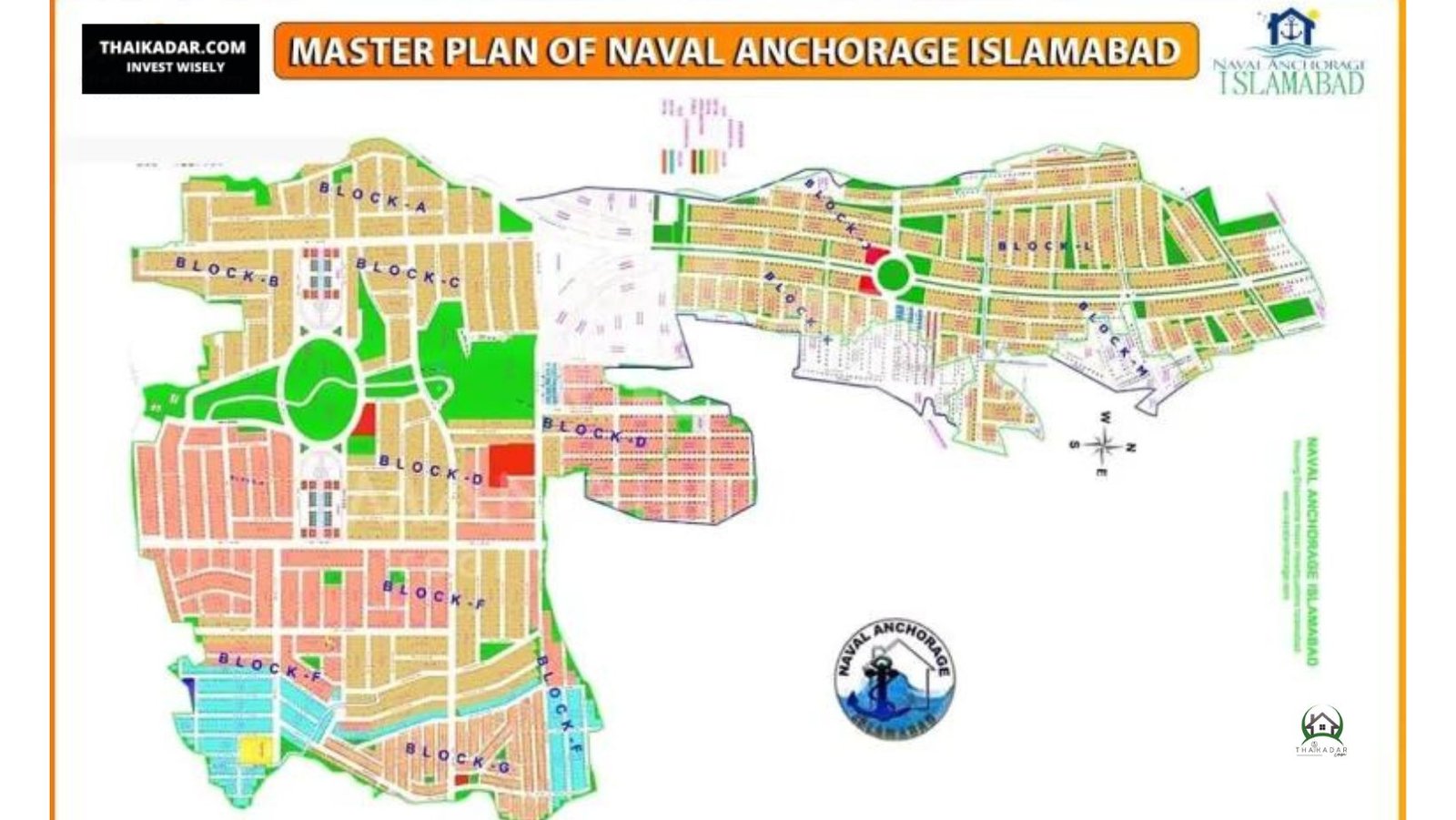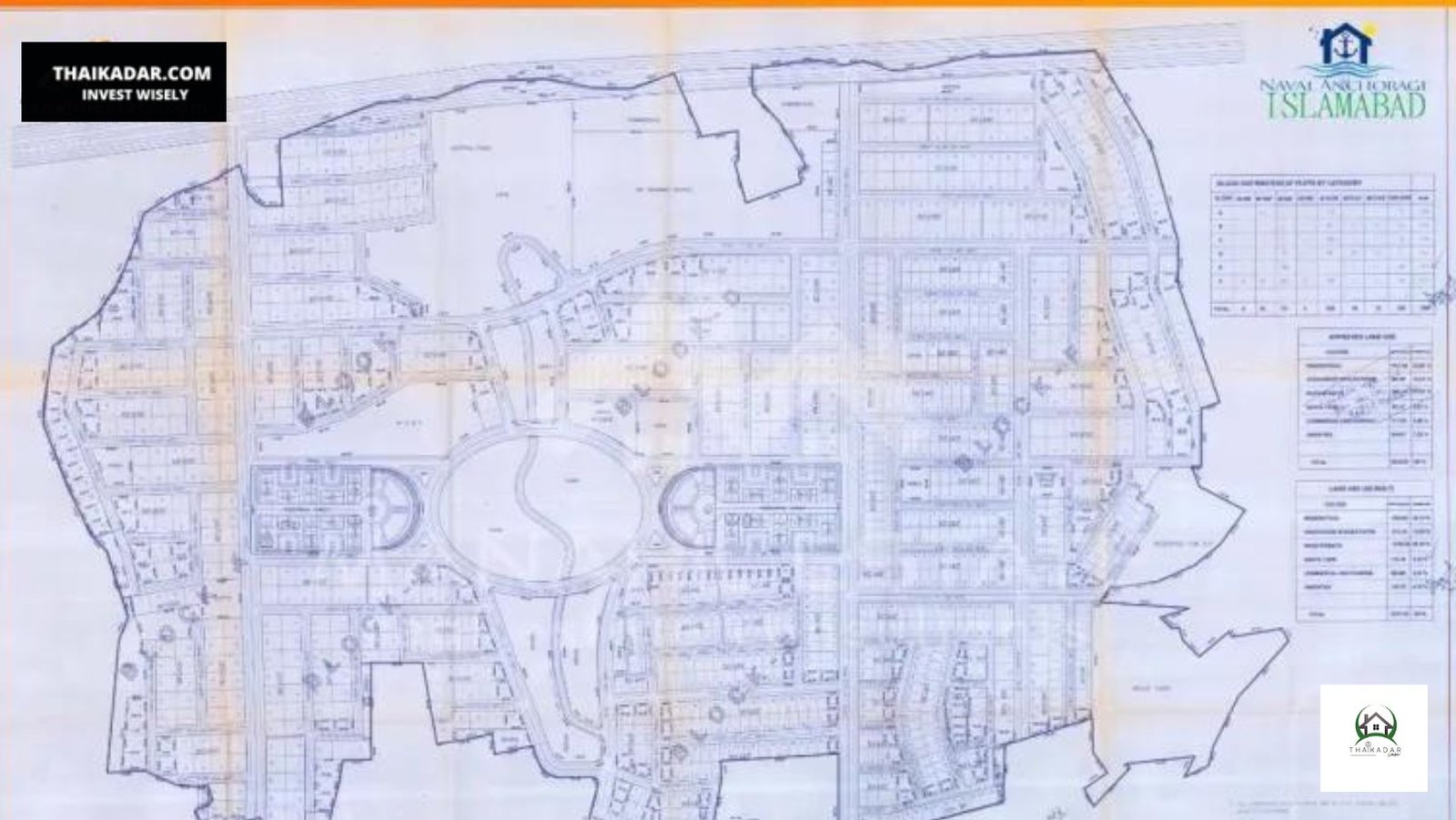 Residential plots
The residential plots offered in Naval Anchorage Phase 1 are as follows:
5 Marla
14 Marla
1 Kanal
2 Kanal
Whereas the residential parts offered in Anchorage Extension are as follows:
Commercial Plots
Following are the commercial plots of this society:
Facilities and Amenities
There is a long list of facilities that are available in Naval Anchorage Islamabad. Naval Anchorage is the perfect location for living solely because of its facilities.
24/7 Electricity Supply
Gas And Running Water Facilities
Beautiful Grand Entrance Gate
Commercial Zones 1 And 2
Regular Maintenance Services Available at Your Doorstep
Modern Infrastructure with International Standard Build Quality
Completely Secure With 24/7 Monitoring and Patrolling Guards with A Quick Response Force (QRF)
Wide Streets and Main Roads
Sports Complex with Indoor and Outdoor Facilities (Gymnasium)
Community Center
Building And Maintenance Control Department
International Standard Medical and Education Facilities
Children Parks and Playgrounds
Golf Driving Range
Educational Facilities
Naval Anchorage Islamabad is dedicated to family living and it includes education facilities for the children as well. There are some of the best schools and colleges available for children.
Bahria Foundation College
Brainiacs Montessori and Junior School
Islamabad Model School for Boys Sihala
1341 Gagri Model Girls College
Pearl Chenab School and College
BFC Anchorage
Roots international schools and colleges (Richmond Campus)
Along with that, some top Universities are also accessible on Kahuta Road
Capital University of Science & Technology (CUST)
Mohi Ud Din Islamic University (MIU)-Sihala Campus
Medical Facilities
If you are looking forward to living in Naval Anchorage Islamabad, you will not have to worry about the medical facilities as it has one of the best medical and health facilities at your doorstep. There are at least 4 clinics and 1 hospital that can help in all sorts of emergencies since these are equipped with all the modern medical equipment.
Islamabad Health Services
Navy hospital
Regional Health center(RHC) Hospital Sihala
Mohafiz
MediPlus Clinic
Restaurants and Recreational Spots
Naval Anchorage Islamabad offers a wide variety of restaurants and fine-dine facilities for families and friends. This wide variety includes restaurants from Chinese to Italian and Desi to Continental.
City Food And BBQ
Snack Rack Bakery
La Sortie Restaurant
Bhaati Gate Restaurant
Southern Crust Pizza
Mujji's Smoke Station
Safari Fusion
Root Bistro
Live Kitchen
Development Pictures
Payment Plan
Following is the residential and commercial payment plan: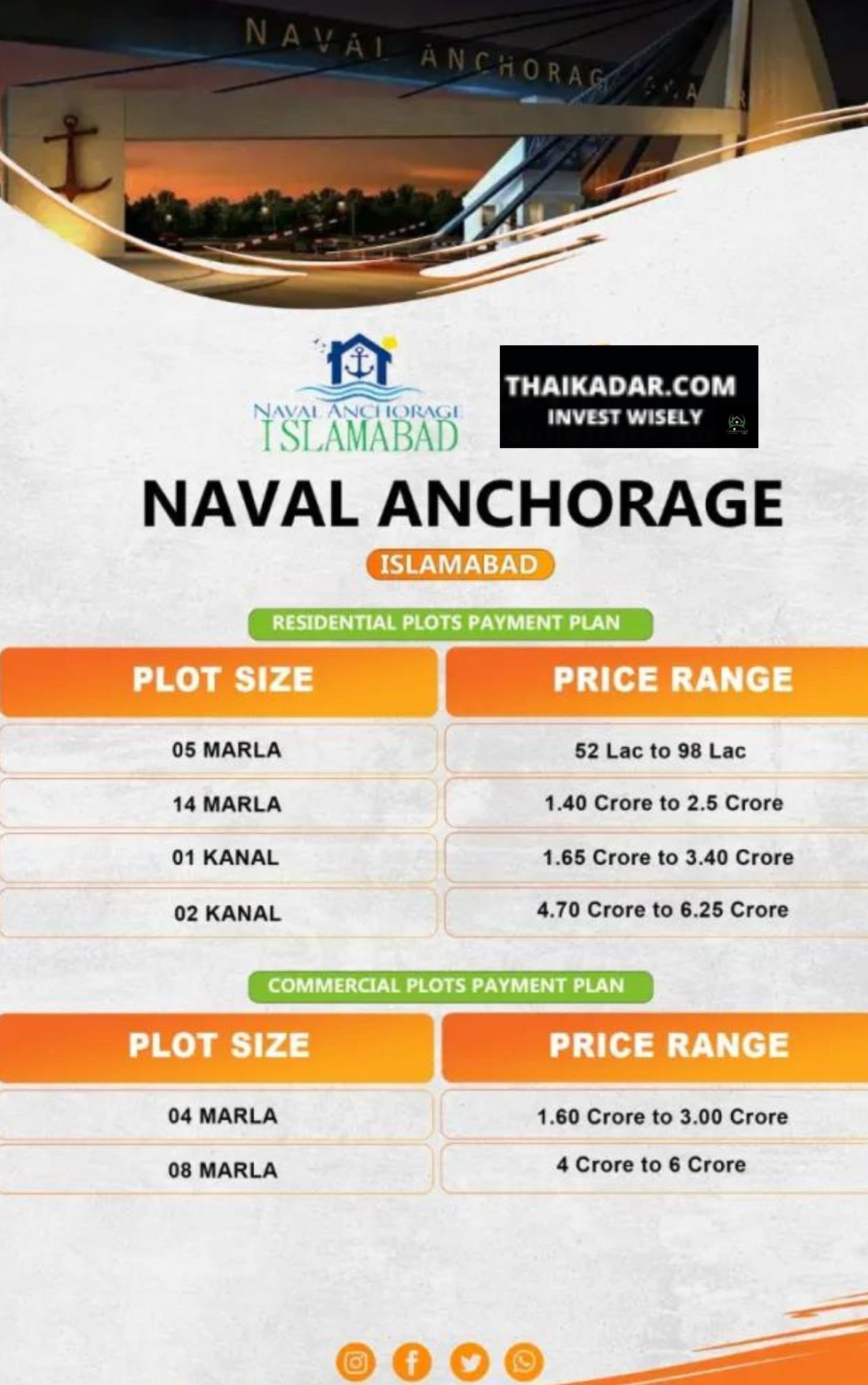 Buying Details
Naval Anchorage Islamabad is already sold out, this means that currently there are no bookings available. Customers can purchase desired plots by paying the lum-sum amounts. Should you have any queries about this society or you want to purchase a plot here, Thaikadar.com is the right agency for you! Contact us today!
Naval Anchorage Islamabad is still an ideal location for investment because of its development progress and the sheer amount of people that are coming to live in this housing society. The real appreciation in the property prices can be seen once the people start moving into the housing society. This situation stands true in this case as more than half the Phase 1 is now populated with residents.
Naval Anchorage Islamabad is also ideal for investment if you are looking for the safest investment in the Twin Cities. To avoid any kind of fraudulent activity in the real estate market, Pakistan Navy has ensured a transparent buying process that can help the investor make the right decision.
Moreover, its location on Naval Anchorage Road which is easily accessible from the Islamabad Expressway adds to its value. This housing society is a complete package coupled with the modern facilities and amenities that one can ask for in the 21st century.
Pros and Cons
Pros
Security With Quick Response Force (QRF)
All The Modern Amenities Are Available
Top Notch Education and Health Facilities
People Already Residing in The Housing Society Is A Positive Sign
Development Progress
Developers Like NESPAK
A Project of the Pakistan Navy
Ideal Location
Commercial Zones 1 And 2
Approved Legal Status
Cons
Higher Prices Since the Society Is Almost Developed
Conclusion
Naval Anchorage Islamabad is an ideal location in the Twin Cities to invest in right now because you can start construction right away. Moreover, it is equipped with modern amenities and facilities that can help you increase your living standard. It is surrounded by serene views and beautiful green spaces that will help you soothe your nerves.
Naval Anchorage Islamabad is getting more popular with each passing day since more people are coming to reside in this housing society. The future of society also seems to be promising because as more people are flocking to it, the property prices will appreciate soon.
Moreover, this housing society is trusted by the people since it is backed by Pakistan Navy. It is also legally approved which means that you can start your construction without any hesitation. Pakistan Navy ensures a transparent process of any sort of transaction in this housing society which adds to the trust of the investor.
Share This Story, Choose Your Platform!
Looking for best investment advice?
Get your free quote today from Thaikadar.com.