About Faisal Margalla City
Faisal Margalla City is a completely developed and delivered project owned by Zedem International. It is a private construction firm owned by Chaudhary Abdul Majeed, who is the owner of multiple successful projects in the twin cities.
The society resides in a truly natural area, neighbored by the majestic Margalla Hills of Islamabad and surrounded by breathtaking views and serene beauty. The society is located right next to the MPCHS sector B-17 Islamabad block A. The development and sales responsibilities are handled by Zedem International.
Today, FMC stands as one of the most sought out and demanded housing societies in the Federal Capital. Also, it is widely renowned for its tranquil and charismatic location. Surprisingly, the society progressed in a short time and was able to achieve a unique status. In addition to this, the society is approved by the concerned authorities.
Location
Location not only improves the worth of a housing society but also makes commutation much easier, which results in more interest from investors and end-users. If we have a look at FMC's location, it occupies the region between the sectors A, C, E, and G of B-17 Multi Gardens Islamabad. The society spans north towards the Margalla Hills.
Following is the location map for better understanding: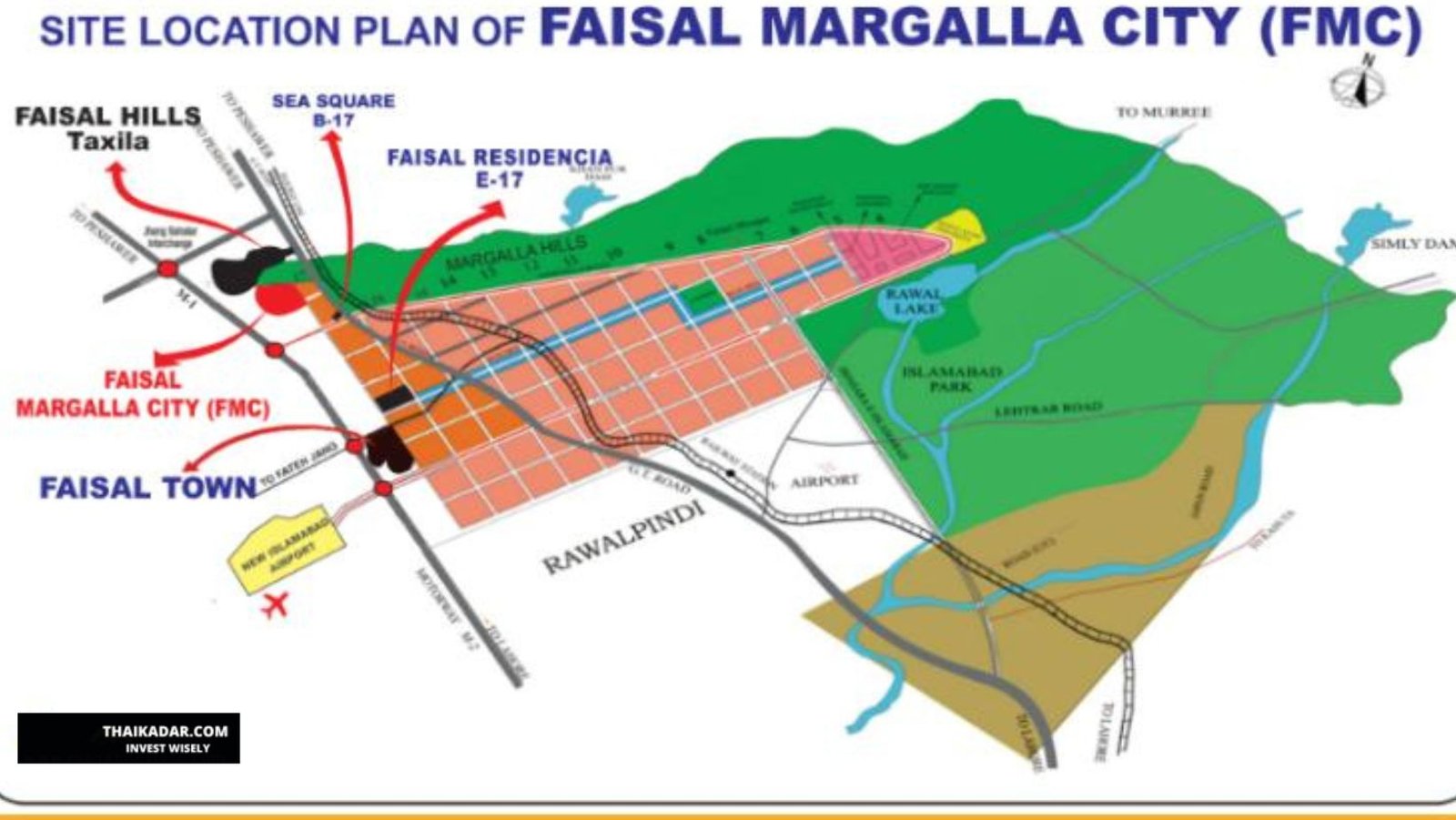 Faisal Margalla City Access Routes
FMC can be accessed from multiple routes in the twin cities. You may access the society as follows:
G.T Road B-17
M-1 Motorway
B-17 Multi Gardens G Sector Service Road
Multiple accesses to the society are one of the factors that many customers are attracted to this project.
Developers and Owners
Zedem International is the development company for Faisal Margalla City. Zedem delivered the society in a short time and gained a huge amount of trust from the general public.
Aside from FMC, Zedem is also known for delivering some other major successful projects In Rawalpindi and Islamabad.
The best projects of the developer are:
Furthermore, there are more ventures of Zedem International in sectors B-17, F-11, and E-1 Islamabad.
Development Status
The society was launched back on 20th September 2018 and development began shortly after that. The developers delivered the project in record time and made the society ready for possession. Faisal Margalla City formally held the balloting in August 2019 and plots were for possession in September 2019.
Following pictures of the society will give you a clear insight into the development:
NOC and Legal Status
Faisal Margalla City faced no problem acquiring NOC from the concerned authority. It falls under the jurisdiction of RDA. The society is duly approved by Rawalpindi Development Authority, the first LOP was granted via the letter RDA/MP&TE/F-PHS-TAX-07/145, dated 19-02-2019. Shortly after that, LOP was also issued to FMC by RDA in June 2019/
Master Plan
Faisal Margalla City is a comprehensive community, offering a wonderful mix of residential and commercial opportunities along with a modern lifestyle. The society comprises a single block A, which spans the whole project.
Society is planned perfectly with all the features leading to a peaceful and prosperous life. The master plan includes educational institutes, parks, green areas, a lake, apartment buildings, a graveyard, commercial areas, and mosques. Moreover, the land is also allocated for future extensions.
Plot Sizes
The following plot sizes are offered by FMC:
5 Marla
8 Marla
10.89 Marla
14.22 Marla
1 Kanal
Features and Amenities
FMC provides all the basic utilities and modern amenities. It is a secure gated community that fulfills the needs of residential and commercial communities flawlessly.
Following is the list of extensive amenities offered by Faisal Margalla City:
Quality Road Network, Wide and Carpeted Roads
Sewerage Disposal System
Nearby Educational Institutes
State-of-the-art Infrastructure
Parks and Open Areas
Community Center
Clean and Green Environment
Healthcare Facilities
Water, Gas, and Electricity
Underground provision of Electricity
Secure Gated Community
Mosques
Children's Playgrounds
FMC Brochure
Prices and Payment Plan
At the start, there were suspicions about the payment plan, whether the society offers installment plans or just lump-sum payments. But later on, an installment plan was introduced by the management to facilitate people who can't afford one-time payments.
But now, the society is completely sold out, the plots are only available on resale as well as the prices have increased noticeably.
Following are the minimum and maximum resale prices of plots at FMC: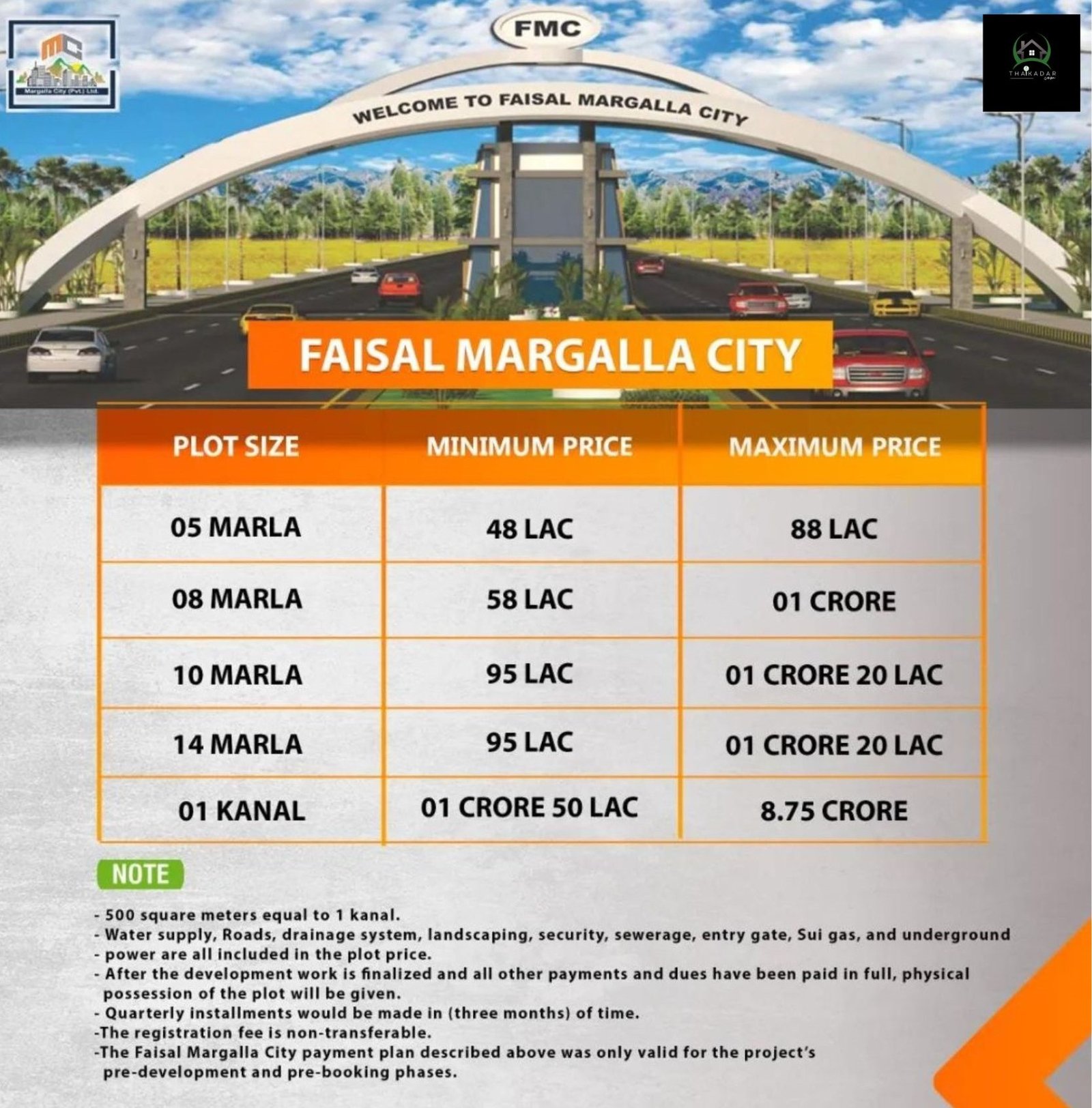 How to Buy a Plot at Faisal Margalla City?
Since the plots are only available on resale; you need to pay the current market price. If you are interested in buying a plot at Faisal Margalla City, Contact [email protected]. We will search for the best plots according to t0 your exact requirement and be with you from start to finish.
We always make sure our customers are satisfied!
Pros and Cons
Faisal Margalla City has way more pros than cons that are why it is so successful among the investor circles and end-users.
| Pros | Cons |
| --- | --- |
| Water Availability | Perception of High Prices |
| Gas Availability | Doubts about Development Status |
| Electricity Availability | |
| Underground Electricity | |
| Healthcare Centers | |
| Parks and Green Belts | |
| High investments Returns | |
| Good for Balanced Life | |
| Premium Security | |
| CCTV Surveillance | |
| Gated Entrance | |
| Multiple Entertainment Facilities | |
| Mosque | |
| Wide Carpeted Road Network | |
Frequently Asked Questions (FAQs) about Faisal Margalla City Islamabad
Concluding Remarks
Faisal Margalla City is an iconic housing project in the twin cities, providing multiple residential, commercial, and apartment living to the residents. It features state-of-the-art amenities, world-class development, and the latest architecture, giving FMC a lead over other similar projects.
It is a rewarding investment and a brilliant choice for living. Contact [email protected] if you have made up your mind to buy property in FMC. We will help you find the best options for yourself.
Share This Story, Choose Your Platform!
Looking for best investment advice?
Get your free quote today from Thaikadar.com.