Introduction
University Town Islamabad is a few minutes away from New Islamabad International Airport. The beautiful climate and best location are the highlights of University Town Islamabad. University Town Islamabad accommodates the needs of modern living. The project offers affordable residential and commercial plots at a prime location.
The features of the town include a beautiful environment, lush green surroundings. It is near CDA sectors I-17, H-17, and G-13. It is ideal for those who want to buy and live in affordable housing in the clean environment of Islamabad.
University Town Islamabad Location
Situated at the junction of Islamabad and Rawalpindi, you can see the main gate of society. If you are traveling by the M-2 Motorway, you can view the landscape. The vastness of the area behind the main gate gives you an overview of its prime location. The approachability from the CDA sectors of Islamabad makes it a perfect choice.
Following is the location map for your convenience: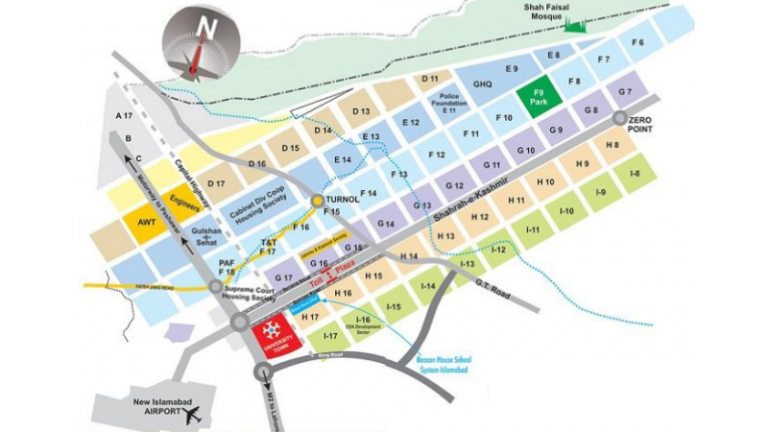 Total Land Area
University Town extends over an area of about 4500 Kanals. Most of the plots offered by the society are residential.
Accessibility
University Town touches Srinagar Highway and links with Airport through Thalian Interchange. The accessibility feature from the capital makes it a perfect choice.
University Town Islamabad Master Plan
University Town extends over an area of about 4500 Kanals. Most of the plots offered by the society are residential. It consists of 5 Marla, 10 Marla, and 1 Kanal plot. The master plan of the society consists of six blocks (A – F). Society has developed the first three blocks A, B, D, and delivered them to purchasers. The development of the remaining blocks is in speedy progress.
University Town Developers
University Town founder is Abdul Aziz Khan belongs to educational background. He came to real estate with a vision to provide affordable housing to the residents of the town.
Development Status
The town planners have delivered the first three A, B, and D blocks. This has encouraged the trust of real estate investors. University Town now stands on top among all the projects of its vicinity.
Take a look at the following pictures to get an idea of the development across the society:
Legal Status and NOC
Society has approval and NOCs from all government departments and authorities.  It includes design NOC from Rawalpindi Development Authority (RDA). (NOC RDA: RDA/MP & TE/F – PHS – 43/1873)
University Town Features and Amenities
University town offers all the amenities of modern living. The residents would have electricity, water, gas, and security with CCTV surveillance. The 72′ wide Main Boulevard and no roads are less than 35′ wide. There is underground electricity, hospital, and medical facilities.
Residents would have a community center, parks, playgrounds, shopping malls, mosques, and schools.
Underground Electricity and Gas System
Underground electricity lines are gaining popularity in modern real estate projects. These features you would get in posh residential areas of Islamabad. University town has opted for underground electricity for their commercial and residential areas.
It would have a very good impact on the visual beauty of the town and improve the safety of its residents.
Parks and Recreational Areas
Very few projects leave enough space for public parks. The University Town has dedicated recreational green areas and parks. It contributes to a lush green environment.
The green spaces energize local life. The residents can meet, discuss and develop social links. Sustainable town planning has played a major role in creating a real community.
Hospital & Medical Facilities
University Town has allocated space for Hospitals and Medical facilities. The town residents can have all the healthcare facilities in the nearby locations.
Green and Clean Surroundings
University Town is at a place that is green and clean. Air pollutants in busy city centers can affect the lives of people. Toxic air pollutants and contaminants also worsen health conditions: allergies, asthma, etc.
This is why a growing number of people are opting for an environment where they can live in a clean environment. University Town is one such place, which can boast of good environment.
Commercial Area
University Town has included several commercial areas in its master plan. The town has commercial plazas, restaurants, and markets in easy approach.
Schools and Institutes
Schools and colleges are part of the master plan of the University Town. The town offers an environment where educational institutes would play a major role. A wide range of activities would develop the talents of young learners.
These salient features make University Town Islamabad an ideal choice. If you want to build a home in a fast-growing city then the place is perfect. Your property will gain in value over the years, ensuring you a very high capital gain on resale.
University Town Islamabad Prices
The pricing and payment plan vary according to the different blocks. For its investors, the society has offered payments in easy installments. You can book a plot in new blocks with a 25% payment. If you want to buy a plot in University Town, our agents would furnish you with the best price quote.
Please note that residential plots are already sold out at University Town. However, they are available on resale with all dues cleared.
The commercial Plots payment plan is as follows:
Is University Town Islamabad a good investment?
Investing in University Town is safe and secure. The developers have fulfilled all the promises they made. The developer has completed more than 80% of the development work. The town has delivered the plots to its customers in the first phase. The society boasts a good repute among all the big real estate projects of Islamabad.
Affordable Residential Plots and Commercial Properties
The need for good living in the capital is increasing and prices are very high. University Town is an affordable choice for its investors.
The projects around this concept reflect the very meaning of affordable housing. University Town isoffering this possibility near the capital Islamabad. It is about opening up a future both to individuals and to a more diverse community.
Convenient Access
To get proximity to work, schools, transport, and shops, many people make a clear choice to stay in cities. They prefer to live in the heart of city centers for rent, even though they could invest in an affordable house. University Town is offering easy access to Rawalpindi and Islamabad.
University Town is a few minutes away from the new Islamabad International Airport. The town is very near to the M-2 motorway.
University Town Islamabad Future
Real estate prices are soaring in the capital, the rental property market is doing well. Current government policy is in favor of affordable housing. The property options have attracted more and more residents. To aim for a rental yield, it is necessary to target the most popular properties of the city.
Investment in University Town Islamabad allows you to get high returns. It would offer good rental profitability. The rental is high, especially for small housing units. University Town Islamabad is near twin cities. It makes it all the best investment project.
FAQs about University Town Islamabad
Here are answers to some of the most asked questions. Interested buyers of University Town ask from us.
Book Your Plot Now in

University

Town!
To secure your investment, you can turn to professionals, such as [email protected] . To book a plot in University Town, all you need is these documents. A copy of your CNIC, 2 Passport size Pictures, Details of next of kin, and Payment in favor of University Town.
Our agents would guide you from start to finish. Consult us to search the property, purchasing, and rental management. Invest now with complete peace of mind.
Share This Story, Choose Your Platform!
Looking for best investment advice?
Get your free quote today from Thaikadar.com.