DHA Islamabad is a project of the Defence Housing Authority (DHA) located on G.T. Road and Islamabad Expressway. It is an approved housing project and is considered an exceptional area in terms of infrastructure development, master plan, and development execution. DHA Islamabad is currently developed into 6 Phases and DHA Valley.
All the phases of DHA offer commercial and residential properties furnished with civic amenities and urban features. One can buy plots in DHA Islamabad in the sizes of Marla, 10 Marla, 1 Kanal, and more. Keep reading to learn more about DHA Phases, Location, Maps, Development Status, and investment opportunities.
Overview
DHA Islamabad is an expansive housing project that is located at the junction of Islamabad and Rawalpindi. Since the DHA Islamabad is divided into 6 phases and DHA Valley, it spreads over different parts of the city but in close vicinity. It is because of its ideal location and ultra-premium luxury that this amazing housing project is in high demand. DHA started as a project of the Pakistan Armed Forces Welfare Trust, but it soon became the choice of the masses. Some parts of DHA Islamabad are approved by the concerned authorities and new phases are in the development phase.
DHA Islamabad Location
DHA Islamabad is a housing project located on the eastern side of the city. Most of the phases of DHA Islamabad come under the jurisdiction of Islamabad Zone-5 and in the territory of Rawalpindi.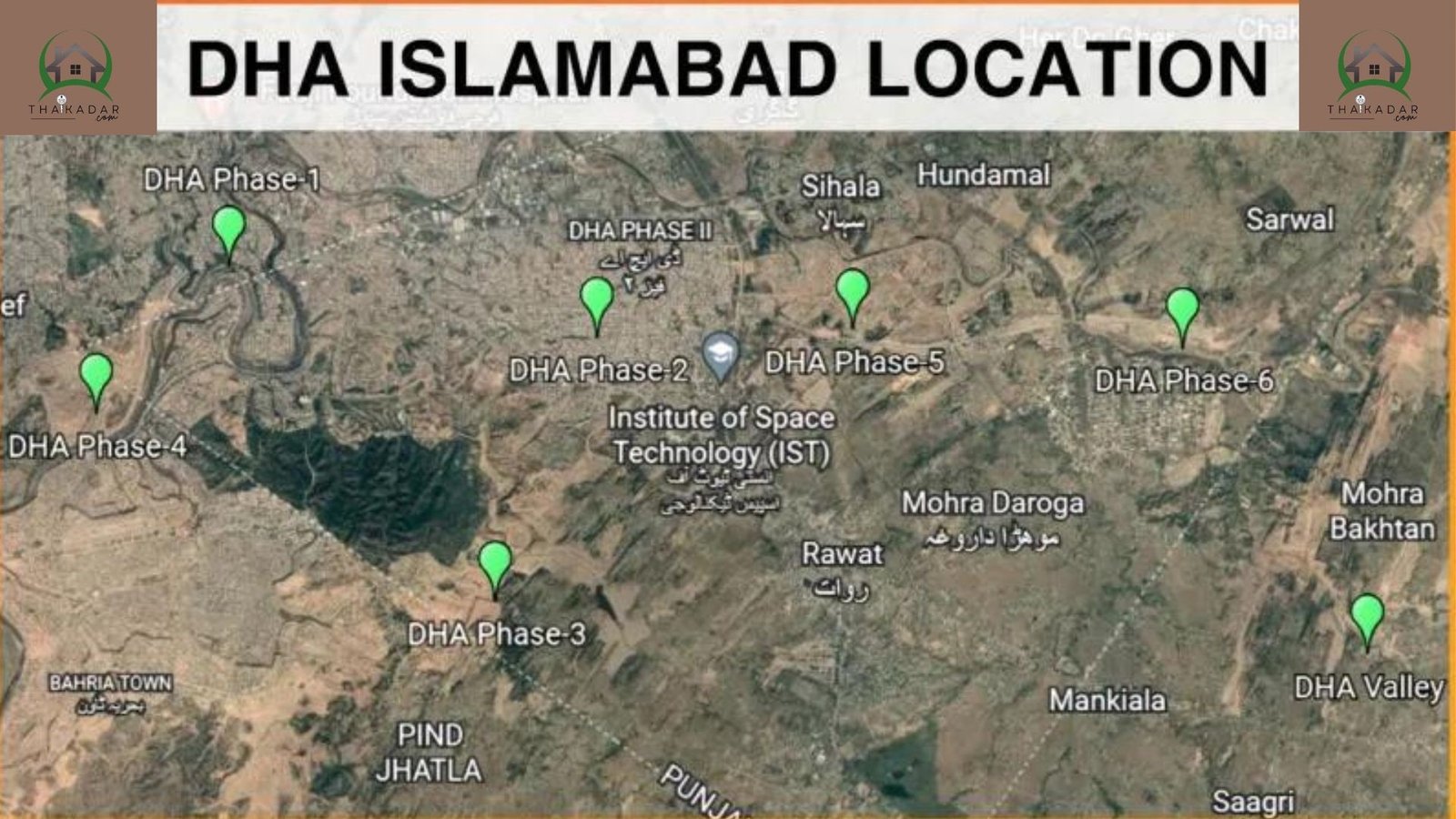 All the phases of DHA Islamabad are located in a neighborhood marked with the best urban development and splendid housing projects. Some of the names include:
Askari Housing
Zaraj Housing Society
Emaar Canyon Views
River Garden
Army officers Colony
DHA Islamabad Planners & Developers
DHA Islamabad is a project of the Defence Housing Authority and they have engaged with world-renowned architects and town planners including Habib Rafique Private Limited (HRL) to shape the landscape into a superb neighborhood.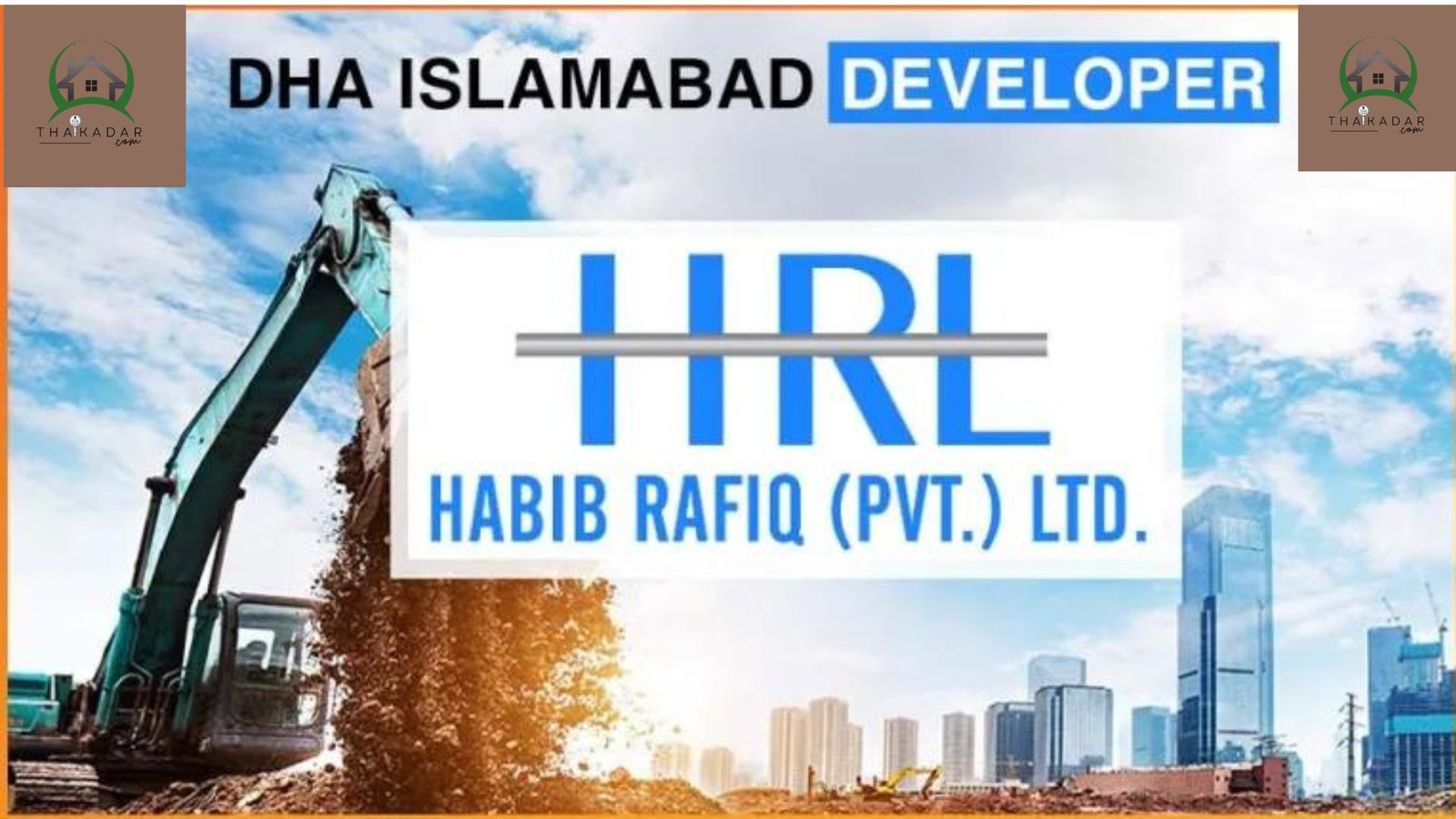 DHA is always known for its premium luxury and fast-paced development without any compromise on the quality of the work. DHA Islamabad is no different than any other project of DHA in the entire country. With the name of DHA attached to any project in the real estate market, you can trust them with your hard-earned money.
DHA Islamabad NOC and Legal Status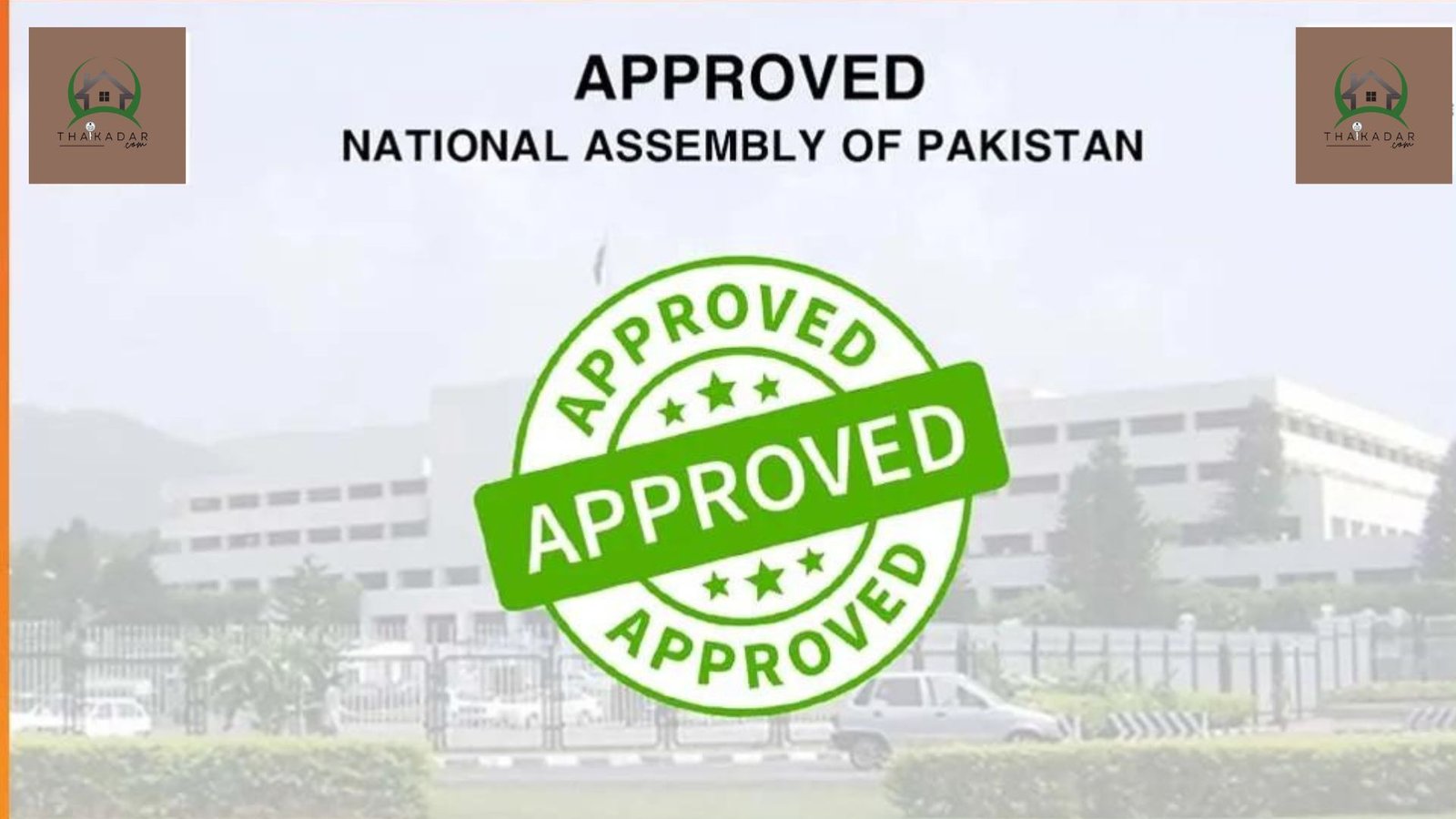 DHA Islamabad is an approved project under the special Presidential Ordinance 2005. The DHA Islamabad Act 2013 was also approved by the National Assembly of Pakistan. It is itself a housing authority that can provide housing services to the masses after legally acquiring the land. Hence, all the projects that come under DHA Islamabad are considered legal as they are pre-approved.
Overview of DHA Islamabad Phases 1 to 6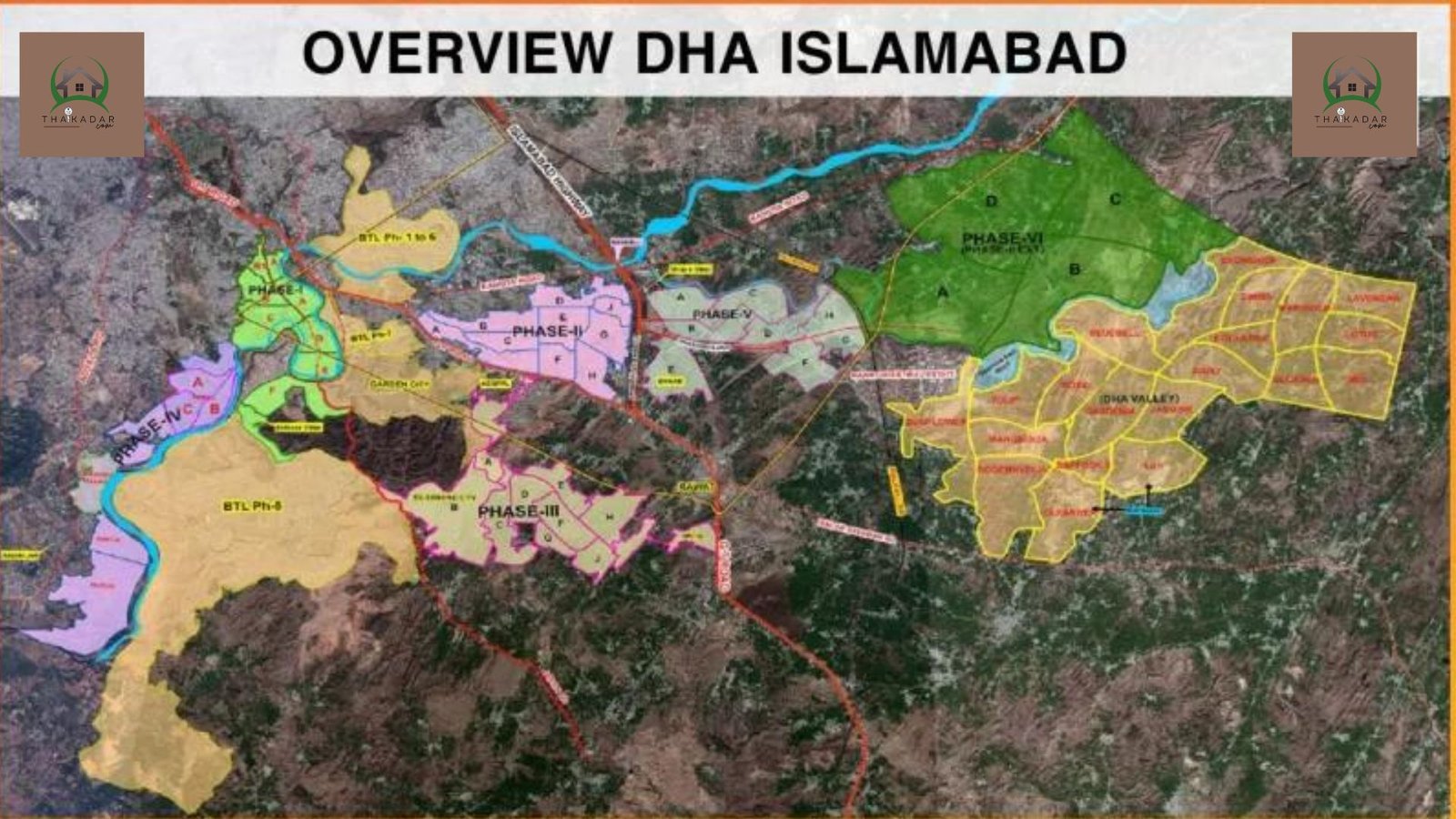 DHA Phase 1 Islamabad
DHA Phase 1 is located on the Grand Trunk (GT) Road. DHA Islamabad Phase 1 spreads over an area of about 1100 Kanals in the southeast of Morgah, Rawalpindi and it is also located near the Attock Refinery. It can easily be accessed from G.T. Road as the entrance gate is located right alongside one of the largest hospitals in Rawalpindi, Fauji Foundation Hospital. Currently, there are a total of 4,971 commercial and residential units. The infrastructure is completely developed with a residential community and commercial areas.
DHA Phase 2 Islamabad
To understand the location of DHA Phase II, you will have to move along the G.T. Road till the point it connects with Islamabad Expressway.DHA Phase II is ideally located between Islamabad Expressway and G.T. Road. One can easily access. DHA Islamabad Phase II from either of the main road networks. DHA developers have given multiple entrance gates to DHA Phase II alongside GT Road and Islamabad Expressway. It has been meticulously designed to accommodate the location benefits. All the sectors (A-J) touch major boulevards which interconnect them and lead them to main roads.
DHA Phase 3 Islamabad
DHA Phase III is located in a serene location that is not far from Giga Mall, Islamabad. It is right alongside Zaraj Town and DHA Phase II. A mega housing project which is developing over 3500 Kanals, would be home to 958 residential and commercial units with modern infrastructure including parks, schools, and healthcare facilities. It is located opposite DHA Phase II near the famous Giga Mall – World Trade Center which is one of the biggest malls in the Twin Cities. It can be accessed from Bahria Town, Zaraj Town, and Main G.T. Road.
DHA Phase 4 Islamabad
DHA Phase IV is the most ideally located phase in DHA Islamabad because of its semi-hilly terrain that runs alongside the Soan River and DHA Phase I Orchard Sector C. It can either be accessed from DHA Phase I from one side or Adyala Road from the other side. Launched in 2015 it has an area allocation of over 4000 Kanals. It is the perfect location for nature lovers who want to enjoy the serenity of the environment in complete peace and silence.
DHA Phase 5 Islamabad
DHA Phase V is located opposite DHA Phase II on Islamabad Expressway. It is the most convenient location for people looking to reside in DHA Islamabad. DHA Phase 5 Islamabad master plan has been beautifully designed along the Ling Stream and Sawan River. The area has come to the limelight with the development of Emaar Canyon Views, Rihah International Hospital, and CUST University in easy access. With the construction of Central Commercial, Blue Bird Park, and schools the place is fast becoming a home to new settlers.
DHA Phase 6 Islamabad
DHA Phase VI is located near T-Chowk Rawat. DHA Phase VI is connected with Islamabad Expressway via DHA Expressway. It is also close to Rawat Industrial Estate. The master plan of DHA Phase 6 Islamabad has been designed by OJRM which is a Los Angles USA-based architectural designing firm. The plan is spread over an area of 55,000 Kanals and includes Overseas Sector and DHA Valley.
DHA Valley Islamabad
DHA Valley is located on the six-lane DHA Expressway along with DHA Phase VI (Ex DHA II Extension). It can only be reached by using Islamabad Expressway and rerouting to DHA Expressway. Moreover, like DHA Phase VI, it is also located near T-Chowk Rawat. This means that it is ideally located near the residents of both cities.
DHA Islamabad Facilities & Salient Features
DHA Islamabad is equipped with all the major amenities and necessities of life. Most of the features are similar across all the Phases of DHA Islamabad.
Security (Guard Surveillance with Patrol Cars and CCTV Footage)
Underground Electricity
Contracts with World-class developers like Al-Ghurair Giga and Emaar
Accessibility
Mosques in Every Sector
Commercial Areas (Functional 24/7)
Avicenna Medical Center
DHA Property Exchange
DHA Army Public School
DHA-I Roots International Campus
Jacaranda Club
International Standard Schools
JFC Cineplex
JFC Bowling Alley
DHA Islamabad Frequently Asked Questions (FAQs)
Share This Story, Choose Your Platform!
Looking for best investment advice?
Get your free quote today from Thaikadar.com.