Kingdom Valley is a newly-launched low-cost housing scheme sponsored by Kingdom Group near Chakri Interchange on Motorway M-2 Islamabad. It is duly approved by Punjab Housing & Town Planning Agency (PHATA). The society is currently offering residential and commercial plot files on easy installments, while development activities have recently started at the project site.
Kingdom Valley is registered under Prime Minister's ambitious "Naya Pakistan Housing Program", therefore it offers low cost residential plots, farmhouse plots, commercial plots and small houses at affordable prices with a flexible installments plan for low-income families of Islamabad and Rawalpindi. Notwithstanding the low prices, Kingdom Valley is all set to meet the contemporary development standards by introducing top-of-the-line smart technologies for a luxurious living experience.
Kingdom Valley Developers
Kingdom Valley Islamabad is owned and being developed by Kingdom Group. Ghulam Hussain Shahid is the CEO/ Chairman of Kingdom Group. The company has its roots in Lahore where it has been engaged in large-scale development projects over the past 2 decades.
Kingdom Group has deployed its decade-long experience and technical expertise to incarnate the vision on ground. Hence, it aims to deliver the best living facility for the residents of twin cities at highly affordable prices.
Kingdom Valley Location
Kingdom Valley Islamabad lies on Dehri Village Road, near Chakri Interchange on Motorway M-2 Islamabad. The society is easily accessible through Motorway M-2 as well as Chakri Road.
Following is the google location map of Kingdom Valley Islamabad: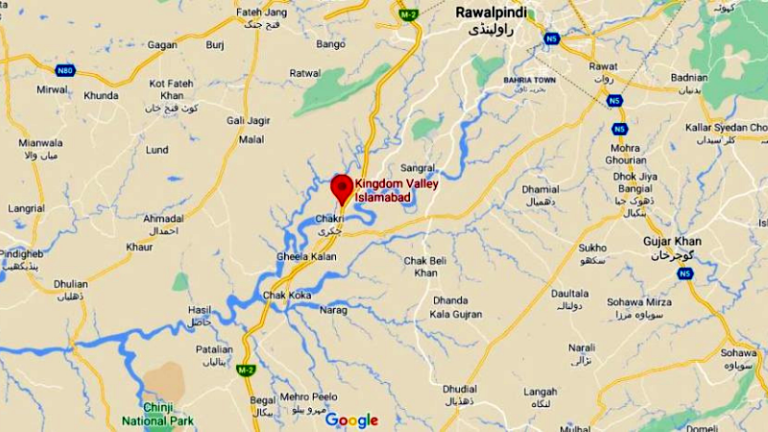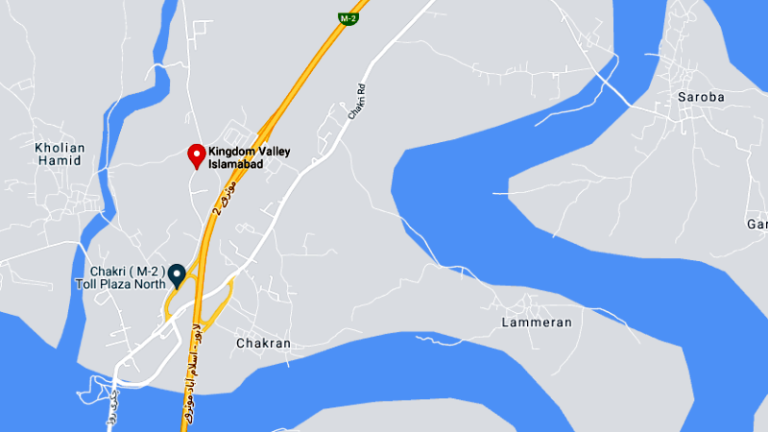 Nearest Landmarks&Accessibility
10 minutes away from Rawalpindi Cadet College
5 km away from Rawalpindi Ring Road
5 km from Thalian Interchange at Lahore-Islamabad Motorway
4 km drive away from the Chakri Interchange on Lahore-Islamabad Motorway M-2
Nearby Housing Schemes
Following is the list of neighboring housing schemes on Kingdom Valley Islamabad:
Qurtaba City
Discovery Gardens
Mivida City
Prime Valley
Blue World City
Capital Smart City
Al-Makkah City
1947 Housing
Kingdom Valley Islamabad NOC
Kingdom Valley Islamabad has obtained a valid NOC from Naya Pakistan Housing Program. It is registered under Prime Minister's Naya Pakistan Housing Project. The NOC approval no of Kingdom Valley is DRG/PHATA/2176-2021.
Albeit the NOC from Rawalpindi Development Authority is yet to be obtained, the society is comparatively safe to invest. The development work has begun already following the issuance of NOC from PHATA, so the delivery of the project is expected to be on time.
Kingdom Valley Islamabad Master Plan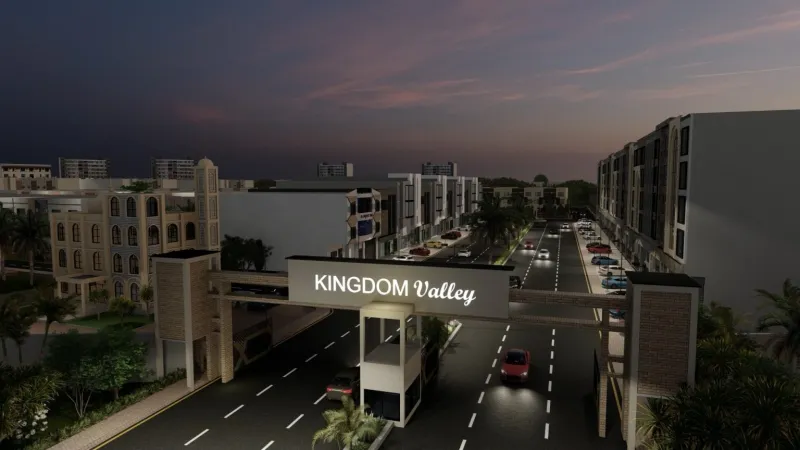 Kingdom Valley Islamabad is planned over 15000 Kanals of land. The society offers both residential, and commercial plots as well as farmhouse plots and low cost villas within its premises.
The society has released a provisional map showing different residential blocks planned in Kingdom Valley. There are total 4 residential blocks given in the map, i.e. A, B, C, and D Blocks. Dedicated commercial areas are planned in Block A and Block D with proper parking spaces where commercial developments will take place in future.
Following is an unclear copy of the official map: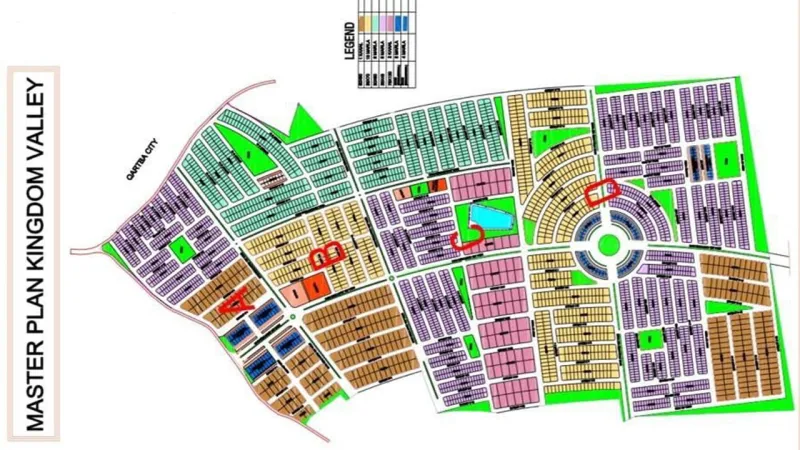 Kingdom Valley Islamabad has launched the following blocks in its housing scheme:
General Block
General Block comprises assorted sizes of residential and commercial plots. Residential plot sizes include 3.5 marla, 5 marla, 8 marla, 10 marla and 1 kanal, whereas commercial plot sizes include 2 marla, 4 marla and 8 marla.
Executive Block
Executive Block also comprises assorted sizes of residential and commercial plots. Residential plot sizes include 6 marla, 8 marla, 10 marla and 1 kanal, whereas commercial plot sizes include 4 marla and 8 marla.
Farm Houses
Since Kingdom Valley is basically located in the rural area with lush green environment, it is an ideal place to build a farm house. Keeping this fact in mind, Kingdom Valley has come up with a dedicated block for farm houses where 2 kanal and 4 kanal farmhouse plots are being offered at attractive prices with a flexible payment plan.
Kingdom Villas
As Kingdom Valley is registered under Naya Pakistan Housing Program which encourages developers to build low-cost residential units for low-income segments of the society, the society has introduced 3.5 marla and 5 marla houses at affordable prices in easy installments.
Features and Amenities
Even though Kingdom Valley is planned to be a low-cost housing scheme, yet the developers have incorporated all basic and contemporary facilities and amenities in the development plan. The list of facilities include all basic utilities, sports facilities, entertainment facilities, health & education facilities, community areas and commercial markets.
Following are some salient features and exclusive amenities planned in Kingdom Valley Islamabad for the prospective residents:
Gated Community
Kingdom Valley residential project provides a secure gated community to its residents. It includes an advanced security system and entry-exit controls.
A 24/7 surveillance system would monitor all movements and activities. It is a great initiative for the security of the community.
Jamia Masjid
A grand Jamia Masjid is part of the development plan that would become the hallmark of society.
Health and Fitness Club
Health and fitness clubs for the community would give an enabling environment. Mini Golf ground will also be available for the residents of the Kingdom Valley.
Electricity/ Gas and Water Supply
The commendable efforts of Team "Kingdom Valley" have made it possible. Residents would have access to electricity, gas, and water supply.
The provision of electricity, gas, and water supply are the necessities. It will increase commercial and business opportunities inside the housing community.
Hospitals
Hospital is an integral part of this housing society. It will cover the medical needs of its residents at the nearest point.
Education System
Schools, Colleges, and even a University are part of the plan inside the housing society. It will fulfill educational needs. The residents would benefit from the features of a developed community.
This mega housing project is highly committed to providing quality education. It comes along with an enabling educational environment.
Parks & Play Areas
There are several family parks planned in the entire housing scheme. Besides park, a zoological garden and sports grounds will provide a healthy living to the prospective residents of Kingdom Valley.
Development Status
The developers of Kingdom Valley Islamabad periodically inform investors with construction updates. In recent videos shared through their official channels, we can see landscaping in the process.
The project registered under Prime Minister 'Naya Pakistan Housing program'
The society has NOC # DRG/PHATA/2176-2021
The development work is in the initial stage of landscaping
Currently, general and executive blocks under development and villas are under construction
Following are some latest development images of Kingdom Valley General & Executive Blocks:
Development Video
Following are the latest development videos of Kingdom Valley Islamabad which show the pace of development work at the project site:
Plot Prices & Payment Plan
You can book a plot in Kingdom Valley at just 10% down payment, and pay the remaining amount in 40 monthly and 8 semi-annual installments.
Residential plot prices and payment plans of Kingdom Valley Islamabad are as follows: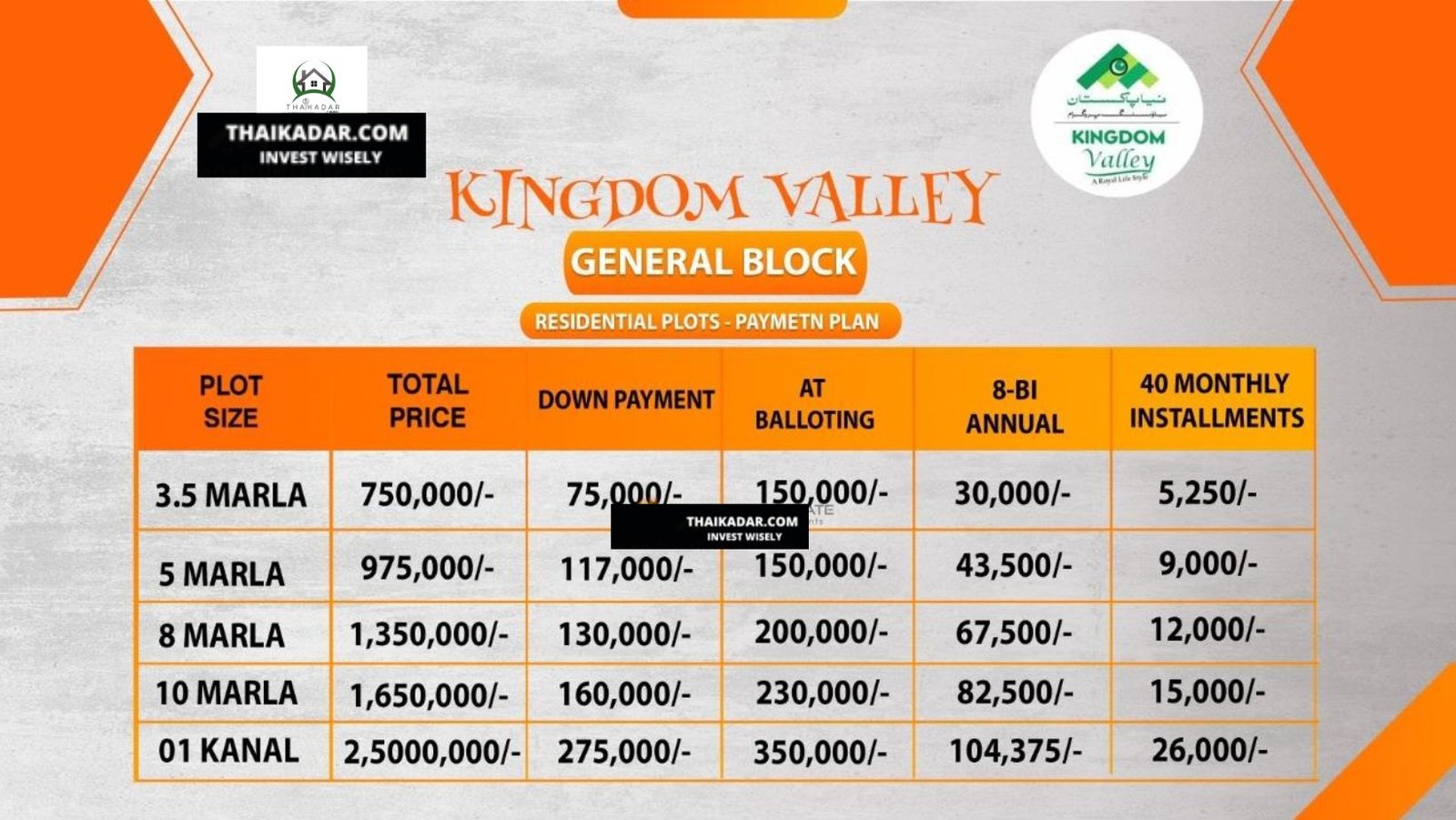 Executive Block residential plot sizes and payment plans are given below: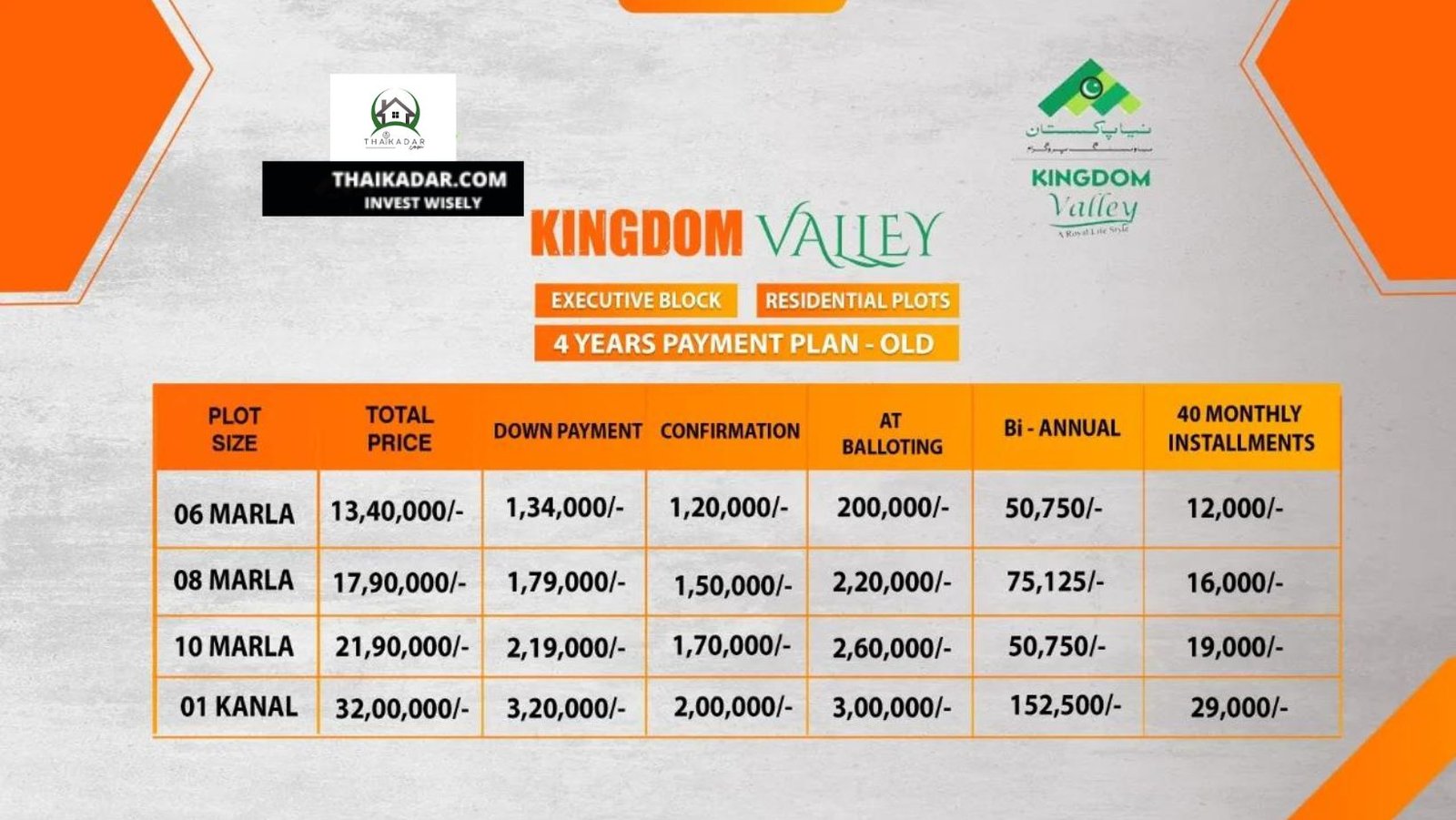 Executive Block commercial plot sizes and payment plans are given below: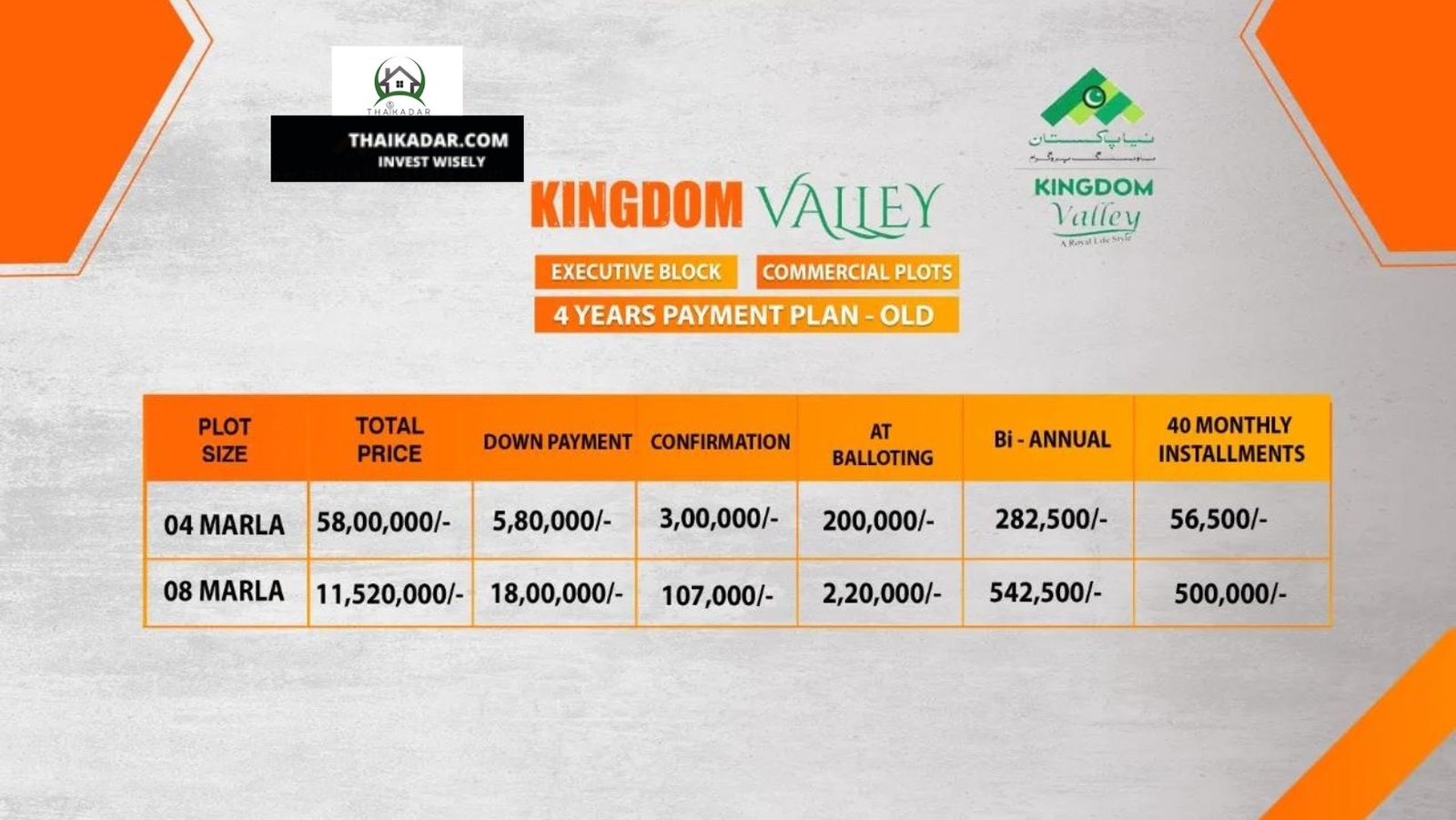 Kingdom Villas plot sizes and payment plans are given below: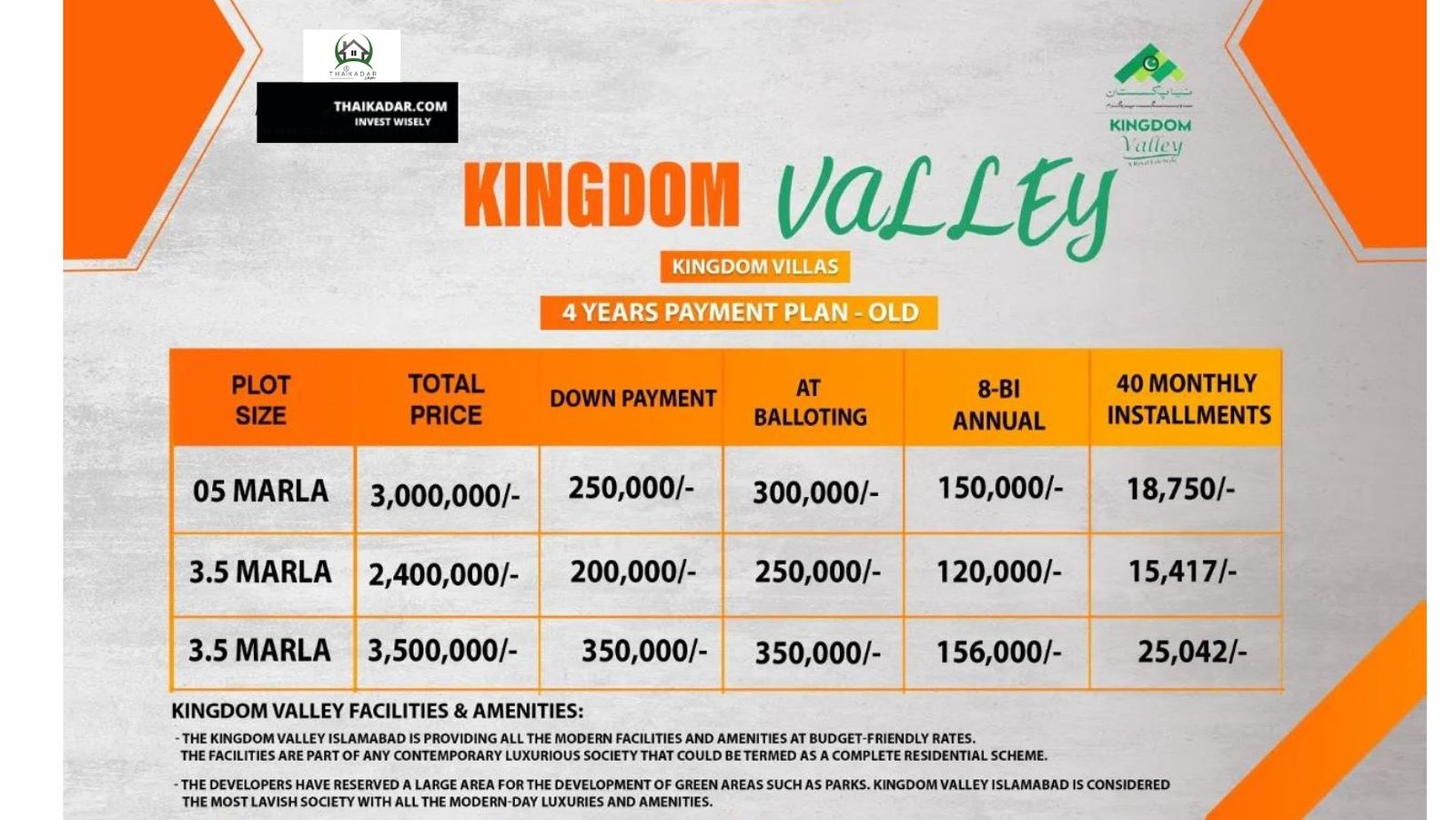 The commercial plot sizes of Kingdom Valley and the payment plans are listed below: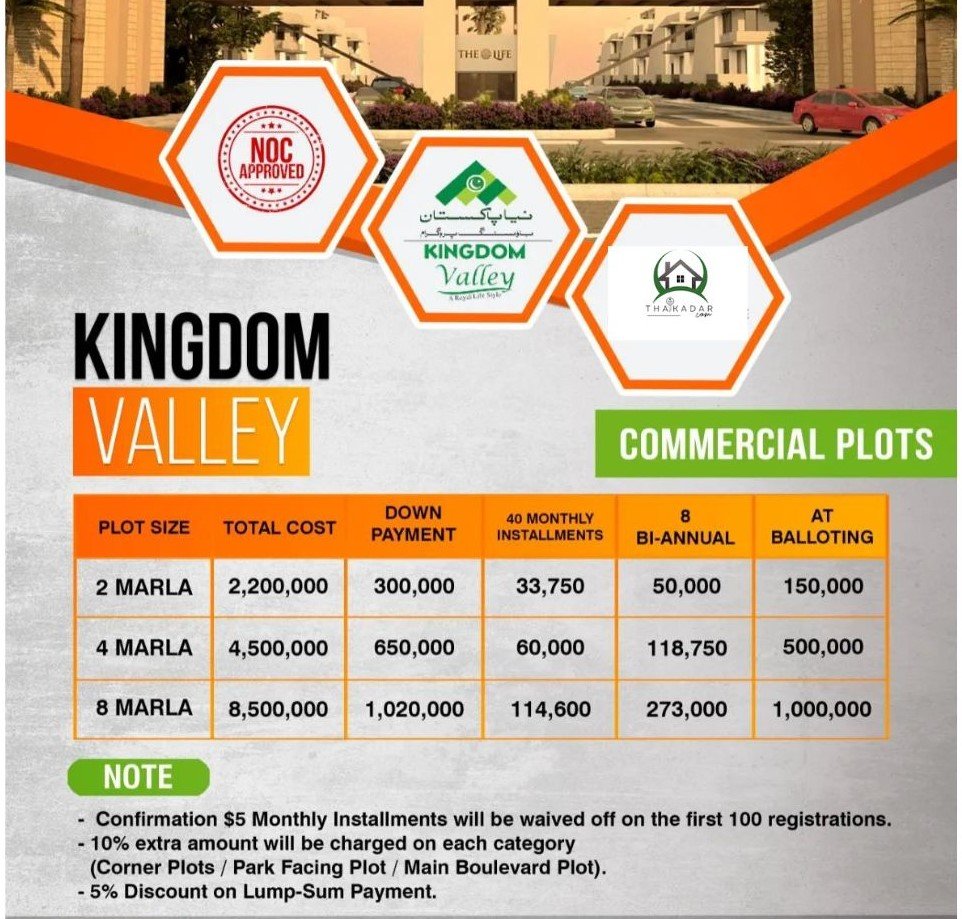 Following are the prices and payment plans of Kingdom Valley Farm Houses:
It is important to note that Kingdom Valley Islamabad keeps revising its plot prices from time of time so your cost will keep increasing if you delay your investment decision.
Booking Procedure
Kingdom Valley Islamabad offers a variety of residential and commercial plots at very attractive prices with a flexible payment plan. It is quite convenient to book your plot in Kingdom Valley, whether you can visit physically or you are out of station.
All you need to do is the following:
Contact us at our official mobile/whatsapp number
Get payment plans of different available residential and commercial options
Submit down payment of plot via pay order/online/cash
Submit CNIC Copies of applicant & Nominee
Submit photo of Applicant
Your booking form will be filled and copy will be sent for confirmation
Once you confirm, booking form will be submitted for process
Your file will be ready within 30 days that will be dispatched to your given address
For booking and details, you can reach us at 051-4853620 or visit our contact us [email protected] page.
Frequently Asked Questions
Following is the list of most frequently asked questions about Kingdom Valley Islamabad. We have endeavored to answer all relevant questions below, however you can leave your questions in comments sections if you do not find your answer.
Final Remarks
Kingdom Valley is one of the most active real estate projects in twin cities due to low property prices, NOC approval, as well as development progress. It not only attracts the potential residents, but also the vast community of avid real estate investors across Pakistan who crave for such opportunities.
Since Kingdom Valley offers all types of properties like residential plots, commercial plots, farm house plots and low-cost villas, those who cannot afford expensive real estate in Islamabad can consider Kingdom Valley Islamabad as their future residence.
After you go through the project information available online, plan a site visit and witness the actual development progress on ground. If the development progress is satisfactory, go for the purchase.
We advise our readers to do a thorough research on Kingdom Valley Housing Project before you decide to buy something and consider this project only for long term investment.
We at Thaikadar.com are here to assist you 24/7, so just give us a call and one of our representatives will be there for your guidance.