Introduction
Pakistan Naval Farms is a luxurious housing project at a prime location of Islamabad near Bara Kahu and Simly Dam. It is a joint venture of Pakistan Navy in collaboration with NHS Hometown Builders.
The project comprises a variety of farm house plots ranging from 5 kanals to 20 kanals with state-of-the-art infrastructure and modern amenities at the most scenic location of Islamabad.
About the Developer
NHS Hometown builders is a renowned development company in Islamabad, providing modern construction and development solutions since 2014. It collaborates with government bodies, local contractors, and suppliers to develop different real estate projects, PN Naval Farms being one of them.
Pakistan Naval Farms is a beautiful farm housing project by Pakistan Navy. It is planned over an area of 10,000 kanals of land along Simly Dam Road. The society is partially developed with some extension area of Phase 2 currently under development.
Many luxurious farm houses are already built in the scheme while prices are going up tremendously due to increasing demand for farm house land in Islamabad.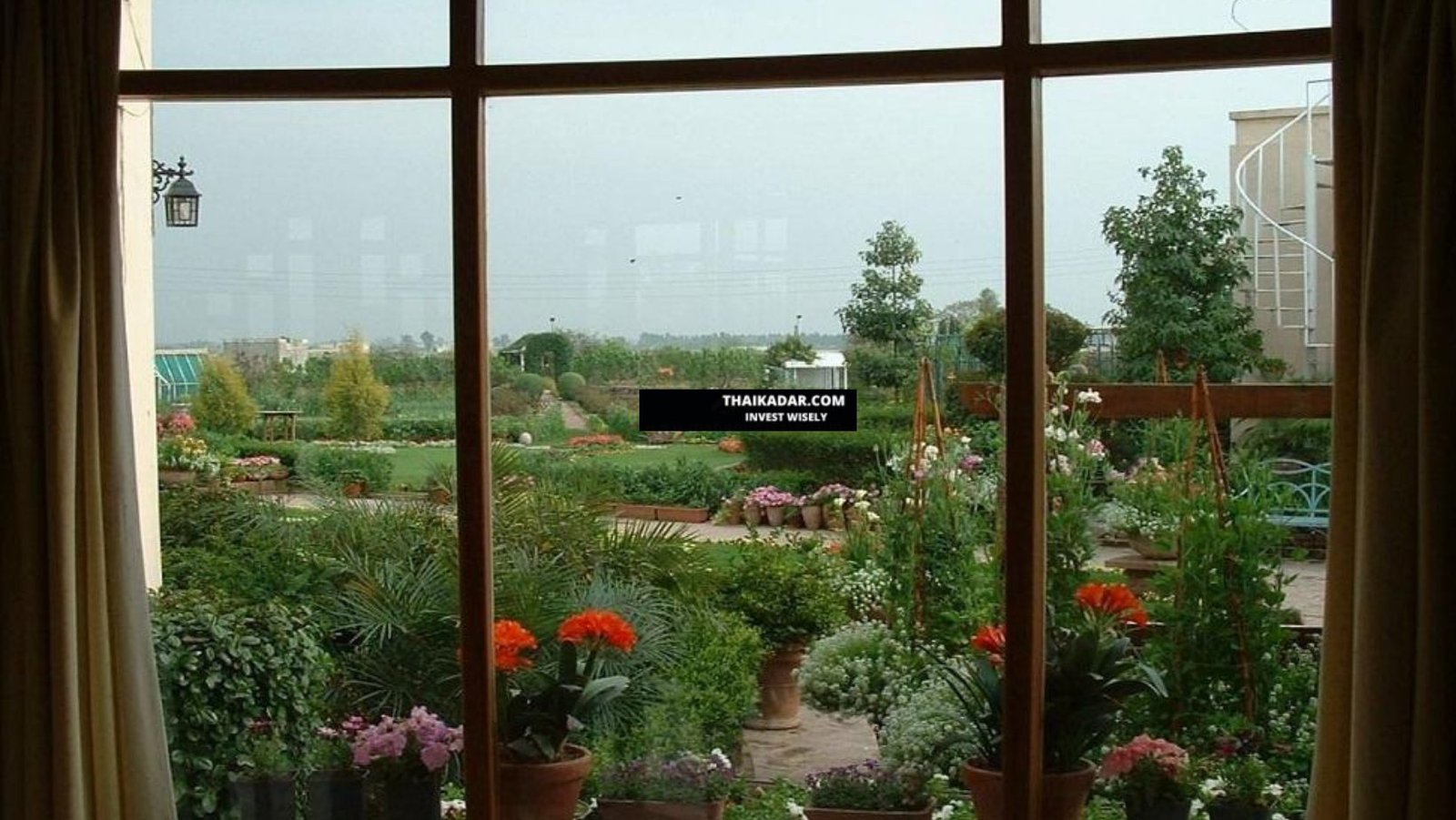 PN Farms is a joint venture where Pakistan Navy is the land provider, and NHS Builders is the developer. It is a perfect combination of hi-end amenities and a natural lifestyle.Investment in this project is safe and secure because it is administered by Pakistan Navy.
Legal Status & NOC
Pakistan Naval Farms is a legal housing project and it is duly approved . The approved area consists of Phase 1 or A Block of Naval Farms which comprises a limited number of 10 kanals to 20 Kanals and above farm houses. Whereas Phase 2 and Extension comprises B, C, D and E Blocks where smaller farm house plots are planned.
Pakistan Naval Farms acts as a central quarter between the rural and agricultural lands. The project is ideally located in Mouza Pind Bhegwal Mera Bhegwal and Athal in Islamabad Zone 4.
It lies close to Park View City and Bahria Enclave Islamabad, hence its proximity to major housing schemes and lush green surroundings of Islamabad make it a perfect place to live.
PN Naval Farms can be easily reached through Malot Road which leads from Kurri Road via Park Road and Simly Dam Road via Murree Road. In future, Pakistan Naval Farms Islamabad will be connected to Murree Express Way, north of Bara Kahu.
Distance to Landmarks
Pakistan Naval Farms Islamabad lies at about 15 km from Rawal chowk and 25 minutes away from Serena Hotel Islamabad. It takes roughly 25 minutes to reach Naval Farms via Malot through Kuri road and 35 minutes from the Bara Kahu route. It is just half an hour away from Zero Point and Faizabad.
Master Plan Map
Pakistan Naval Farms has two phases. Phase 1 is the A block which comprises 20 kanals and above farm houses, and this is the oldest area of Naval Farms where the elite of Pakistan have built their farm houses.
Phase 2 starts from B block up to C block, and this area comprises 5 kanals to 12 kanals farm house plots. Block D and E constitute the extension area where currently 5 kanal farm house files are available.
You can view and download the master plan map of PN Farms below:
Features and Amenities
Pakistan Naval Farm Houses is packed with all the latest facilities and amenities one can think of. As it is managed and owned by Pakistan Navy, just like DHA, it will provide top-notch facilities to the residents. Naval Farm Houses Islamabad is expected to surpass the expectations when it comes to modernization and facilitation. According to the officials, Naval Farm Houses will provide all basic and modern amenities essential to contemporary lifestyle.
Broad roads for a smooth traffic flow; the main boulevard is 80 feet wide, while the streets and service roads are 40 feet wide.
A complete sewerage system with tons of underground pipelines.
Naval Farm Houses Islamabad facilitates the inhabitants with 24/7 reliable security services.
It ensures freshwater supply.
All-inclusive markets for everyday shopping.
Electricity supply, there are no high tension lines in the residential area.
A Grand Masjid.
Internet facility by all major service providers like PTCL and Nayatel.
Gas pipelines are laid throughout the Farm House area.
Plenty of streams in the area, converging into the main river.
The soil is rich and fertile, suitable for agriculture similar to the entire Potohar region.
Many hospitals and health care facilities are near navy Farms.
Many universities and schools are near the locality, with Pakistan Navy School being the closest, located at Simly Dam Road, just opposite to Naval Farms.
Entertainment Facilities
A lush green hiking trail for adventurers.
Sufficient open spaces and parks for outdoor entertainment.
Navy Club House with numerous family, children, and solo activities. It includes 2 wedding halls, swimming pools, guest rooms, indoor sports, and games.
These amenities make Naval Farms Islamabad an all-inclusive society to live in, with all the major and minor facilities required for a peaceful and well-maintained lifestyle.
Following are some beautiful pictures of Pakistan Naval Farm Houses which shows the lush green area and beautiful farm houses built within the scheme.
Specifications and Pricing Plans
Pakistan Naval Farms is planned with extensive attention to the location. Pakistan Navy carefully chose 10,000 Kanal specifically for this project. There are mainly five blocks in PN Farming Scheme, i.e. Block A, B, C, D and E. A to C Blocks are fully developed and possessions are available, whereas D and E blocks are currently non-developed.
Pakistan Naval Farms Prices are as follows:
There are different plot sizes available in Naval Farms Block A, B and C which include 5 Kanal, 8 Kanal, 10 Kanal, 12 Kanal, 20 Kanal and even bigger farm house plots.
Block A: 20 Kanal Farm House Plots Start from 15 Crore up to 20 Crore
Block B: 8 Kanal Farm House Plots range from 7.50 Crore up to 9.00 Crore
Block B: 5 Kanal Farm House Plots range from 4.50 Crore up to 5.50 Crore
Block C: 5 Kanal Farm House Plots range from 4.50 Crore to 5 Crore
On the other hand, only files are available for Block D and Block E
Block D (Non-developed): 5 Kanal (non-possession plot) price starts from 3.25 Crore up to 4.75 Crore
Block E (Non-ballot): 5 Kanal (file) price starts from 1.85 Crore up to 1.90 Crore
Currently, the administration of Pakistan Naval Farm Houses hasn't introduced any official installment plan for farm houses. However, there is a possibility. As of now, buyers have to buy the farm house land or built up farm houses on full upfront payment.
Conclusion
Pakistan Naval Farm Houses Islamabad provides a modern lifestyle, premium luxury, and entertainment facilities. It is surrounded by serene greenery and natural beauty. Moreover, the residents of Pakistan Naval Farms will enjoy breathtaking views of the lush green surroundings.
All the amenities like shopping centers, restaurants, markets, mosques, and other facilities will be available to the residents. Furthermore, the inhabitants of Naval Farms Islamabad will have access to all major business areas of the capital.
Pakistan Naval Farms is an ideal place to live. It is an excellent investment for people in search of valuable real estate assets. To sum it up, Naval farms in Islamabad are being developed at a picturesque location of Islamabad to provide a wholesome living experience with a perfect blend of modernization.
Share This Story, Choose Your Platform!
Looking for best investment advice?
Get your free quote today from Thaikadar.com.