Introduction
7 Wonders City Islamabad is a unique housing project that is going to have replicas of seven modern wonders of the world. It is not the end of what this housing project is going to offer, the project will be provided with all the modern amenities and features that will differentiate it from the competition.
7 Wonders City Islamabad is developing near the CPEC route and would be adorned with replicas of seven wonders of the world.
Overview
7 Wonders City Islamabad is a theme-based housing project that is going to feature all the 7 Wonders of the World. It is one of the highly anticipated housing projects due to its unique offerings of seven wonders.
The housing project is one of the newest additions to the real estate properties of Islamabad but backed by a team of experienced developers and town planners. Global Financial Services (GFS), the project developers, is not a new name in the construction industry.
Project History
7 Wonders City Islamabad is a project brought to you by Global Financial Services (GFS). GFS has been a famous name in the development and construction industry for more than a decade. They possess a diverse portfolio of successful residential, commercial, and other cooperative projects.
In the past, GFS established 7 Wonders City in Karachi that was a huge success and grabbed the attention of local and overseas investors. 7 Wonders City Islamabad is also planned according to similar standards to provide a unique and fresh lifestyle to residents of Islamabad and Rawalpindi.
GFS focuses on the timely delivery of projects along with uncompromised quality and value. So, we can expect 7 Wonders City Islamabad to stand out from the competing housing societies like Kingdom Valley, Silver City, and other projects.
7 Wonders City Islamabad Location
Situated between Fateh Jang and the new International Islamabad Airport, it is an ideal location to invest in a prime location. 7 Wonders City Islamabad is developing in the neighborhood of Green City Islamabad and comes next to Nova City Islamabad. Girja road on the eastern side touches the 7 Wonders City Islamabad.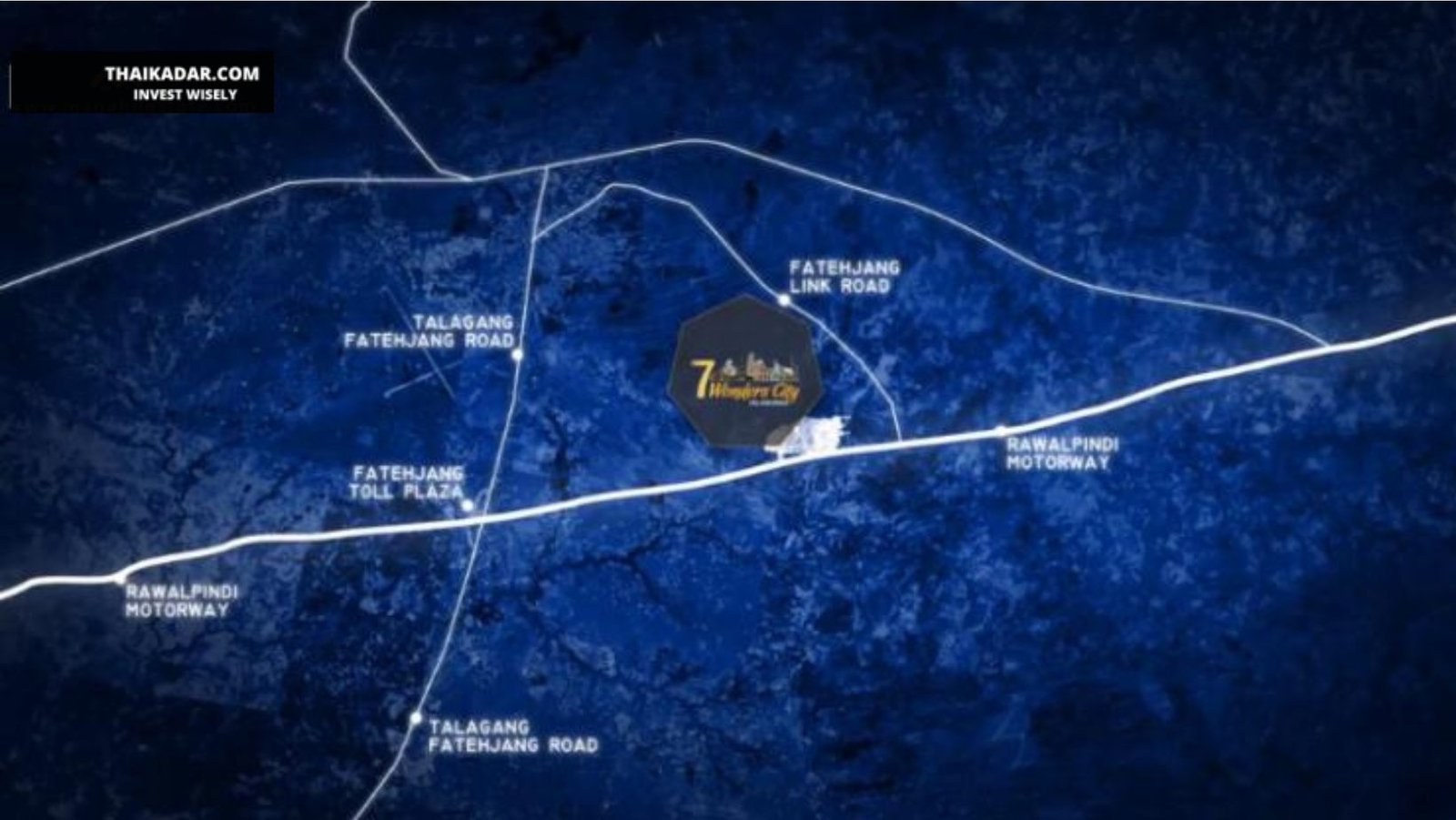 Total Land Area     
7 wonders city Islamabad spreads over a total of 200 acres of land. The total land is divided into blocks. The block names and many details are not yet publicized by the management. However, the plot sizes are provided. Society has magnificently brought the 7 wonders of the world into one place!
7 Wonders City Islamabad Nearby Landmarks
7 Wonders City Islamabad is located near these major parts of the city:
CPEC Route
Rawalpindi Ring Road
M2 Motorway
Fateh Jang Road
Islamabad International Airport
Accessibility
7 Wonders City is highly accessible from all the major points on the Motorway and completion of Rawalpindi Ring Road will make it accessible from Islamabad International Airport.
7 Wonders City Islamabad is not only a luxurious offering, but it is highly valuable because of its location. It is on CPEC Route and touched Rawalpindi Ring Road on D. I. Khan Motorway. It is located on one of the highly accessible points for the residents of Islamabad and Rawalpindi.
Girja Road – Fateh Jang Link
International Islamabad Airport
D. I. Khan Motorway
National Highway
Nearby Housing Societies
This project is located near all the major housing societies that are being newly developed in Islamabad. The nearby housing societies include:
NOVA City
Green City Islamabad
Kingdom Valley
Avenue 3 Housing Scheme
Developers
GFS has already delivered mega projects including 7 Wonders City Karachi and GFS Shopping Arena, North Town Residency, and Malir Town Residency. With over 15 years of real estate experience, Mr. Irfan Wahid (CEO GFS) is on a mission to make 7 Wonders City Islamabad the best housing project in Twin Cities.
Global Financial Solutions (GFS) is the developer of this society. Mr. Irfan Wahid is the CEO of GFS who is developing world-class real estate projects for over a decade. The leadership has got vast experience in developing real estate projects of any magnitude. They have a list of projects on their portfolio which adds to the trust investors can impart to this venture. Their previous projects include:
7 Wonders City Karachi
North Town Residency
Malir Town Residency
Wonders City
Johar Residency
New Town Residency
GFS Villas
Development Update
The initial development has started in society. The developer is awaiting approval from TMA Fateh Jang. The developers are working closely with TMA Fateh Jang to map out details of the housing project so that there is no discrepancy left for the future.
Once it gets approval from the concerning authorities, the world-class architects and engineers are going to work on the completion of this project as soon as possible.
7 Wonders City Islamabad NOC
GFS 7 Wonders City is legally approved by the concerned authorities making it a safe housing project to invest in. 7 Wonders City has always been one of the lucrative options in the new developing housing societies in Islamabad and with the added value of the No Objection Certificate (NOC) from Tehsil Municipal Authority (TMA) Fateh Jung under the registration number SL-N-I/TP/555, the value of the 7 Wonder City Islamabad will increase manifold.
7 Wonders City is one of those housing societies now where the legality is the least of the concerns of the investors and the property value will skyrocket as the news will break on a massive scale. TMA Fateh Jung has given a green signal for the development of the project and the development work on the 7 Wonders City Islamabad will now expedite the investors who had instilled their trust in the projects of GFS will get profits.
An increase in prices is expected soon so it's the right time to invest. GFS Builders & Developers had been working tirelessly to get the legal status. Now that the housing project is approved they would move to execute their master plan. The development of the housing project includes 7 wonders of the world, which would be a great tourist attraction once completed. The legacy of projects completed by GFS Builders & Developers bodes that this new housing project in Islamabad would be a great success.
Facilities and Amenities
As the name of the housing society suggests, it is going to have replicas of all the Seven Wonders of the World. This housing society is going to offer all the necessities of a housing project:
It is going to include amenities like:
Children/Public Parks
Health Facilities
Gaming Arcades and Playgrounds
Library
Cricket Stadium
Grand Mosque
Modern Educational Institutes
24/7 Water, Electricity, and Gas
Unique Features
Without a doubt, the most unique feature of 7 Wonders City Islamabad is the 7 Wonders of the World. Moreover, the society's master plan includes many landmarks, like parks and open spaces. According to the latest information, every block of society will have one of the 7 wonders of the world.
Doing this will not only create entertainment spots for the residents but they will also act as tourist destinations for the people of twin cities similar to the monument by Bahria Town Rawalpindi. Residents will have plenty of spots within the society to enjoy their leisure time without leaving its premises.
The residents of 7 Wonders City will enjoy the following wonders of the world:
Statue of Liberty
The Great Pyramids of Giza
Roman Coliseum
Taj Mahal
Stonehenge
Eiffel Tower
The Great Wall of China
The replicas of the 7 wonders of the world will be developed at the central points of the different blocks in society. These landmarks will greatly improve the worth of society due to several reasons.
It will become a new attraction in the twin cities. Therefore, more and more investors will try to invest in the society which will improve its worth and eventually provide greater returns.
Read our blog: 7 Wonders of the World in 7 Wonders City for complete details of the landmarks in society.
Master Plan
As discussed earlier, the society spans over 200 Acres of land. Although, the master plan is not yet finalized the society management has provided the plot sizes. The developers are likely to follow the smart master plan of their past project i.e. 7 wonders city Karachi.
Different sectors of the society include residential plots, commercial plots farmhouses, and villas and cottages. The main aim of the developers is to establish a housing society that provides world-class amenities, a peaceful atmosphere, and a unique feature of 7 World Wonders.
7 Wonders City Islamabad Residential Plots
7 Wonders City Islamabad offers residential plots in the general block. The residential plots are available in the following sizes:
7 Wonders City Residential plots are also available in easy installments and booking can be done with a down payment. Residential plots will be fully equipped with basic utilities and modern amenities to give rise to a well-maintained life.
7 Wonders City Islamabad Commercial Plots
A dedicated commercial sector is a need of every housing society, understanding this need, 7 Wonders City Islamabad launched the commercial plots in society back in February of 2022. Society provides all the basic as well as advanced facilities required for smooth functioning of commercial sector. Commercial plots are available in 2 sizes as follows:
7 Wonders City Islamabad also launched the commercial plots after the great success of residential plots. 7 Wonders City Commercial Plots are available on convenient installment plans and can be booked by submitting a down payment that includes booking and confirmation charges. You can select the monthly or half-yearly installment plan as per your convenience. Commercial plots of 7 Wonders City Islamabad are a good investment.
Get more information at 7 Wonders City Commercial Plots.
7 Wonders City Islamabad Farmhouses (Resort Homes)
7 Wonders City Farmhouses or Resort Homes is a separate sector of the society dedicated to farmhouses. They offer a more luxurious and natural lifestyle as compared to the rest of the blocks. 7 Wonders City Farmhouses are placed on Tarbela Road, Attock. Farmhouses feature all the latest amenities and some unique features to make life more fulfilling. Different sizes of farmhouses are available to meet the needs of different people as follows:
2 Kanal
4 Kanal
8 Kanal
10 Kanal
To get complete information on farmhouses, please visit: 7 Wonders City Farmhouses (Resort Homes)
7 Wonders City Islamabad Villas and Cottages
7 Wonders City management is committed to making society comprehensive, that's why they have come up with Villas and cottages in society. 7 Wonders City Islamabad Villas and Cottages enjoy a great location near the CPEC route close to Fateh Jang Interchange. Villas are compact smaller sized residences available in the following sizes:
7 Wonders City Cottages are three-floored residences available in the following sizes:
Visit 7 Wonders City Villas and Cottages for detailed information!
Payment Plans
The Pre-Launch payment plans for different sectors of 7 Wonders City are given below:
Residential Plots Payment Plan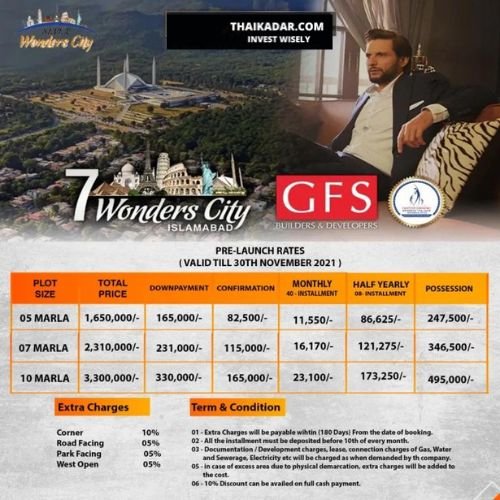 Commercial Plots Payment Plan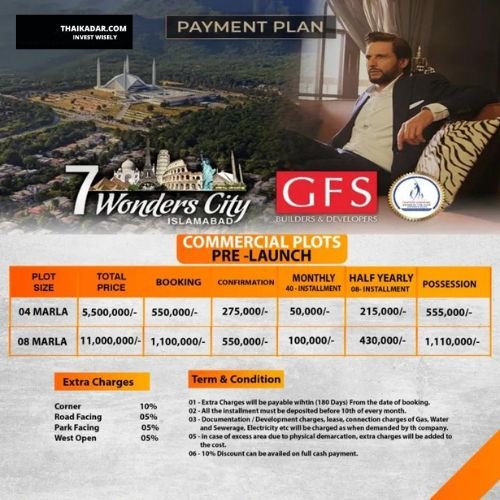 Farmhouses (Resort Homes) Payment Plan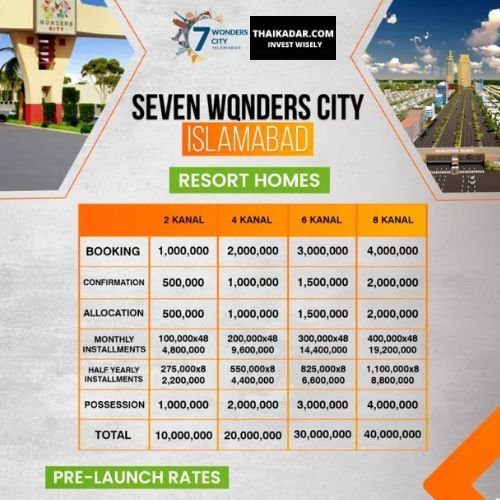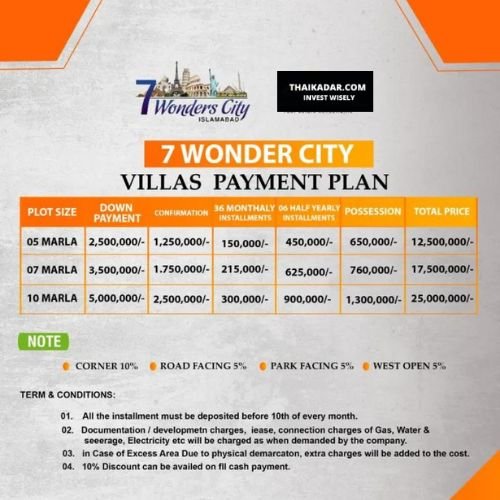 Booking Details
It is always recommended to check before booking a plot anywhere to avoid any inconvenience. These documents are necessary for booking a plot in 7 Wonders City:
Passport Size Pictures
CNIC Copy
ID card Copies of Next of Kin
Photographs
Payment Receipts
ConTact [email protected] today to book your plot at 7 wonders City Islamabad.
The Terms and Conditions
Extra Charges are to be paid within 180 days of the booking.
Installments are to be paid before the 10th of every month.
Development Charges, lease, connection charges for Electricity, Gas, Sewerage, etc. will be charged as per the Company policy and the current rates.
In case of additional land that comes in possession of the owner after proper demarcation, the owner will be obliged to pay for that extra land as well.
Discount will be given to the people buying it on complete cash deposit.
Pros and Cons
As you know, not a single society exists in the premises of Rawalpindi and Islamabad which is only beneficial. There are some cons to a housing society as well, which are just a few in the case of 7 Wonders City Islamabad.
Pros
The society provides an exquisite and extravagant lifestyle to the residents.
It is a well-planned society with separate residential and commercial sectors.
7 Wonders City Islamabad will become an expensive housing project in the future.
The project has replicas of 7 wonders of the world.
It will act as a tourist destination for residents of twin cities.
All the amenities for a peaceful life are present in society.
It will become an investment hotspot in near future.
Cons
Society's NOC is under process by the authorities, this is not a factor to worry about. The developers got the Karachi project approved and hopefully, this one will get NOC soon enough.
The initial costs may be a little higher due to the extraordinary planning of the developers.
7 Wonders City Islamabad is a housing project that is being developed by an experienced developer GFS which makes it ideal for investment. It is going to be a huge success in the coming years. This is the right time to invest as plots are available at pre-launch rates.
Frequently Asked Questions
We understand that you might still have a question regarding Seven Wonders City Islamabad. That is why we have included frequently asked questions here. Go through these questions and we are sure that you will find your answer here. If not, you can always contact us and we will clear all your doubts regarding this project!
Share This Story, Choose Your Platform!
Looking for best investment advice?
Get your free quote today from Thaikadar.com.