Lahore Smart City (LSC) is an amazing housing project with NOC cleared by Lahore Development Authority (LDA). It is being developed by Future Development Holdings PVT Ltd. (FDHL), Surbana Jurong (SJ), and Habib Rafiq Pvt. Limited (HRL).
Lahore Smart City has brought new meaning to living in the city of Lahore with its smart features and amenities. After the tremendous success of Capital Smart City,it is going to expand the overt smart city concept introduced by HRL.
Overview of Lahore Smart City
Lahore Smart City is another project by Habib Rafiq PVT Limited (HRL) and they aim to bring a similar living experience to Lahore which they envision providing in Islamabad as well. The housing society is not only approved by the concerned authorities, but it also has an accessible location since it is located at Lahore Bypass near Kala Shah Kaku.
It is a place of attraction for Overseas Pakistanis and for those who understand the smart living concept worldwide. With a 600-Kanal Central Park, it is also a great tourist attraction and a housing society that provides 20 square meters of open space per person in a populated city like Lahore.
Location of Lahore Smart City
Lahore Smart City has a prime location on Lahore Bypass near Kala Shah Kaku, and it makes it easier to access from any part of the city. One can easily reach the project site from any corner of the country as it is located among a network of interlinked roads, motorways, and highways.
Accessibility 
Lahore Smart City can be accessed from Lahore Bypass and it can also be accessed from National Highway N-5. Lahore Bypass comes in the mid of the link between M-2 and M-11. Both these access points make it easier for people to reach Lahore Smart City.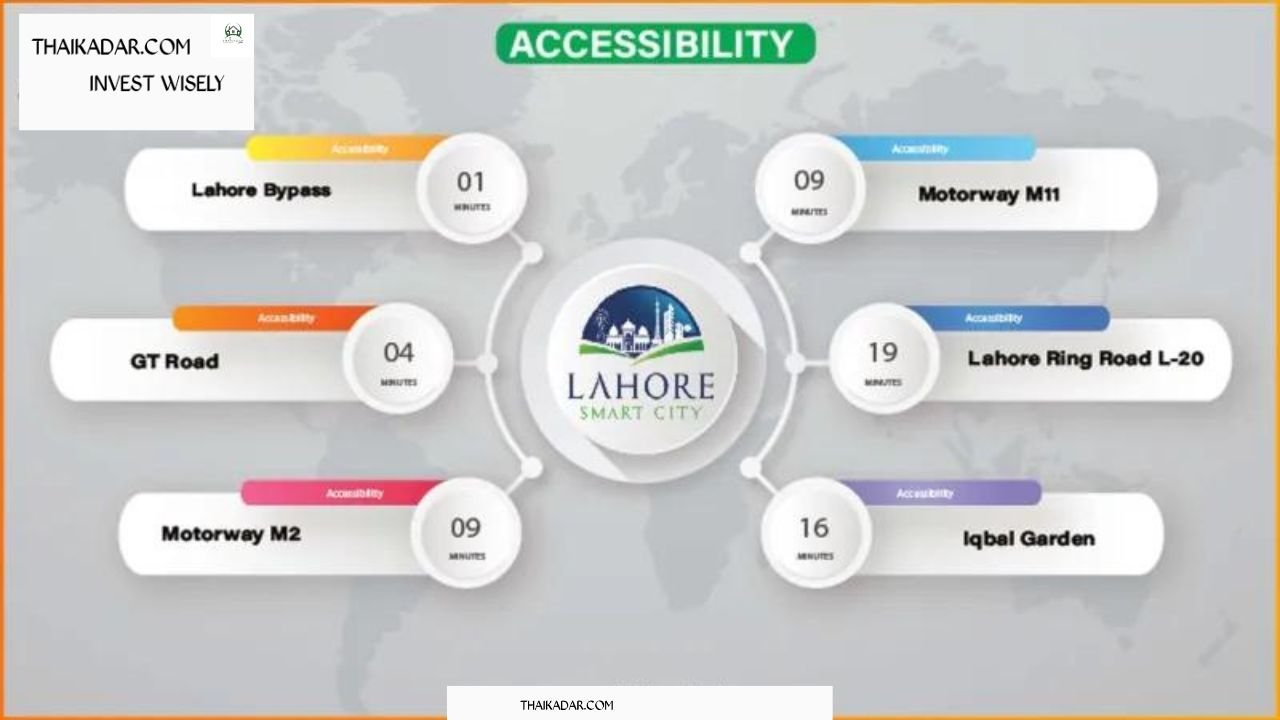 As discussed earlier, Lahore Smart City is approachable from all the major landmarks in the neighboring area. It is because of the convenient location that people find it accessible. Following are the major locations and their approximate traveling time to LSC:
Lahore Bypass – 1 Minute
GT Road – 4 Minutes
Motorway M2 – 9 Minutes
Motorway M11 – 9 Minutes
Lahore Ring Road L-20 – 19 Minutes
Nearby Landmarks and Housing Societies
Lahore Bypass
M-11 Motorway
University of Engineering & Technology – KSK Campus
GCU, Lahore KSK Campus
SUPARCO (SCF-L)
Lahore Paradise Housing Scheme
Iqbal Garden
Sher-e-Bangal Labour Colony
UHS Jinnah Campus Kala Shah Kaku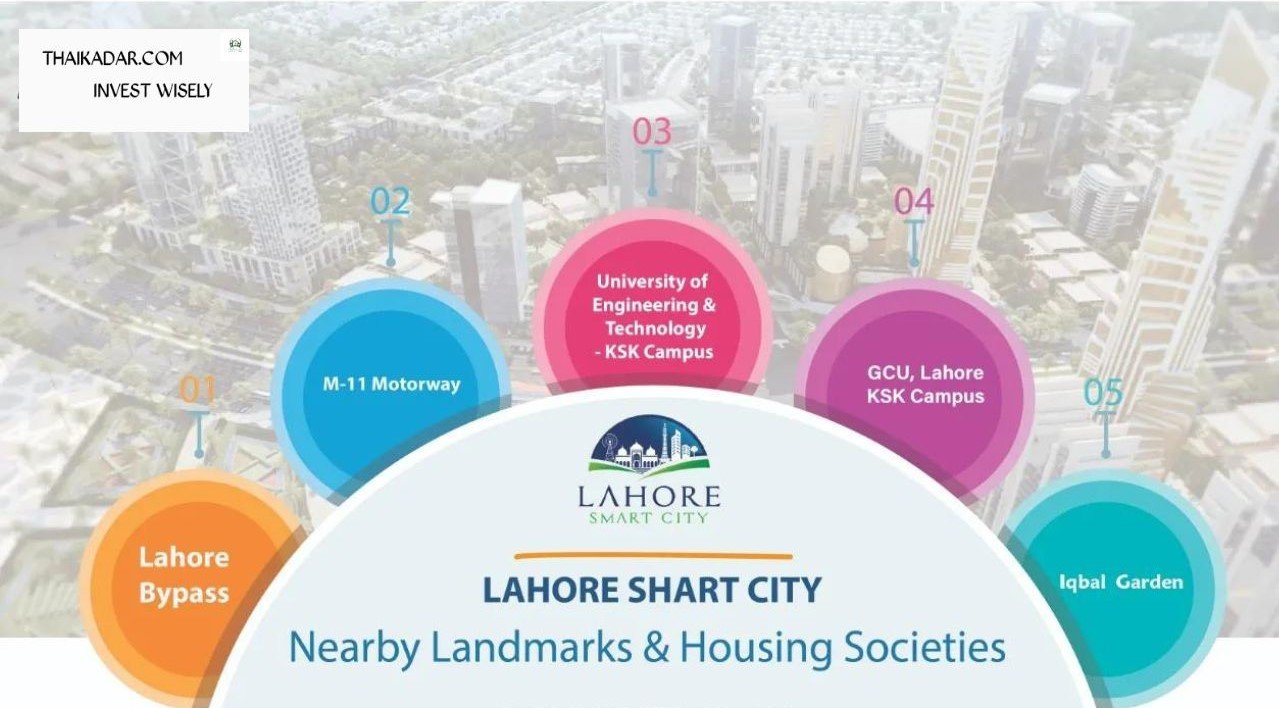 Lahore Smart City Developers
Lahore Smart City is a combined project of Future Development Holdings Pvt Ltd. (FDHL), Surbana Jurong (SJ), and Habib Rafiq Pvt Ltd. (HRL). It is not the first project from these developers as they have previously gained success in the field of real estate development. HRL has hired Surbana Jurong (SJ) which is a Singapore-based organization that is known for its real estate consultancy in the development of infrastructure.
They have a huge role in the development of the master plan of Lahore Smart City. It is because of the developers and owners of society that the investors are interested in this great opportunity. Since these investors are known for their top-notch development projects, investors are ready to invest their hard-earned money in this project.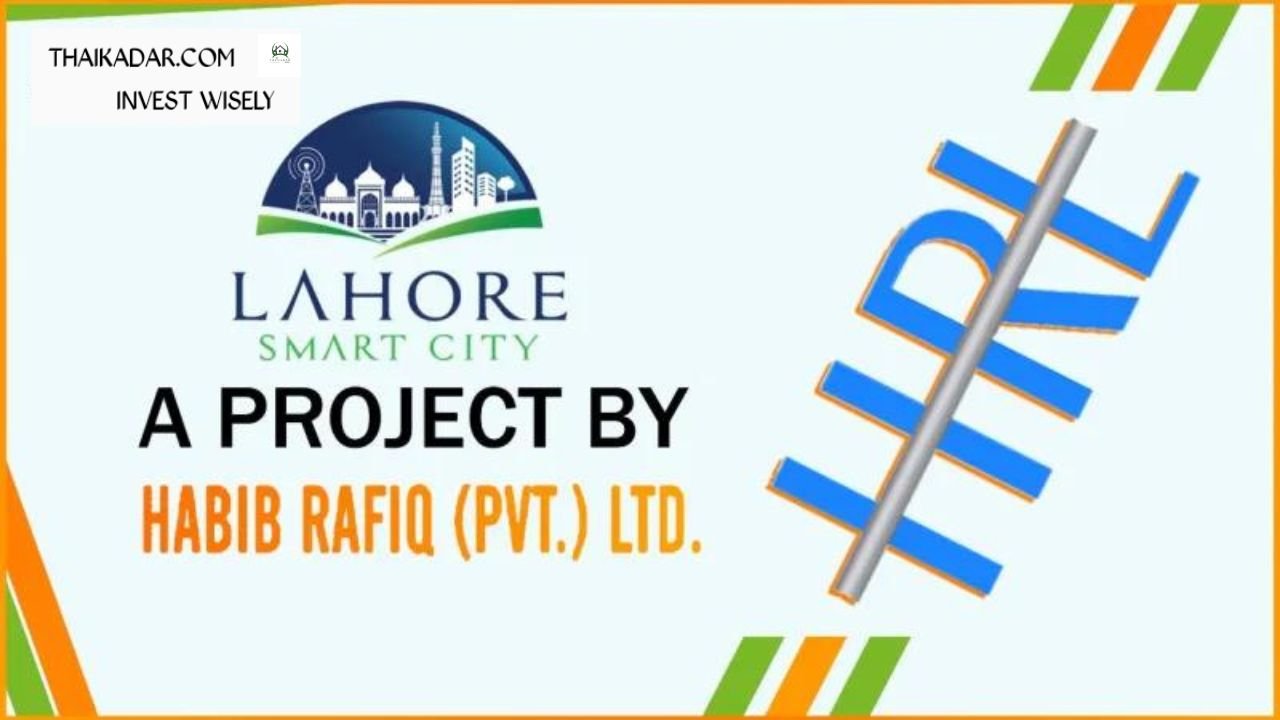 Total Area of Lahore Smart City
Lahore Smart City is going to be developed on 20,000 Kanals. The developers have completed a master plan for this housing society that is going to provide international standard smart facilities in a housing project that would be at par with other smart cities in the world.
Lahore Smart City Development Status
The development progress in Lahore Smart City is happening at a swift pace. The development progress can be seen by visiting the site. The work on the boundary wall of 10-Marla Georgian Style Villas is in progress and will be completed soon. The framework of the sales and marketing office is also underway.
Heavy machinery is also being deployed for the Main Boulevard Roundabout construction. The developers are taking a keen interest in planting more trees and orchards and it can be seen alongside the newly developed roads in different sectors of this project. The community park for sector A is already completed and the foundation work on the mosque in sector B is near completion.
Following are some pictures of LSC to give you better insights into development progress:
Lahore Smart City NOC
Lahore Smart City is an approved project with NOC approved by the Lahore Development Authority (LDA) which means that it is going to have access to all the basic amenities of life including water, gas, and electricity. The development work is in progress according to the master plan. It is a housing project that has completed all its legal work and is completely safe to invest in
Master Plan of Lahore Smart City
Lahore Smart City is a well-planned housing society that is being developed keeping in mind the international standards of a smart city. The developers have developed the master plan with their proven expertise. It is based on several districts and blocks.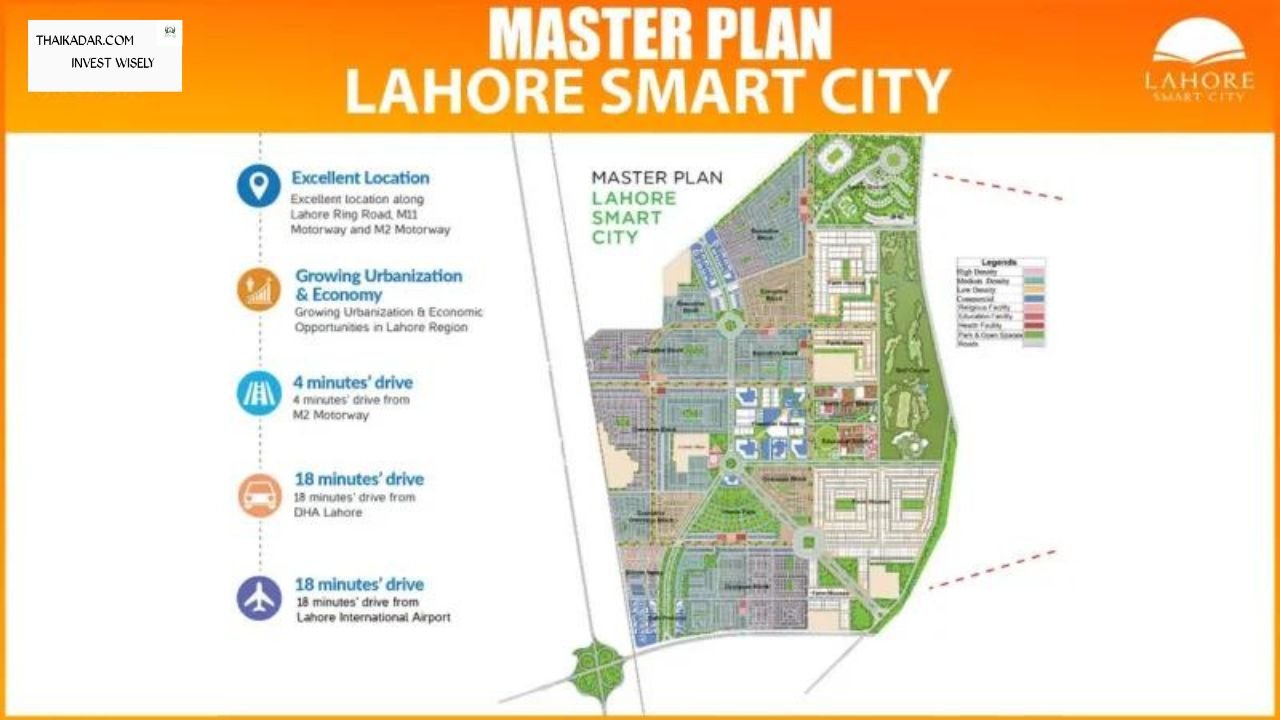 The blocks are named as follows:
Executive Block
Oversees Block
There are several districts in Lahore Smart City as well:
Sports District
Education District
Silicon Valley
Health Care District
Residential Plots
Executive Block
The Executive Block is mainly targeted toward the local Pakistani residents. It is going to be equipped with all the smart features that Lahore Smart City promises to offer. The variety of residential plots being offered in Executive Block are:
5 Marla
7 Marla
10 Marla
12 Marla
1 Kanal
Overseas Block
Overseas Block is going to be specially designed for overseas Pakistanis. The target is to understand the requirements of overseas Pakistanis and try to provide them in this society. This will provide them with a safe passage of investment in Pakistan. The residential plots available in Overseas Block are:
5 Marla
7 Marla
10 Marla
12 Marla
1 Kanal
Commercial plots
Lahore Smart City is also going to feature commercial plots of the following sizes:
However, commercial plot bookings are closed by society.
Salient Features of Lahore Smart City
Lahore Smart City is an ideal location for investment because of its salient features which are as follows:
24/7 Security with Facial Recognition CCTV Cameras
Smart Security Control Room
Smart City with Load shedding Free Environment and Sustainable Electricity Supply
Smart Traffic Management System with Automated Traffic Control
Smart Streetlights
Wi-Fi Hotspots
Smart Parking
Green Environment
Ideal Location
Public Parks
Featured Amenities of Lahore Smart City
Along with the necessities of life, the residents of Lahore Smart City are going to enjoy smart amenities in the housing society. A few of them are:
Education District
Lahore Smart City is a great location for families since it is going to feature an education district in which the developer is planning to provide international standard schools and colleges. For higher education, university and medical colleges are also in planning. Since this housing society is aiming for smart living for families, daycare centers are also going to be located here.
Healthcare District
The residents will not have to travel long distances for medical facilities since it is going to be provided within the housing society. International standard hospitals, clinics, and famous laboratories of Pakistan are going to be present in Lahore Smart City.
Silicon Valley
Lahore Smart City is an advocate of the IT industry as they are promoting smart features within the housing society. It is because of this reason that a dedicated location will be provided for the retail industry, IT campus, warehousing facilities, corporate offices, and technology operational offices.
Mosques
Every sector in Lahore Smart City is going to feature a Mosque. But the developers are already working on a Grand Jamia Mosque for which the foundation work is almost complete.
Wide Roads and Main Boulevard
Lahore Smart City is an ideal location for living since it is going to features wide streets and Main Boulevard which is 200 feet wide. The living experience can vastly change because of the wide streets. The developers aim to provide a spacious living experience to their residents.
Theme Parks
Lahore Smart City has thought of its residents' leisure activities and for this purpose, different parks are being designed in different sectors. Following are the important things to look forward to:
Bird Park
Holiday Resort
Food and Beverages
Street Food Truck Parks
Retail
Payment Plan
Executive Block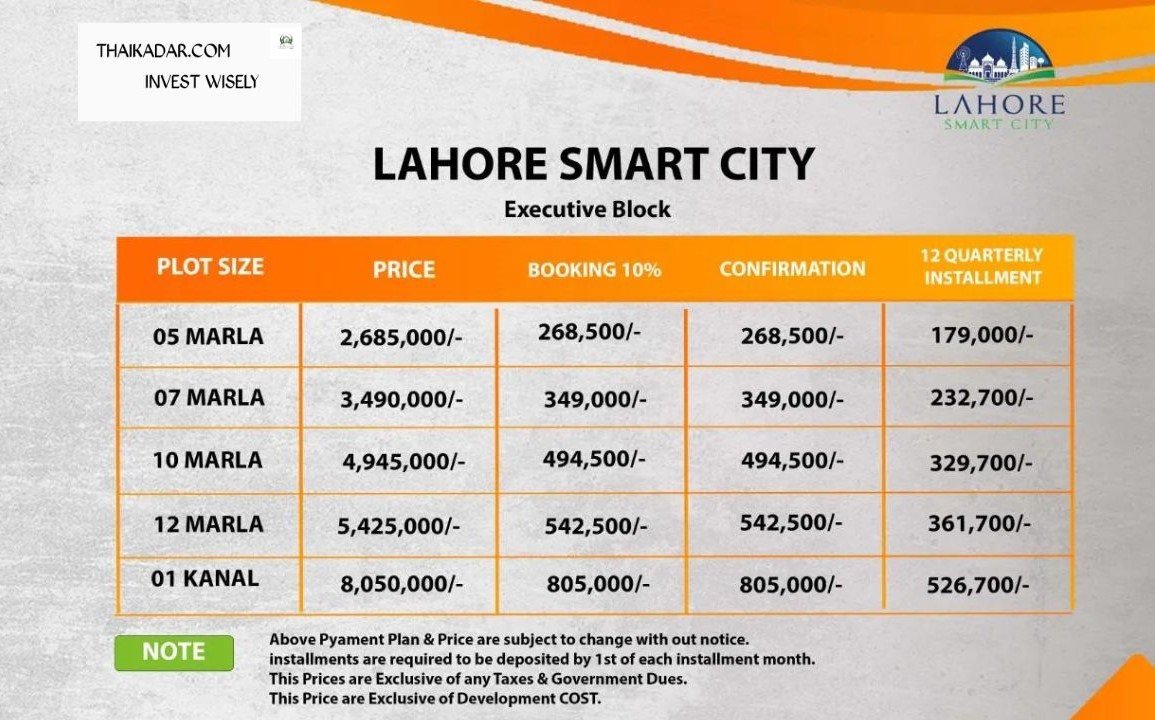 Overseas Block Commercial Plots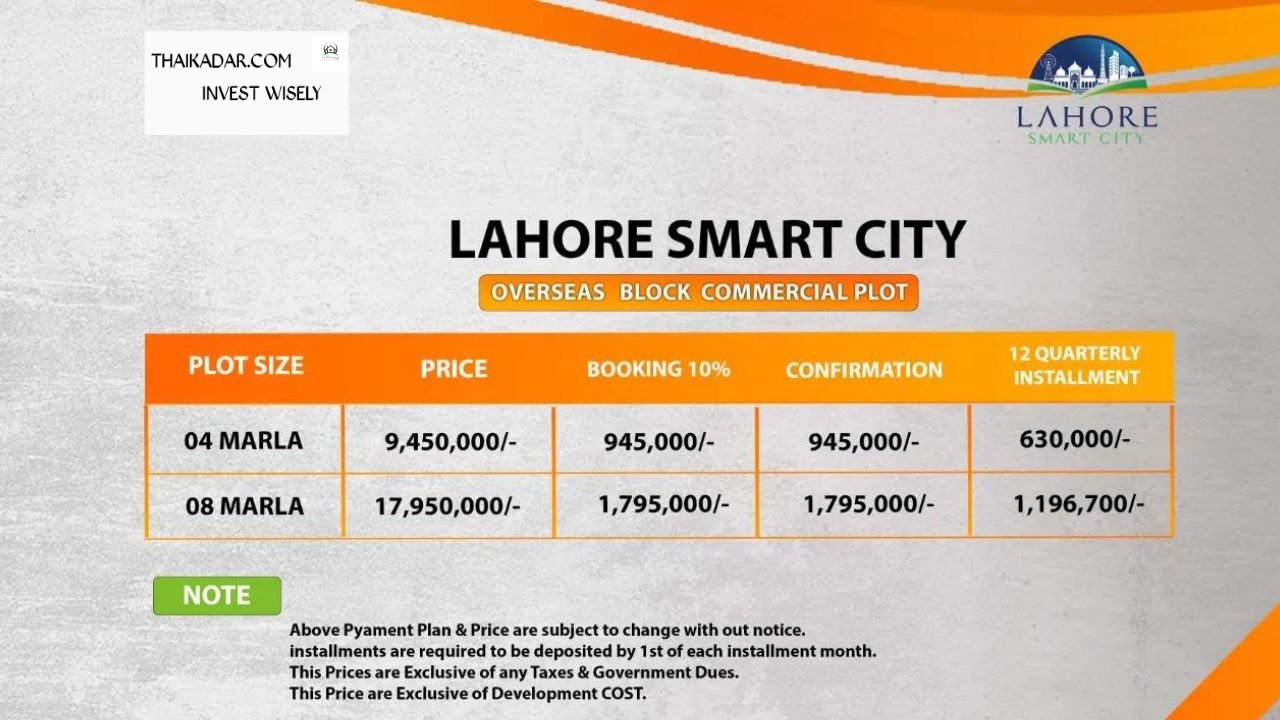 Executive Block Commercial Plots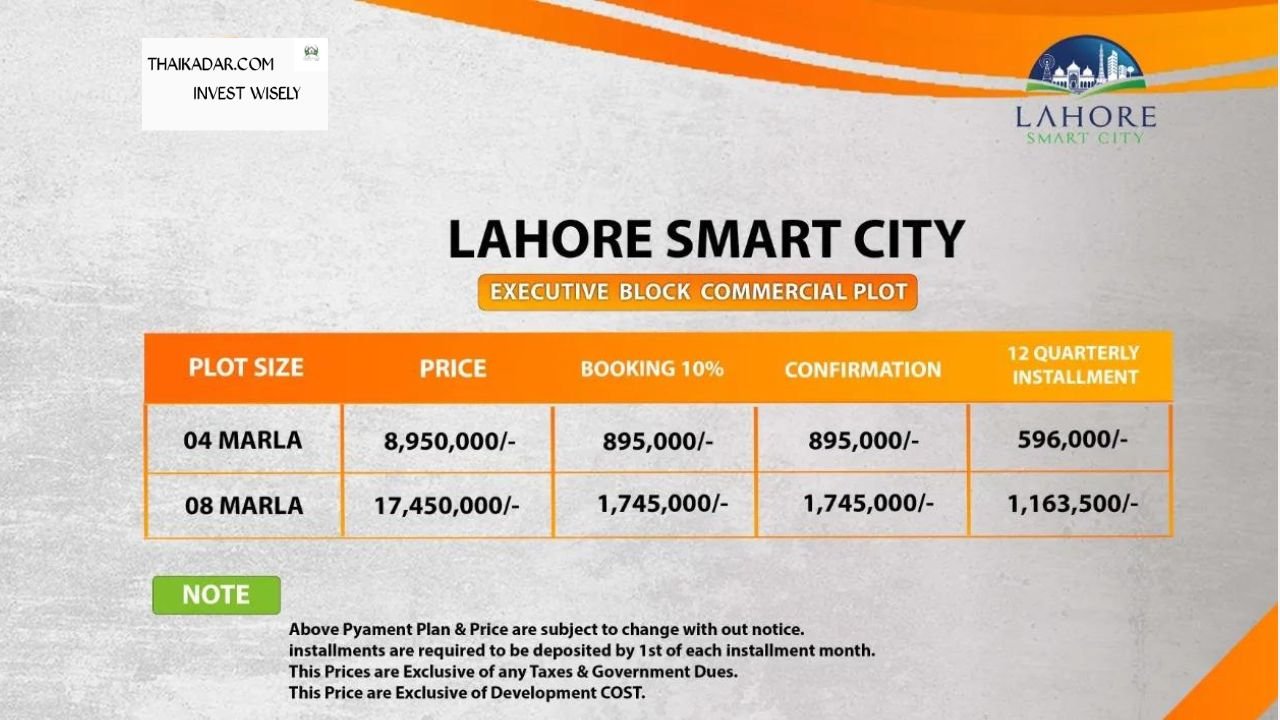 Booking Details
There are two booking options available in Lahore Smart City:
Manual Booking
Smart e-Booking
Manual Booking
Following is the manual working procedure that one needs to follow:
Get the printed application form and fill it out carefully
You can also become a smart member by filling the form online
Deposit the down payment along with the processing fee
You can also transfer the payment through interbank transactions
Smart e-Booking
Smart e-booking does not require you to download the form and print it. The procedure for Smart e-booking is quite simple:
Become a smart member of Lahore Smart City by filling out the application form online and available online.
You can pay the down payment and processing fee online using your MasterCard or Visa Card
You can also transfer the payment through interbank transaction facilities
Lahore Smart City also provides the feature of E-Tracking which can be used to track down your booking application.
Requirements for Booking
Following are the documents that are required for the booking process:
Passport Size Photographs of The Applicant
Copy of the National Identity Card of The Applicant
Copy of NICOP In Case of Overseas Pakistani
You can contact Taikadar.com to guide you through the whole buying process.
Why invest in Lahore Smart City?
Lahore Smart City is an amazing new housing society in Lahore and there are several reasons to invest in this housing society. The reasons that it is a lucrative option for investment are as follows:
Affordable
Ideal Location
Wide Streets and Roads
Approved Housing Society
Great Developers
Smart Facilities
Easy Booking Procedure
International Level Infrastructural Development
Pros and Cons
Pros
Ideal Location
Wide Streets and Roads
Approved Housing Society
Developers (HRL, FDHL, Surbana Jurong)
Smart Facilities
Easy and Transparent Booking Procedure
Cons
Perception of Higher Prices
Conclusion
Lahore Smart City is an ideal option for investment as it not only offers the ideal location but is also legally approved by the concerned authorities. People can invest here without facing the trouble of legalities and their procedure for online booking is quite simple as well.
Lahore Smart City is going to hold its value in the long run as well because it has to offer smart amenities that were previously missing from different new and developing housing societies. This housing society is going to change the real estate market of the country because of the features it has to offer.
The developers are also working on a similar project in the capital city and they have a vast experience in the real estate market. They have hired international companies and consultants such as Surbana Jurong to help them through the process of planning and development and this society is among the best-planned areas of Lahore.
For queries and details contact Thaikadar.com  at 051-4853620!
Frequently Asked Questions (FAQs) about Lahore Smart City
Share This Story, Choose Your Platform!
Looking for best investment advice?
Get your free quote today from Thaikadar.com.