About Multi Residencia and Orchards
To begin, Multi Residencia and Orchards is a nature-encapsulated housing society by the Multi-Professional Cooperative Housing Society (MPCHS). The Society provides residential as well as farmhouse living with all basic and modern amenities. In addition to this, it is a gated community with a secure environment and a close-to-nature living experience.
Multi Residencia and Orchards also facilitate the business community through the provision of commercial plots. Varied sizes of residential, commercial, and farmhouse plots are available here in society.
Location
The location is indeed a very important factor for any real estate project, especially for a housing society. The reason behind it is that it determines the ease of commutation from and to the society. As for Multi Residencia and Orchards, it is located at the Jhang Bahtar Interchange of M-1 Motorway.
The location of the project provides easy access to multiple major locations. These locations include the federal capital, Rawalpindi, and other areas such as Wah Cantt, Hassan Abdal, and Taxila.
Following is the location map for better understanding:
The society is duly approved and recognized by the Tehsil Municipal Authority under NOC No: 219, dated April 2013. MPCHS is fulfilling the development responsibilities, Multi Residencia and Orchards come with a location benefit. It is located next to the Jhang Bahtar Interchange of M-1 Motorway and is easily accessible from multiple areas.
Overall, this housing project is a good investment option for plenty of reasons like location, experienced and devoted developer, and convenient payment plan.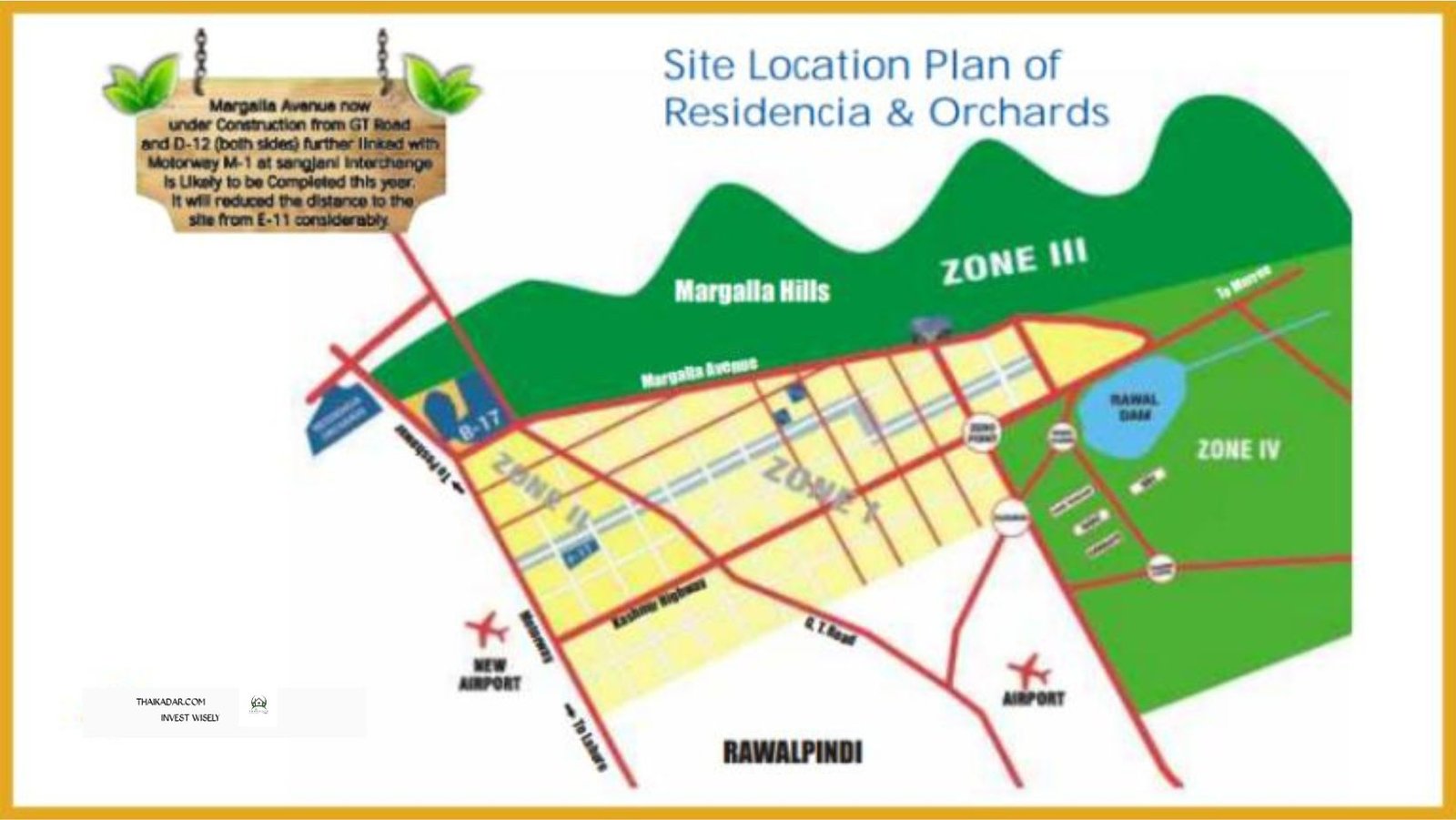 Accessibility
As mentioned earlier, society is highly accessible from different areas. Following is the accessibility of the project from different locations:
45 minutes from Islamabad City
40 minutes from Rawalpindi City
30 minutes from the New Islamabad International Airport
3 minutes from M-1 Motorway
10 minutes from G.T Road
1 minute from Jhang Bahtar Road
10 minutes from Jhan Bahtar Interchange
15 minutes from Fauji Cement Company Limited
15 minutes from Nova City School
25 minutes from Wah Cantt
30 minutes from Taxila
28 minutes from Hassan Abdal
11 minutes from Aqua Fun Resort
Nearby Housing Societies
Several housing projects are located in the neighborhood of Multi Residencia and Orchards. Following is a list of nearby housing societies:
New City at 10 minutes drive
Wah Model Town at 20 minutes drive
POF Housing Society at 18 minutes drive
Iqbal Town at 45 minutes drive
B-17 Multi Gardens at 25 minutes drive
F-17 Tele Gardens at 40 minutes drive
Gulzar-e-Sir Syed Cooperative Housing at 7 minutes drive
The Life Residencia at 40 minutes drive
Marble Arch Enclave at 35 minutes drive
Eighteen Islamabad at 40 minutes drive
Developers
Multi Orchards and Residencia is owned as well as developed by Multi Professional Cooperative Housing Society. MPCHS needs no introduction as it is a big name in the real estate industry of Pakistan. This is the 5th flagship project of MPCHS a series of multiple successful projects.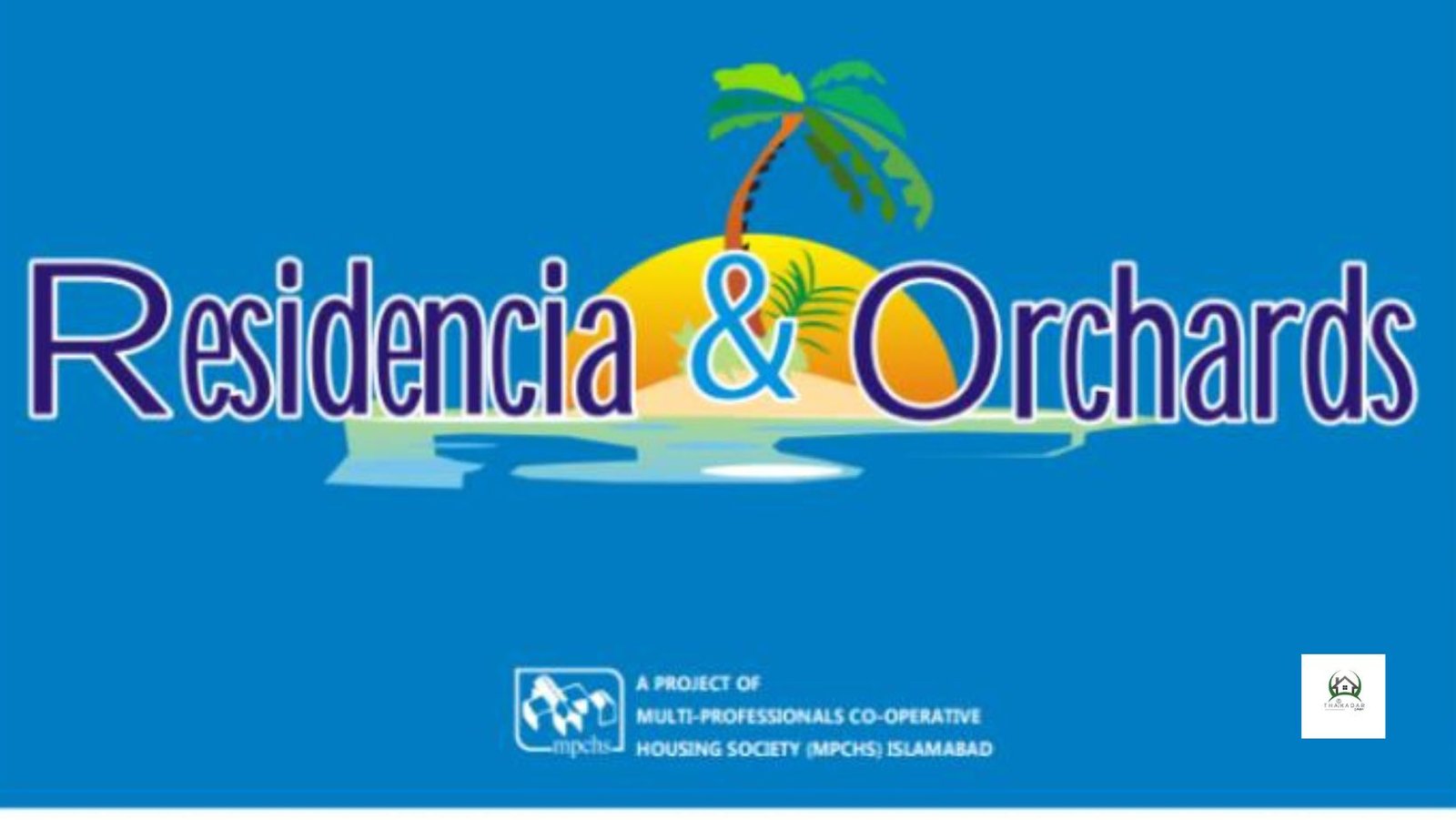 MPCHS is widely renowned for delivering quality projects in given time frames and keeping up to its promises. MPCHS was founded back in the year 1988 and made a history of successful societies, as you can see below:
F-17 Tele Gardens Islamabad
B-17 Multi Gardens Phase 1
B-17 Multi Gardens Phase 2
Development Status
Multi Residencia and Orchards is semi-developed. To the present day, society is most fully developed. The road network along with many houses and villas are complete and people are living there. Moreover, the construction of more houses is going on and people are starting to move and live here.
Following development pictures will help you get a better idea of the development status of the society:
NOC
NOC, without a doubt, is a primary factor that not only wins the confidence of investors and customers but also makes society safe for investment. Multi Residencia and Orchards is approved from TMA under the NOC No: 219, approved in April 2013. So, you can invest here without any worry.
Master Plan
The master plan of Multi Orchards and Residencia is divided into 4 blocks, namely block A, block B, block C, block D, and offers residential, commercial, and farmhouse living. All of these categories offer different types and sizes of plots.
The main entrance to the society is from the Jhang Bahtar Road with a wide main boulevard. However, there is a second entrance to society. Aside from plots, each block has a main central boulevard. Moreover, spaces are reserved for green spaces, hospitals, golf clubs, parks, playgrounds, and educational institutes.
Following is the master plan map of Multi Orchards and Residencia:
Multi Orchards and Residencia Islamabad Blocks
Block A
Block B
Block C
Block D
Multi Orchards and Residencia Residential Plots
5 Marla
8 Marla
10 Marla
14 Marla
1 Kanal
Multi Orchards and Residencia Commercial Plots
Multi Orchards and Residencia Farmhouses
Features and Amenities
Residents of Multi Orchards and Residencia will enjoy all the basic and modern amenities along with a touch of nature at pocket-friendly prices. Society offers all the facilities required for a comfortable and well-maintained life. The facilities, combined with tranquility and location make it a comprehensive housing society.
Society is developed after proper understanding and planning, therefore the developers made sure to include open areas and parks that not improve the aesthetics but also the overall luxury and environment. This contemporary housing society features all there is for a lavish lifestyle, with plenty of entertainment facilities to enjoy your leisure time.
Following is the list of extensive amenities offered here:
Mosques
Each sector of the society contains multiple mosques so that the residents can conveniently carry out their religious affairs and draw closer to Allah Almighty. The mosques are air-conditioned and fully equipped to make your religious activities even better.
Parks
Parks are an integral part of any housing project. Moreover, the administrative authorities have also made it mandatory to leave open spaces in society for environmental conservation. Multi Residencia and Orchards consists of parks in all blocks, at different places where residents can enjoy leisure time. Moreover, parks and open spaces will contribute to creating a healthier atmosphere.
Football Grounds
Society keeps a keen eye for the entertainment of sports enthusiasts. Therefore, multiple football grounds are developed in society to promote sports.
Environment-Friendly Atmosphere
Society pays great attention to the environment and atmosphere within the society. Multi Residencia and Orchards provide a lush green and natural environment for the residents. Such a serene and healthy environment combined with state-of-the-art amenities makes a perfect life!
Healthcare Center
Healthcare is one of the top priorities for the developer of society. For this purpose, an international standard hospital and multiple healthcare centers are developed in society. This means that residents will get top-tier healthcare services without leaving the premises of the society.
Commercial Markets
Commercial Centers are developed at specific places within all the blocks of the society. These commercial spaces will house different brands and outlets as well as shops and supermarkets to fulfill the daily needs of the prospective residents.
Educational Institutes
To facilitate the inhabitants of the society, a special educational complex will be developed in Multi Orchards and Residencia. This complex will consist of schools, colleges, and universities. The developers aim to provide international standard education within the society.
Graveyard
A piece of land is specified for the society graveyard. It is an important part of any community. Life and death are the ultimate realities and the society aims to provide sufficient land where residents can bury their deceased closed ones. Moreover, the residents will be able to visit the graves of their loved ones because of the nearness to the graveyard.
Water Resources
To tackle the water requirements in society, water tanks will be installed throughout the project. These water reservoirs will make sure that residents get a sufficient supply of water. Aside from this, steps will be taken for the supply of clean drinking water too.
Secure Gated Community
Multi Residencia and Orchards is a secure and gated community. Residents of the society will enjoy a safe environment ensured through secure entry and security personnel throughout the society. Furthermore, 24/7 CCTV surveillance will further improve security standards.
Quality Road Structure
The Society features a high-quality road and street infrastructure that helps regulate the traffic flow and avoid jams. The roads are wide and carpeted for maximum comfort and minimum hassle. The streets are wide enough for easy commutation and improve the living experience.
Salient Features
Multi Orchards and Residencia pack some unique features that make them different from other housing societies.
Following are the salient features of this housing society:
Grand Entrance
Mosques in all Blocks
Sufficient Water Resources
High Accessibility
Gated Community
24/7 Security
CCTV Surveillance
Modern Infrastructure
High-Quality Road Structure
All Basic Utilities
Educational Institutes
Commercial Areas
Underground Electricity
Sports Complex
Parks and Open Spaces
Healthcare Facilities
Reasonable Prices
Discounts upon lump-sum payments
Clean and Green Surroundings
Prices and Payment Plan
Plot Prices at Multi Residencia and Orchards are quite reasonable, even though the society grabs the attention of a huge amount of investors. The prices are very suitable for the provided facilities and ideal location.  The plots are available for resale throughout society. Keep in mind, that these are average market rates and may change with time.
Following are the prices of different categories of plots in this society:
| Plot Size | Category | Minimum Price | Maximum Price |
| --- | --- | --- | --- |
| 5 Marla | Residential | 20 Lac | 40 Lac |
| 8 Marla | Residential | 25 Lac | 52 Lac |
| 10 Marla | Residential | 45 Lac | 82 Lac |
| 14 Marla | Residential | 80 Lac | 1 Crore 10 Lac |
| 18 Marla | Commercial | 1 Crore 25 Lac | 1 Crore 70 Lac |
| 21 Marla | Commercial | 1 Crore 75 Lac | 3 Crore 30 Lac |
| 1 Kanal | Residential | 1 Crore | 1 Crore 45 Lac |
| 5 Kanal | Farmhouse | 1 Crore 50 Lac | 4 Crore |
| 10 Kanal | Farmhouse | 1 Crore 60 Lac | 5 Crore 50 Lac |
Project Brochure
The brochure is attached below:
How to Buy a Plot?
If you are interested in buying a plot at Multi Orchard and Residencia, contact [email protected] today! You can book your plot by paying the complete amount. Moreover, the society also offers a generous discount on the lump-sum payment of your plot.
Feel free to contact us via phone: 051-4853620/ 0311-5094197 email at: [email protected], or leave an inquiry from the website and our respective agent will get back to you ASAP!
Pros and Cons
The Pros of Multi Residencia and Orchards take the lead over the cons and that's why the society is very suitable for investments and end-use.
Following are the pros vs. cons of the society:
| Pros | Cons |
| --- | --- |
| All Basic Utilities including Water, Gas and Electricity | perceived as expensive society |
| Educational institutes | perceived as far off society |
| 24/7 Security | |
| Gated Community | |
| Parks and open spaces | |
| Commercial Areas | |
| Close to all major areas of Islamabad and Rawalpindi | |
| Natural atmosphere and surrounding | |
| Multiple entrances to the society | |
| Medical Facilities including hospital and clinic | |
| Proper waste disposal facility | |
| Underground provision of Electricity | |
Frequently Asked Questions (FAQs) about Multi Residencia and Orchards
Final Remarks
Multi Residencia and Orchards is an ideal housing society to lead a peaceful life, full of all modern amenities. Society is equally beneficial for investment purposes as well as end-use. Attractive plot sizes are offered here in residential, commercial, and farmhouse categories. Members of the business community can benefit from commercial plots in society.
In addition to this, the prices are very affordable with flexible installment plans and discounts on full payment. It is a comprehensive housing society that encompasses an ideal location with high accessibility and state-of-the-art amenities.
Summing it up, Multi Residencia and Orchards is a highly-recommended project for nature lovers and people who prefer peaceful life. Contact [email protected] for the sale or purchase of plots in this society, we are happy to help you!
Also, check out our other projects like Capital Smart City, Park View City, and Rudn Enclave. Feel free to get in touch for more information and the best real estate advice!