Introduction to OPF Valley
OPF Housing Scheme is a developed housing scheme in ICT Zone-5 Islamabad, planned specifically to facilitate overseas Pakistanis with an international standard lifestyle. OPF Valley is an ideal place for a peaceful and modern lifestyle.
It provides all the modern civic amenities to its residents. Residence has started already as houses are being constructed rapidly across the scheme. The development work is going on rapidly after proper preparation and planning.
It is a modern society promising all the commercial as well as residential amenities once completed. OPF Valley is easily accessible from Rawalpindi and Islamabad. It is a remarkable society with properly categorized residential and commercial sectors.
OPF housing society is overall developed. Plots are ready for possession, and home construction can be started after full payment.
Developers
The development work of OPF Valley Zone 5 Islamabad is carried out by FWO, a national development and construction company. NESPAK Engineering is responsible for the planning and infrastructure design of society.
OPF Valley is developed as per international standards to provide an extraordinary living experience. The development work is being carried out under the guidelines of CDA, with proper permission and NOC.
Location
OPF housing scheme is located at Mouza Pind Malka, Japan Road, Zone 5 of Islamabad. Japan Road is connected to Islamabad expressway, hence the society has easy access to downtowns of twin cities.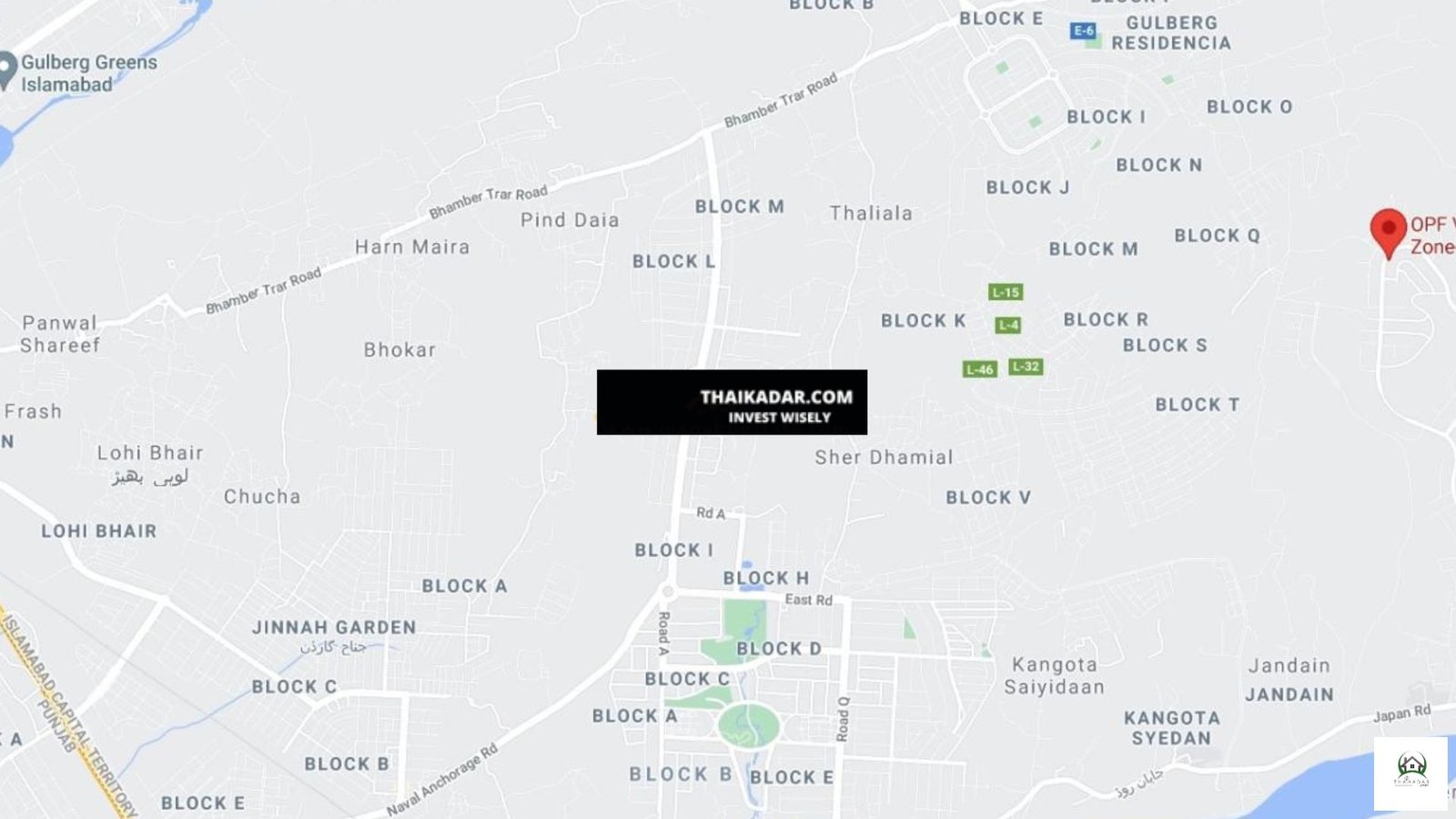 It is surrounded by some of the leading housing schemes of Pakistan like Gulberg Greens, Senate Housing Scheme, Naval Anchorage, Capital Enclave, and River Garden. Many new housing societies have also emerged recently in the neighborhood.
Nearest Landmarks
OPF Valley is situated near many landmarks of the capital. It is located about 20 minutes from Pakistan's 2 major housing projects Gulberg Greens and Ghauri Town. It is a few blocks away from Punjab University Campus. Islamabad Expressway is just 15-20 minutes from OPF Valley.
Another major landmark, Benazir International Airport, is just 5-10 minutes, and Zero Point is just 24 km from the project. Moreover, the CDA board approved the access proposal from Gulberg Greens.
The surroundings include educational institutes, hospitals, parks, shopping centers, and restaurants, which make its location even more attractive.
Total land Area Covered
OPF Valley covers over 5,000 Kanal of beautiful landscape in the capital. Total land area is categorized and divided into residential and commercial sectors. 100 Kanals of land is reserved for commercial plots whereas, there are 2146 residential plots within the scheme. Moreover, OPF Country Homes and Luxury Apartment Villas are also an excellent addition to the project.
Legal Status and NOC
OPF Valley is fully legal and safe for investment. It was duly approved by the Capital Development Authority back in 2011 and got NOC certificate. It is currently developing under CDA's supervision. The land reserved for future extensions is also approved by CDA.
Development Status
About 99% of infrastructure development work is already complete; balance work will be completed soon.  Water supply work is already finished with 4 underground and 4 overhead reservoirs; work on a transmission line is underway.
Underground electricity provision is complete, and further work will be completed shortly. Besides all this, residence has started, and many houses are building across all residential sectors.
Features
OPF valley is planned to have all the amenities and basic facilities for a modern and luxury lifestyle once it is completed.
Here are the facilities residents will enjoy in OPF Valley:
All the basic facilities including Gas, Water, and Electricity Supply.
Completely underground sewerage management system.
Wide roads and streets for uninterrupted traffic flow.
Green belts and footpaths alongside the roads.
Mosques are distributed throughout society.
Educational institutes in the society and surroundings.
Public transport to commute to from the Valley.
Commercial areas to support the resident's needs.
Security services throughout the project.
Efficient garbage collection facility.
Hospitals and healthcare centers.
Parks and playgrounds for children.
All of these incredible amenities, along with a vibrant surrounding and ideal proximity, add up to the value of OPF Valley Islamabad.
Master Plan of OPF Valley Islamabad
OPF housing society is made up of 8 different sectors. Presently, plots in nearly all blocks are ready for possession and construction. Back in 2018, OPF Valley announced allotments for sector C also. Other parts of existing sectors are currently under speedy development where possessions are expected in next few months.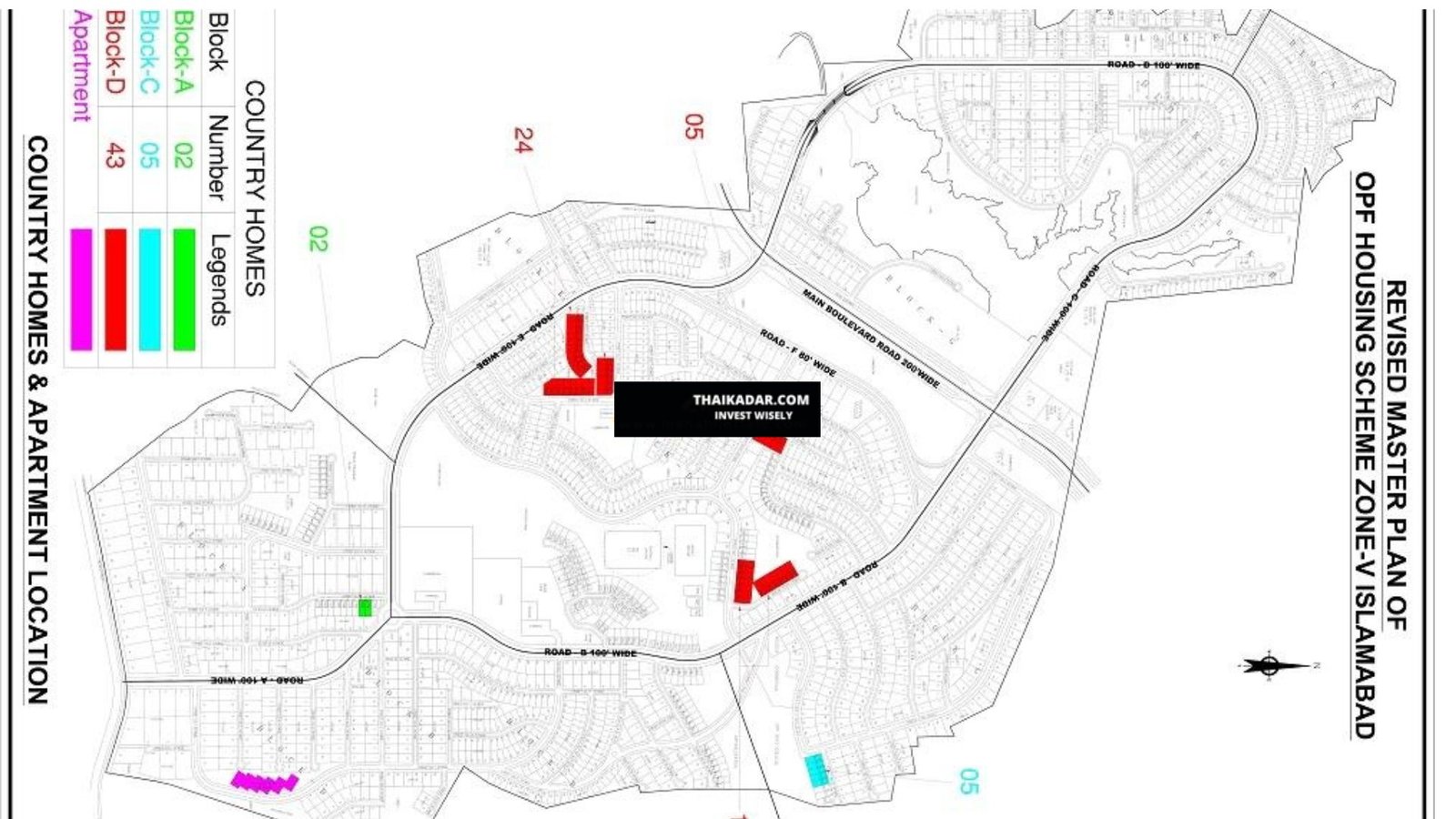 The society has divided its 5000 kanals of land area into different residential and commercial blocks. 60% plots have been allotted to overseas Pakistanis while 40% to locals, according to the quota of allotment.
Here are the plot details of OPF Valley Islamabad:
Residential Plots
Total residential plots created: 2246
Allotted Plots: 1941
Vacant plots: 305
Plots reserved for country homes: 200
Plots reserved for Apartment blocks: 6
Distribution of 2246 Residential Plots
355 square yards: 974 plots
600 square yards: 859 plots
1000 square yards: 177 plots
2000 square yards: 36 plots
Commercial Plots
100 kanals of land has been allocated for commercial plots, although they are not ready for possession yet. Development is progressing speedily, and soon they will be ready for construction.
OPF Country Homes
OPF Country Homes provide a natural environment with all the modern amenities according to international standards. 160 Kanals of land has been allocated for this project, where 200 country homes will be developed.
Get more information about OPF country homes here:
OPF Country Homes Islamabad
OPF Modern Luxury Apartments
OPF Modern Luxury Apartments are also a futuristic and luxury sub-project of the OPF Valley. They aim to provide a premium lifestyle to the inhabitants. Sprawled over 6 kanals of premium land in Block B, it will comprise 6 elegantly designed towers consisting of 200 two bed modern luxury apartments.
Check out more details about OPF Modern Luxury Apartments here:
OPF Apartments Islamabad
Prices
OPF Housing Project is currently under development so, the prices are very reasonable. Completion will take some time, so the property prices are not witnessing much rise. The rates are expected to notably rise after development is completed; therefore, it is a good investment. OPF developers have started booking plots from only 30% of the down payment.
Prices of plots in OPF valley are as follows:
Per Marla price of residential plots ranges from 4 to 5 lacs per marla.
This makes the total prices of 14 Marla around 70 lacs.
1 Kanal plots start from 85 lacs, and 2 Kanal plot starts from 1.50 crore..
Presently, Commercial plots are underdeveloped, however price range is nearly 20 to 25 lac per marla.
Future Plans
Development of more open areas, parks, educational institutes, and mosques.
Constructing a Sewer Treatment Plant.
Completion of internal electricity provision/ installing street lights.
Development of a boundary wall around the society.
Development of Apartment Blocks.
External water supply infrastructure.
Removal of surplus soil from plots area.
Booking Details
Residential or commercial plots in OPF Valley Islamabad are available in resale market so anybody can buy a property from open market and transfer to his name. In case of booking an apartment or country home, only members of OPF can avail new bookings.
Overseas Pakistanis must be registered with the Overseas Pakistanis Foundation to book a property in OPF Valley. Follow the steps on OPF website to get registered. A duly filled application form, necessary documents, and booking fee must be submitted for booking purposes.
Conclusion
OPF Valley is a great place to live in a pollution-free and lush green area of Islamabad. Overseas Pakistanis will enjoy an exquisite lifestyle as per international standards as the society aims to provide all the modern amenities to its residents.
The location of this project is another solid reason for its value. The prices are also affordable, so it is a profitable investment because the rates are expected to skyrocket after completion of development.
Share This Story, Choose Your Platform!
Looking for best investment advice?
Get your free quote today from Thaikadar.com.