Introduction 
Bahria Hills Islamabad is another great project by Bahria Town Pvt Ltd. Just like its name, it is in the middle of the beautiful hills of Islamabad. It is a residential scheme located in Zone-1V of the Capital city.
Location
It is situated near Murree Expressway on Angoori Road Bhara Kahu Islamabad. It is another superb project of Bahria Town Islamabad. CDA has approved this residential housing project.
Bahria Hills Developer
Designed by modern and international standards. The housing project is being developed by the renowned developer Bahria Town Pvt. Ltd.
Bahria Hills Islamabad NOC
CDA has issued NOC to Bahria Town for Bahria Hills. Bahria Hills has the trust seal of Bahria Town, which has always been delivered to its investors.
Accessibility
Bahria Hills enjoys a terrific location that connects to nearby areas:
Accessible from Murree Expressway
Agro Farm Houses in proximity
Located at Angoori Road
10 min drive from Srinagar Highway
Serena Hotel is 20 minutes away
Lake View is 15 min away
University Road 15 min drive
Accessible from Murree Road Islamabad
Development Status
Until now, Bahria Hills has developed the main boulevard. Society is developing roads, streetlights, and other amenities. Almost 80% of the development work is complete.
Bahria Town is developing the housing project with its years of expertise. It has planted beautiful trees and constructed green belts that are a sight to be seen.
Featured Landmarks
The key places that are near the project:
Bahria Enclave I & Enclave II Islamabad
Bhara Kahu Islamabad
Rawal Lake Park
Murree Toll Plaza
Bahria Golf Heights
Chattar Park
Sheraton Club
Bahria Hills Islamabad Master Plan
Following is the master plan of the society: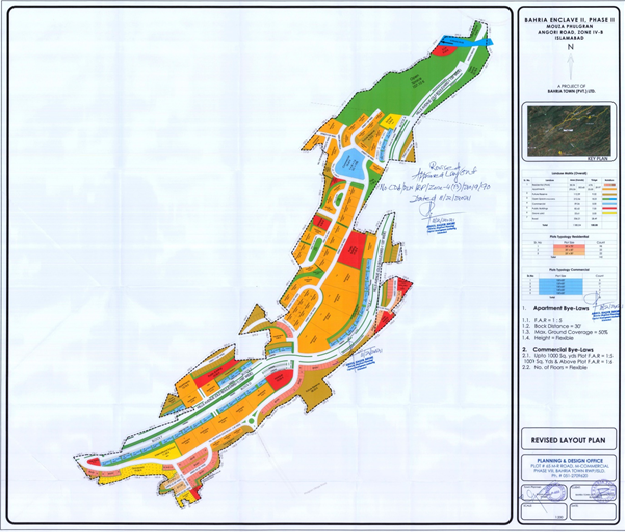 The development plan includes all kinds of properties keeping the need of everyone. Bahria Town is a reputed name well known for planning and developing housing projects. Society has already completed major work on roads and amenities.
The residential plots are available in the sizes of 5 Marla,8 Marla,10 Marla,1 Kanal,2 Kanal,4 Kanal. Along with that, you can buy Naya Pakistan Housing Apartments.
Commercial Plots are available to buy in the sizes of 5 Marla to 1 Kanal.
Payment Plan
Bahria Hills is offering easy installment plans to buy plots.
 Payment Schedule for Residential Plots:
| Plot Size | Price For Booking | Installments (Quarterly) |
| --- | --- | --- |
| 5 Marla | 35 Lacs | 262.500 |
| 8 Marla | 50 Lacs | 400.000 |
| 10 Marla | 65 Lacs | 562.000 |
| 1 Kanal | 1.25 Crore | 1.250.000 |
| 2 Kanal | 3.9 Crore | 3.750.000 |
| 2 Kanal | 3.9 Crore | 3.750.000 |
| 1 Kanal | 1.25 Crore | 1.250.000 |
| 10 Marla | 65 Lacs | 562.000 |
| 8 Marla | 50 Lacs | 262.500 |
| 5 Marla | 35 Lacs | 262.500 |
Features
Prime location at Murree Expressway
NOC approved
Utilities available
Hospitals and educational complex
Grand Jamia Mosque
Parks and green belts
Kids playgrounds
CCTV security system
Graveyard
Carpeted roads
The commercial and economic hub
Sports complex
Why Invest in Bahria Hills Islamabad?
The main attraction is the location surrounded by a safe and clean environment. Good place for residence and opportunities for the investors of commercial plots. You can reach Islamabad within 15-20 minutes.
An eco-friendly environment that is within reach of all main areas of the Capital city Islamabad. All Modern Amenities and infrastructure is part of the master plan. The luxurious features of a high-end society are all available in this housing project and at good rates.
Conclusion
Before buying any type of land, first, we make sure that relevant authorities approve it. Bahria Hills also known as Bahria Enclave-II has NOC approved from CDA. The name of the Bahria Town adds the trust that the project would be completed in time.
Due to its proximity to the beautiful hills of Murree and its nearness to the capital city Islamabad, Bahria Hills would be a perfect place to live amidst a lush green landscape. It is an eco-friendly housing project with green parks, fresh air, and beautiful surroundings.
The cost of land is very affordable as plots are available in installments.
Pros and Cons
If you want to invest, you must consider the following pros and cons:
| Pros | Cons |
| --- | --- |
| Convenient road accessibility | Expensive area In rural settings |
| Affordables rates | Work still in progress |
| Mountain views | Mountainous slopes |
| Residential and business hub | |
| NOC approved | |
| Top educational institutes | |
| Gated community | |
| Lush green Landscape | |
| Lush green Landscape | |
| Uninterrupted electricity | |
| Convenient road accessibility | Expensive area in rural setting |
| Mountain view | Mountainous slopes |
| Affordable rates | work still in progress |
Bahria Hills Islamabad FAQs
Share This Story, Choose Your Platform!
Looking for best investment advice?
Get your free quote today from Thaikadar.com.