Overview
Faisal Residencia is a beautiful residential society on the premises of Margalla hills. The society stands out from the crowd because of its impeccable location, decent neighborhood, and reasonable prices. Faisal Residencia grabs the interest of end-users and investors alike.
The main reason for the popularity of Faisal Residencia Islamabad is the expertise and repute of the owners and developers. Moreover, scenic location, modern amenities, and good rates are some other factors contributing to the value of this project.
Zedem International is the developer of society, it is owned by Chaudry Abdul Majeed, who also owns Faisal Hills Taxila and Faisal Town. The project is ongoing and development is happening at a rather slow pace.
The society offers residential and commercial plots. It features international standard planning and implementation with the provision of all facilities. It is a rewarding investment and a great place to live.
Location
Faisal Residencia is ideally located in CDA Sector E-17 Islamabad. More specifically, it occupies E-17/1 and E-17/4 of the CDA Sector, next to the Cabinet Division Housing Scheme. The location of the society is close to Sector F-17 Islamabad, which is MPCHS Tele Gardens Housing Society.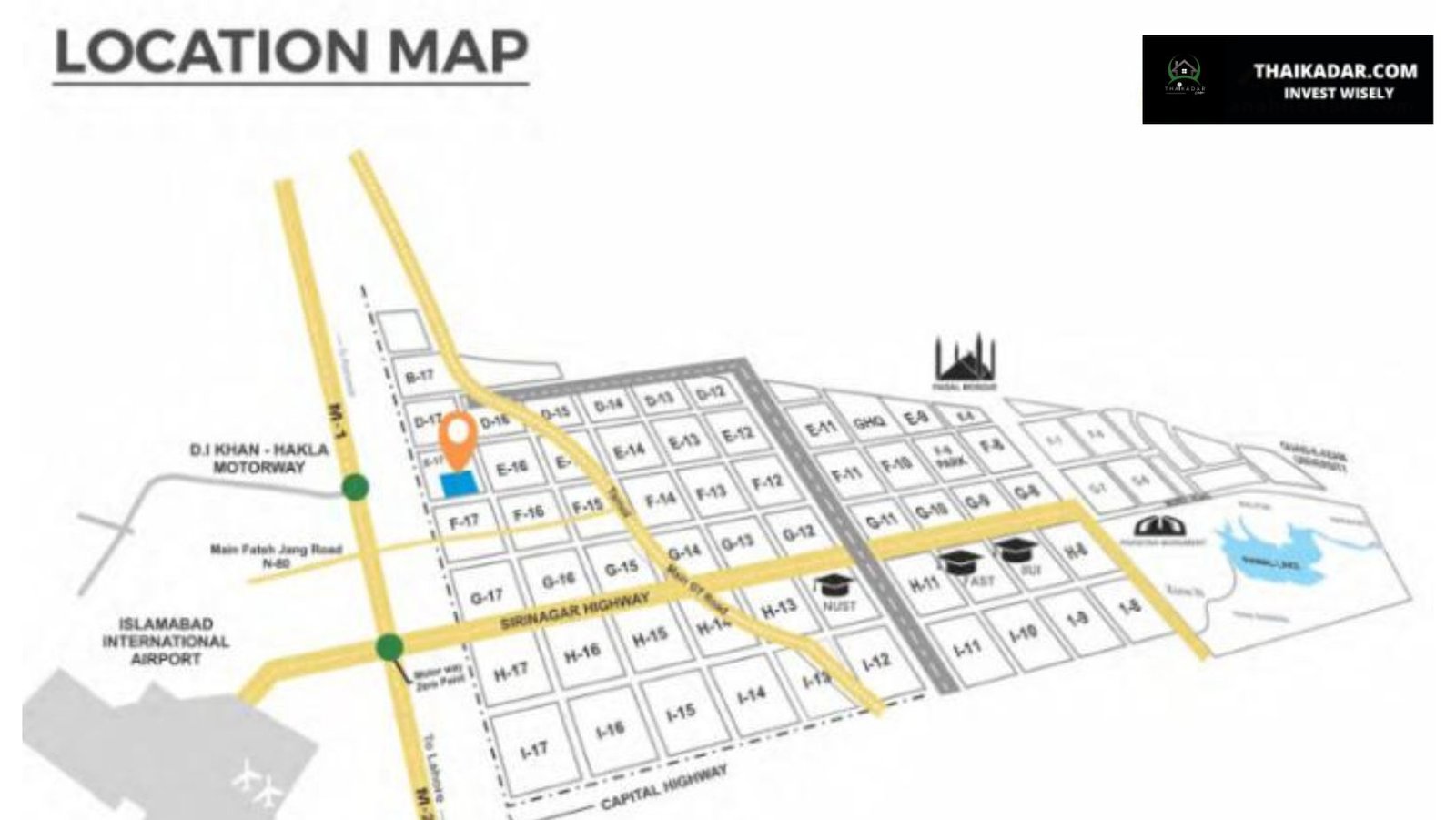 The location provides easy access to society from multiple routes of Rawalpindi and Islamabad. Moreover, a few alternative routes also lead to Faisal Residencia Islamabad like the Fateh Jang Road and G.T Road.
Not only this but Faisal Residencia and its neighbor Tele Gardens may conjoin to provide another convenient way reaching for them and benefitting both societies as a result.
Faisal Residencia Accessibility
As mentioned earlier, the location of Faisal Residencia Islamabad is very accessible from multiple points of twin cities. In fact, society has access to all major parts of Rawalpindi as well as Islamabad.
Following is the accessibility of the society:
11 minutes from F-17 Markaz
17 minutes from Islamabad Peshawar M-1 Motorway Toll Plaza
15 minutes from Tarnol Islamabad
15 minutes from Sangjani Toll Plaza
30 minutes from Quaid-e-Azam International Hospital
50 minutes from  Srinagar highway
28 minutes from Thaliyan Interchange
25 minutes from New Islamabad International Airport
45 minutes from Rawalpindi City
45 minutes from E-11 Islamabad
45 minutes from  Faizabad
33 minutes from Jhangi Syedan
21 minutes from Fateh Jang Road
43 minutes from Wah Cantt
Nearby Housing Societies
Following are the housing societies located close to Faisal Residencia:
21 minutes from B-17 Multi Gardens Islamabad
25 minutes from Faisal Hills Taxila
55 minutes from Al-Haram City
35 minutes from CBR Phase 2
13 minutes from Shalimar Town
15 minutes from D-18 Engineering Co-Operative Society
12 minutes from Faisal Town
Faisal Residencia Developers
Zedem International is developing Faisal Residencia Islamabad. Zedem International is a reputable development company that works for creating profitable real estate investment options. In addition to this, the firm also develops housing societies.
The company has numerous projects under its belt and the most noticeable projects are:
Faisal Tower
Sea Square
And currently Faisal Margalla City
Zedem International is a famous name in the real estate sector of Pakistan. Furthermore, it is also registered with the Securities and Exchange Commission of Pakistan (SECP) and that leaves no doubt on its expertise.
The company believes in developing high-quality housing societies with bearable costs and timely delivery.
Development Status
Faisal Residencia is an ongoing project, it is still under development. According to a rough estimate, 30% to 40% of society is developed and the rest is developing at a rather slow pace. One of the main reasons for delayed development is that the NOC is under process with Capital Development Authority.
Legal Status
The NOC of this project is currently under CDA's review and this is pretty much the reason for slow development. However, the management is confident to get the NOC approved soon. Once Faisal Residencia gets approval, the development will continue at a fast pace.
Looking at the past projects and reputation of Zedem International, it is likely to get approved soon.
Master Plan
Faisal Residencia housing society spans over E-17/1 and E-17/4 of the CDA Sector E-17 Islamabad. The society offers different categories of plots like residential, commercial, and apartments.
A total of 3248 plots make up the society, with separate places reserved for apartment buildings, parks, hospitals, and other landmarks. The total number of plots is then further categorized into residential and commercial as follows:
89 Commercial Plots
3159 Residential Plots
Plot Sizes
Residential plots are further divided into different sizes. Following are the residential plot sizes here:
5.56 Marla
8 Marla
10.89 Marla
14.22 Marla
19.56 Marla
Commercial plots of 10 Marla are also available at Faisal Residencia.
Following is the master plan:
Faisal Residencia Amenities
Following is the list of amenities offered at the society:
40 feet wide Roads
Wide Main Boulevard
All Basic Utilities
Electricity
Sui Gas
Uninterrupted Water Supply
Underground Provision of Electricity
Educational Institutes in the Society
Children Playgrounds
600 feet Green Belts
State-of-the-art Infrastructure
Commercial Areas
Modern Sewerage Management System
Dependable Security
Gardens and Lakes
Sports Complex
Recreational Activities
Community Centers and Football Grounds
Gated Community
Faisal Residencia Prices
The plot prices are affordable at Faisal Residencia Islamabad. However, there is a profit on plots as the society was launched back in 2018. Moreover, the possession of plots will be granted soon.
Following is the latest payment plan of Faisal Residencia:
Booking details
Feel free to Contact Thaikadar Estates to get your plot at Faisal Residencia. We will make the process easier for you with our years of experience. Not only will this but we help you identify the best options for you based on your requirements.
You can book your plot at Faisal Residencia with a 30% down-payment, inclusive of 10,000 registration charges. Moreover, society is also providing 21% off on lump-sum payments.
Conclusion
Faisal Residencia is an ongoing project of Zedem International. It is yet another housing society from the owners of Faisal Town and Faisal Residencia. The project offers excellent investment opportunities as well as a good living place.
The society provides a serene environment, a highly accessible location with all the modern-day facilities with affordable prices and convenient installment plans.
Share This Story, Choose Your Platform!
Looking for best investment advice?
Get your free quote today from Thaikadar.com.