Overview
Lahore is becoming the hub of the real estate market with its dynamic market environment and luxurious features of new and developing housing societies. One such name is Al-Noor Orchard Lahore which is an LDA-approved housing project and offers all the modern amenities and features that one might expect.
The location of the project is also ideal for easy maneuverability within the city. There are many reasons that this society is the highlight of the real estate market in Lahore.
Al-Noor Orchard Location
The highlight of Al-Noor Orchard is its location near Faizpur Interchange. It is also close to the other project by Al-Jalil Developers, Al-Jalil Garden. Ravi Toll Plaza is also only 1.3 KMs away from this location.
Following is the location map of the housing project: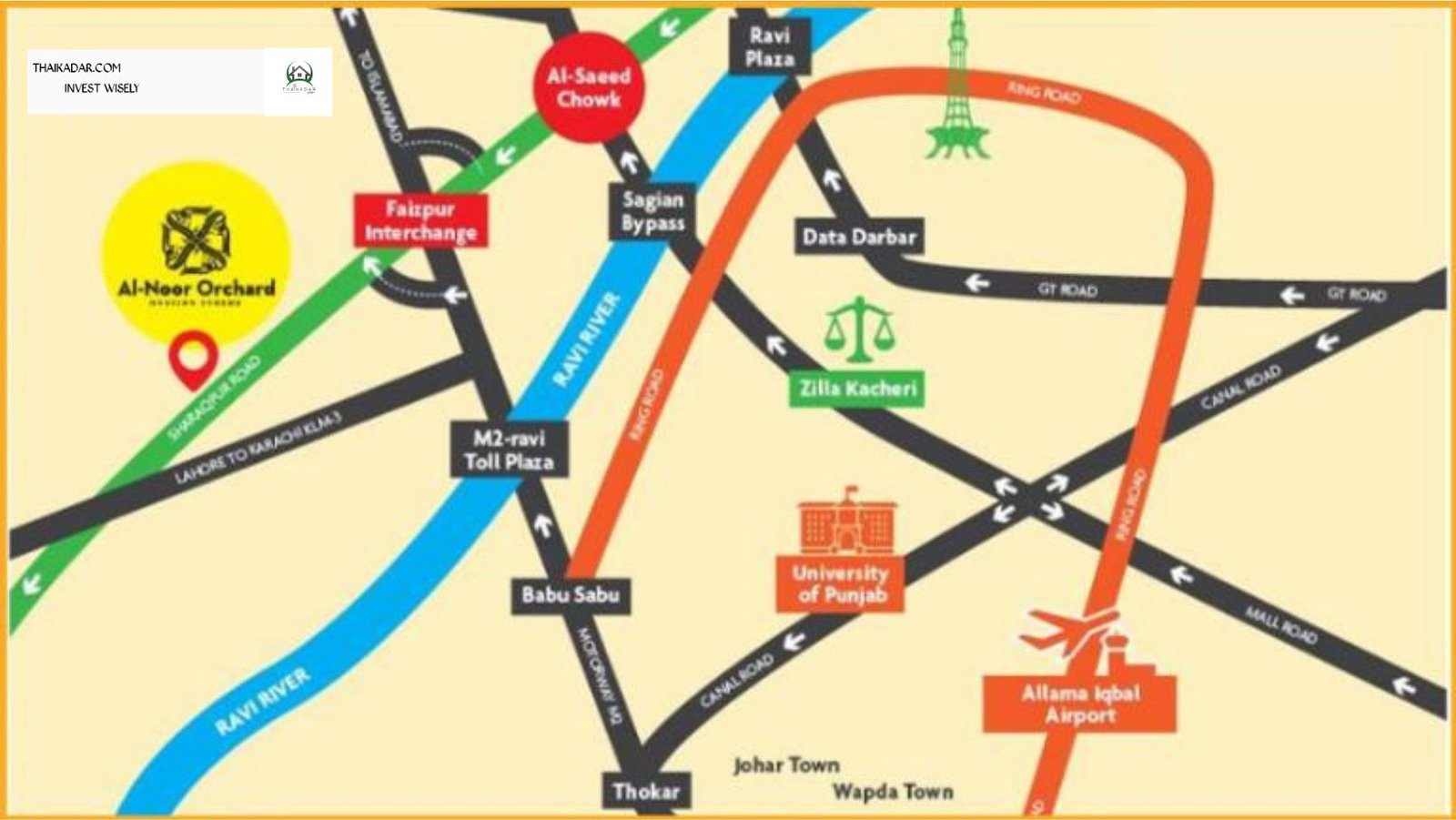 Sharaqpur Sharif Road which serves as a connecting road between Lahore and Jaranwala is also right next to the housing society. All the major locations within the city are only a few minutes away from Al-Noor Orchard.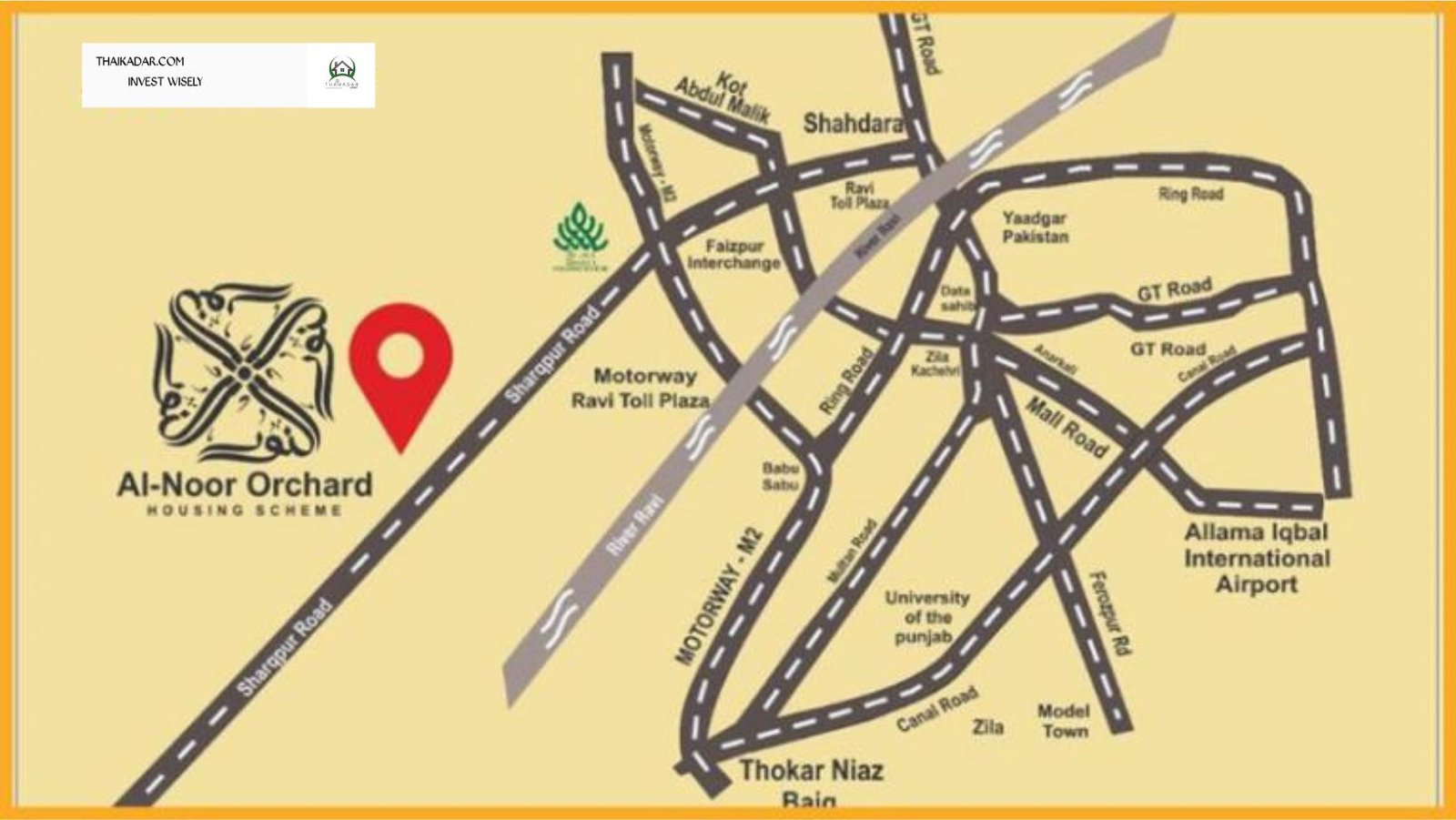 Accessibility
All the major locations near Al-Noor Orchard and their approximate time from the housing societies are as follows:
Faizpur Road – 1 Minute
Motorway M2 – 8 Minutes
Emporium Shopping Mall – 15 Minutes
Karachi Lahore Motorway Interchange (KLM III) – 15 Minutes
Bus Terminal – 10 Minutes
Sagian Wala Bypass Road – 9 Minutes
Lahore- Sargodha Road – 12 Minutes
Lahore- Jaranwala Road – 7 Minutes
Nearby Housing Societies and Landmarks
Al-Raziq Town
Shahdara Town
Al-Muneeb Garden
Railway Colony
Garhi Shahu
Gulshan e Ravi
Samnabad Town
Schools, Park & Stadium
Lahore Toll Plaza
Developers of Al-Noor Orchard Lahore
Al-Noor Orchard Lahore is the masterpiece by Al-Jalil Developers. They have gained popularity in the real estate market after their project, Al-Jalil Garden. They have a long-standing reputation of 20 years under the leadership of Mr. Nasrullah Khan. A team of highly experienced engineers and architects was hired for the planning and development of this amazing project.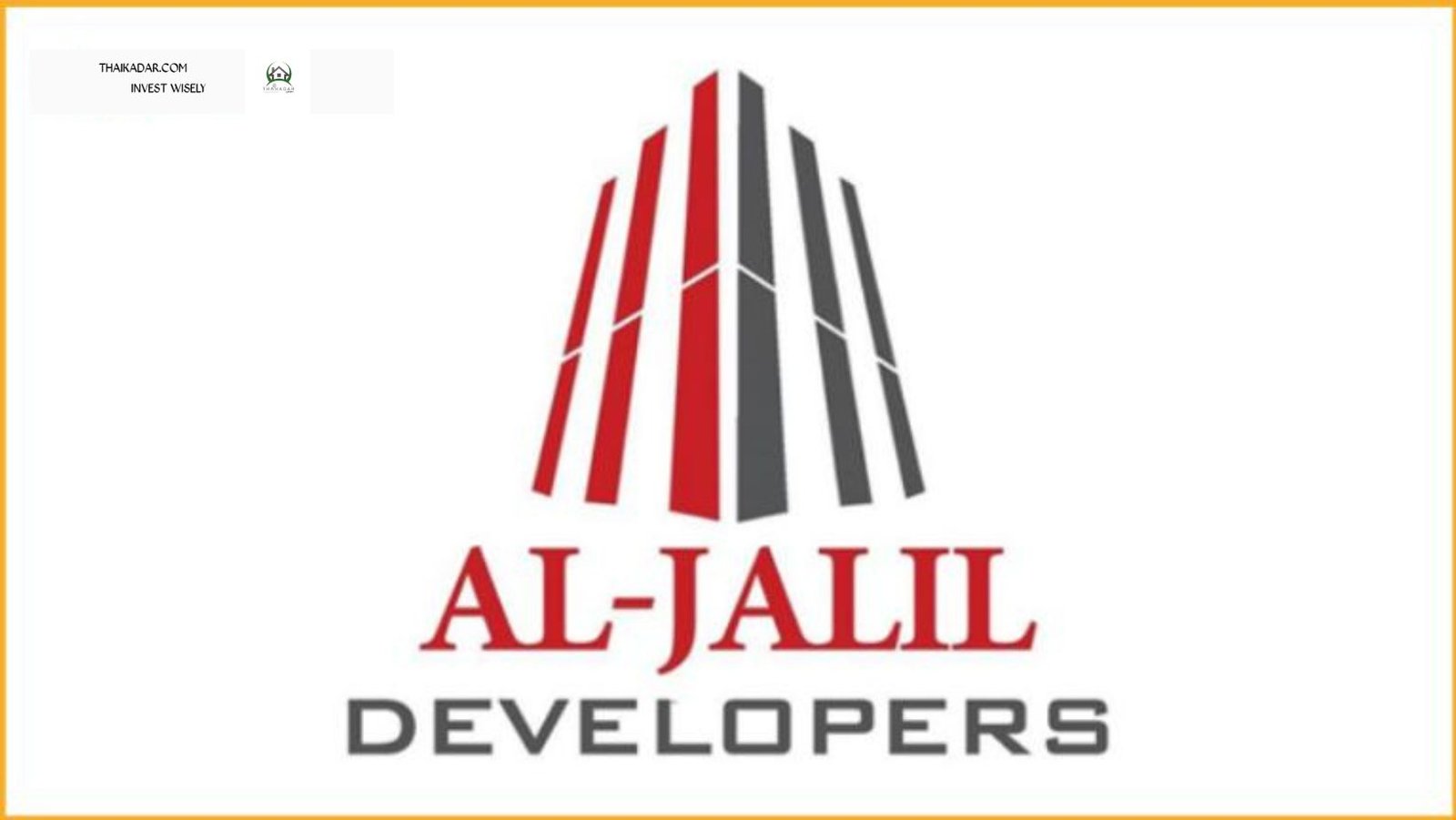 Development Status
Al Noor Orchard Lahore is a semi-developed housing project. The development progress is at a fast pace and the experienced team of Al Jalil Developers is leaving no stone unturned to complete this project with the best of their skills.
Following pictures will help you get a better idea of the development status of Al-Noor Orchard Lahore:
Al-Noor Orchard Masterplan
Al-Jalil Developers have taken due care in ensuring that the location of the housing project is not only central and approachable from all major landmarks, but is also available to the people at an affordable price. The housing society is a 40 Acre Premium land that is affordable and it is further divided into blocks. These are blocks are designed according to the plot size in each block.
Block A
Block B
Block C
Block D
West Marina
The affordability can be signified by the fact that there are 3 Marla residential plots and 3.5 Marla residential units as well. A theme park is also planned within Al-Noor Orchard and it will spread over an area of 140 Kanals.
Following is the masterplan map of Al-Noor Orchard Lahore:
West Marina
West Marina is the most sought-after residential block in Al-Noor Orchard and it is being developed at a rapid pace. It is a premium block in the Al-Noor Orchard and the investors are highly interested in this block. Al Noor Orchard has launched Marina Sports City in West Marina as well.
Features and Amenities – Al Noor Orchard
The list of all the features and amenities of Al Noor Orchard is as follows:
Gated Community with Grand Entrance
Underground Wiring
Grand Jamia Mosque
24/7 Security
Playland for Kids
Marina Sports City
Sports Areas
Commercial Zones
Education Institutions
Modern Medical Facilities
Water Filtration Plant
Wide Streets with Street Lights
Plot Sizes
These are the different sizes offered by Al-Noor Orchard:
Residential Plots
3 Marla
5 Marla
10 Marla
1 Kanal
Commercial Plots
NOC- Legal Status
Al-Noor Orchard was pleased to announce to its investors that the project has gotten a No Objection Certificate (NOC) under the NOC No. LDA/ DMP1/SKP/913. The NOC was approved by Lahore Development Authority (LDA)back in 2019 and in the previous year, 2018, the first balloting of the housing society was conducted. More than 150 plots were balloted in Blocks A and B.
Payment Plan
The payment plan of Al-Noor Orchard is investor-friendly and this is the reason that this housing society is getting an immense response in the real estate market.
Following are the payment plans of the project:
West Marina Executive Block (Residential)
West Marina Cottages and Villas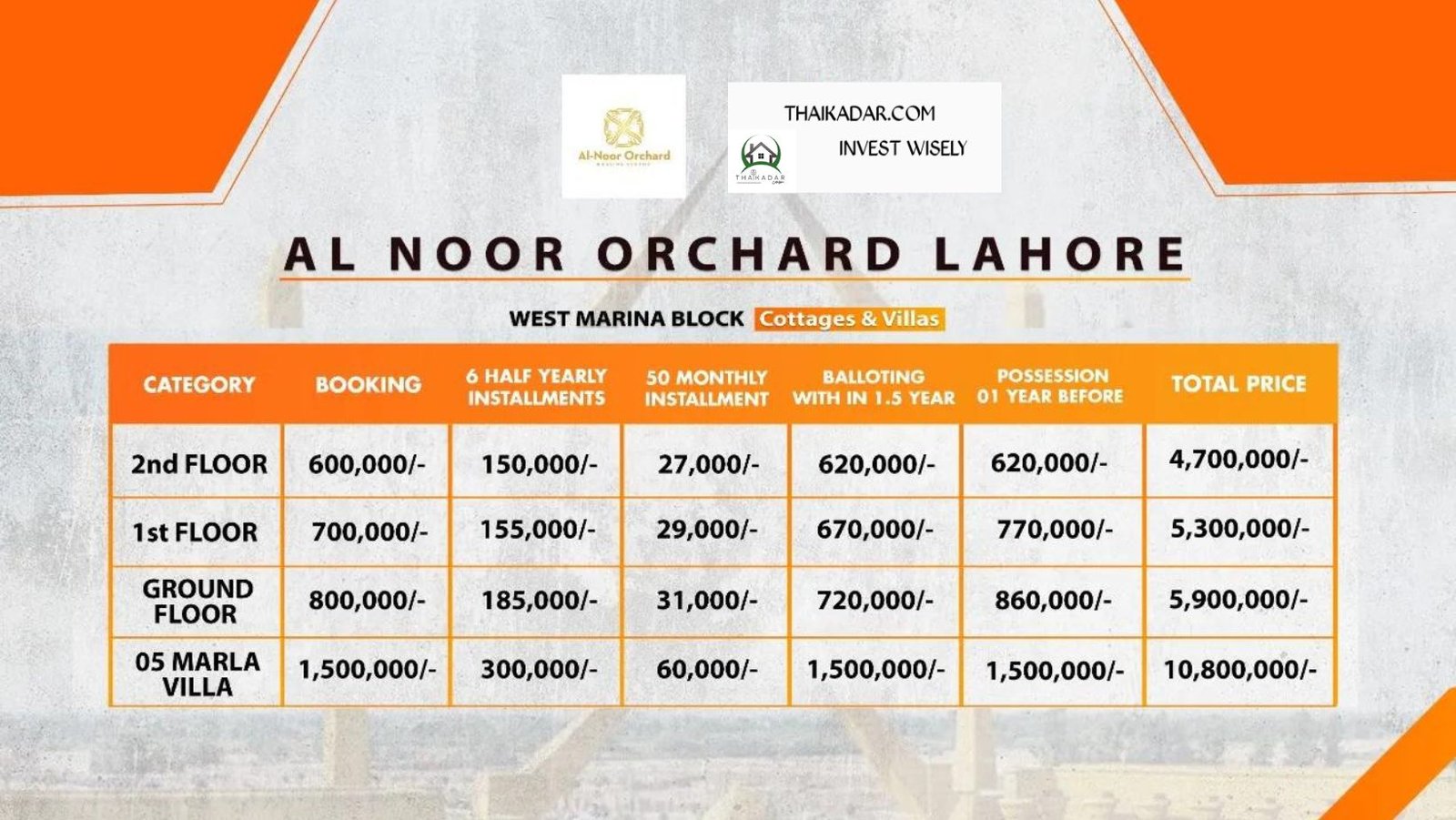 Marina Sports City (Residential Plots)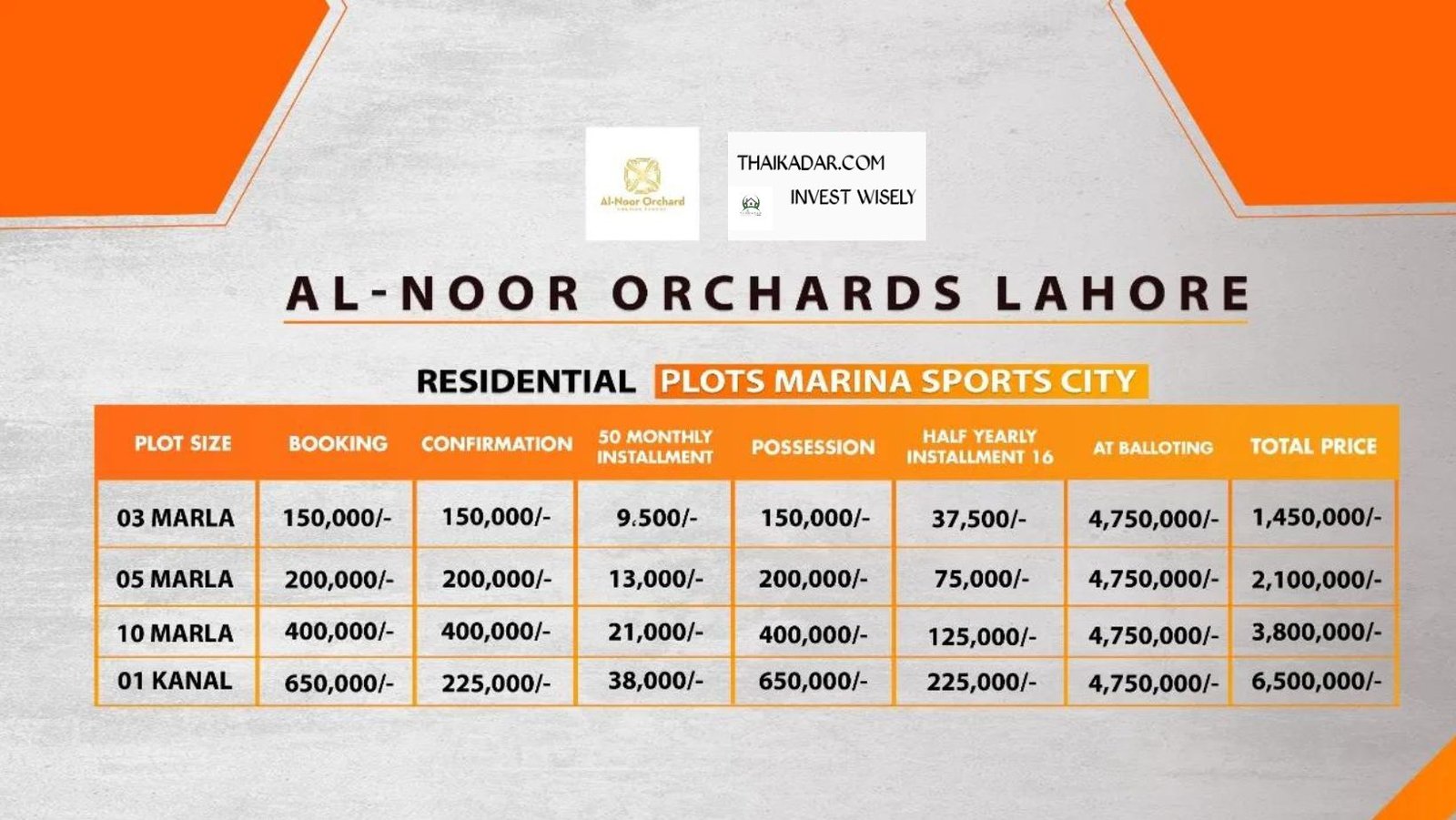 Al-Noor Orchard Residential Plots
AL-Noor Orchards Villa Residential Plots
Buy Plots in Al-Noor Orchard
Al-Noor Orchard is the finest housing project in Lahore that is LDA-Approved and has to offer great affordable rates. With the introduction of West Marina and Marina Sports City, Al Noor Orchard is being praised for its efforts of bringing new and innovative projects to investors.
This has also increased the trust of the people who had already invested in Al Noor Orchard. All in all, Al Noor Orchard is the future of the real estate market in Lahore.
Frequently Asked Questions (FAQs) about Al-Noor Orchard
Al-Noor Orchard Lahore is an LDA-approved housing society with an affordable payment plan and convenient installment plan. The society is surrounded by a lush green landscape and offers a luxurious life.
Al-Jalil Developers are developing this housing society, they have already completed numerous projects and are famous nationally and internationally. World-class architecture and state-of-the-art amenities make society a great place to live.
You can contact us anytime to get any information about Al-Noor Orchard Lahore. We will help you buy your plot at the most feasible location, according to your exact requirements.
We also deal in other projects, visit out projects page to get more information!
Share This Story, Choose Your Platform!
Looking for best investment advice?
Get your free quote today from Thaikadar.com.