Overview
Zaitoon City Tulip Overseas Enclave is the latest addition to the housing society. A few days back, the official launch of Tulip Overseas Enclave was held for inaugurating this new block in Zaitoon City Lahore.
Tulip Overseas Enclave, Zaitoon City Lahore is a residential block with impeccable opportunities. This block not only offers a promising lifestyle and the deliverance of world-class amenities. This overseas block features a great neighborhood and offers plots at an economical price.
Lahore Development Authority duly approves the project with multiple plot sizes and a flexible installment plan. It is a joint venture between the Zaitoon Group and DHA Estate Agents Association. This means it is a dedicated block to DHA. In simple words, Zaitoon Group sold this block to DHA. For this Purpose, an MOU was signed between both the authorities.
Tulip Overseas Enclave Launch Event
The official launch event of this block was held back on 30th March at Mughal Farmhouse near DHA Phase 8. Representatives from Zaitoon City Lahore and DHA Estate Agents Association attended this event.
The event included musical concerts by the famous singers Aima Baig and Sahir Ali Bagga, followed by a festive dinner. According to the officials, the idea behind Zaitoon City Lahore Tulip Enclave Block is to provide better residential options to overseas Pakistanis.
Further, the officials stated that the members of Tulip Overseas Enclave will also be treated with similar importance as the previous members of Zaitoon City.
About Zaitoon City
Zaitoon City is an LDA-approved project located on Sundar Road Lahore. It is the fourth and final phase of New Lahore City, developed by the widely renowned Zaitoon Group. Similar to other large-scale housing societies, Zaitoon City aims to provide world-class life and state-of-art-amenities. The developers are also focusing on society from an investment point of view.
It is an affordable housing society with multiple residential and commercial opportunities with very affordable prices and flexible installment plans. Zaitoon City has already delivered plots after the first ballot. Zaitoon group has many other projects aside from Zaitoon City.
Location
If we talk about location, Zaitoon City lies at an ideal location with easy access from all over Lahore and other cities as well. Location is indeed, one of the primary factors in the success of society. Zaitoon City is located on the main Canal Bank Road, near Sundar Road.
Zaitoon City is located in a prosperous neighborhood, right next to New Lahore City and a few minutes away from Bahria Town Lahore. Moreover, it is accessible from multiple roads; future residents of the Tulip Enclave block will have access to all the major landmarks and facilities such as health, education, and supermarkets.
Following is the location map of Zaitoon City Tulip Overseas Lahore: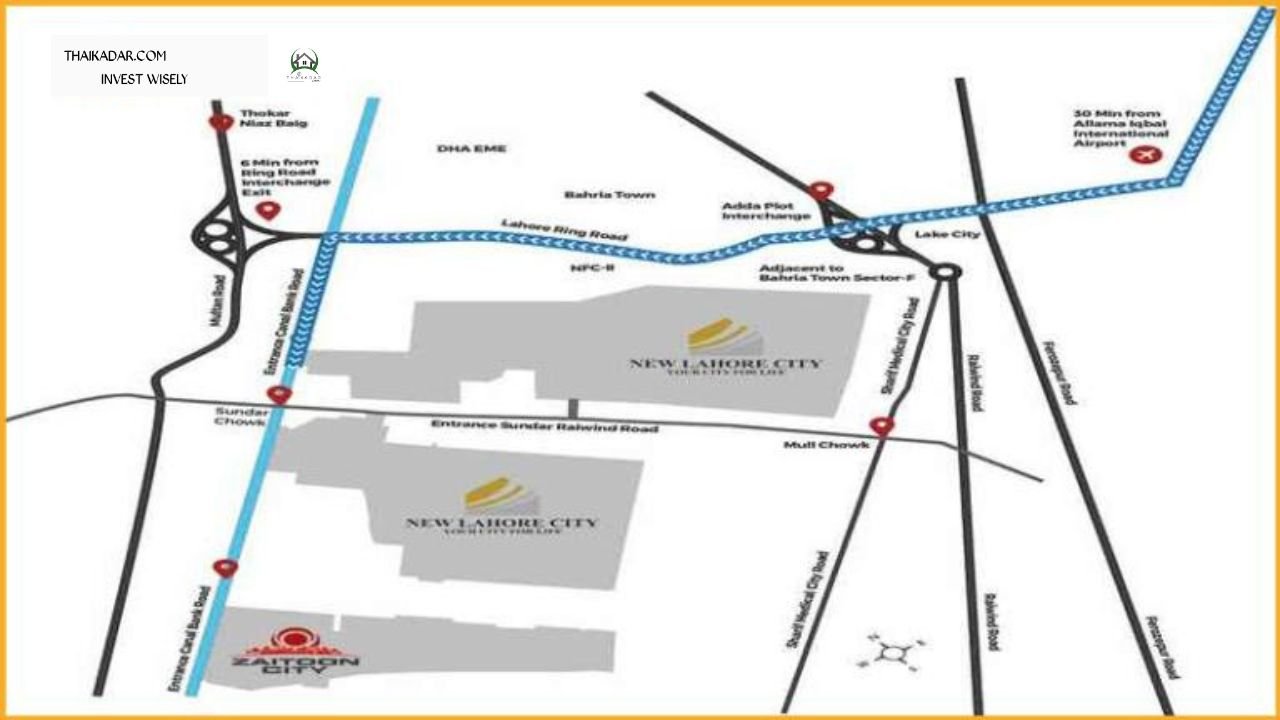 Accessibility
There are more than a few landmarks from where the society is reachable within minutes. Following are points near Zaitoon City Lahore:
Multan Road
Shahkam Chowk
Ferozpur Road
M-2 Motorway Interchange
Lahore International Airport
DHA Lahore
New Lahore City
Dream Housing Society
Pak Arab Housing Society
Al-Jannat Housing Society
Beacon Housing Society
Developers
Zaitoon Group is the developer of Zaitoon City Tulip Enclave. You might remember them by the name of New Lahore City. Zaitoon Group is serving the real estate sector of Pakistan since 1987 with multiple successful projects.
The projects of this development group are famous for quality and affordability. Moreover, they also deliver their project on time. Real Estate projects by Zaitoon Group are mostly fit for investments as well as end-use.
In the past, they delivered many residential and commercial projects. Following are the past project of the developers:
Lucky Centre
Japan Centre
Landmark Plaza
Center Point Plaza
New Lahore City
Now Zaitoon Group has added Tulip Overseas Enclave to its portfolio for the overseas community to provide a better residential facility. The developers aim to make this an early success, similar to their last project.
During the launch event, one of the officials said that this block will also develop early followed the balloting and timely delivery. The preliminary development has already started and it is a sign of early delivery of Tulip Enclave.
NOC and Legal Status
Zaitoon City housing project is duly approved by the Lahore Development Authority (LDA). Tulip Enclave is a sub-project of this society, so it is also legally approved. The planning and development will be done according to the guidelines from LDA.
Like the rest of society, this block also fulfills all the requirements of LDA. The society is approved and registered with LDA through the registration number: LDA/DMP-III.1961
Master Plan
Zaitoon City Tulip Overseas Enclave is a comparatively large block of the society with 4500 plots in total. Currently, the residential plots are launched by society. There is a possibility that commercial plots are also introduced for this block.
The initial master plan of Tulip Overseas Enclave is released by the developers and we have attached it below for you to see. The plot sizes are also given by the society as mentioned below.
Share This Story, Choose Your Platform!
Looking for best investment advice?
Get your free quote today from Thaikadar.com.